dUTPase: the frequently overlooked enzyme encoded by many retroviruses
Received: 4 May 2015
Accepted: 4 August 2015
Published: 12 August 2015
The Erratum to this article has been published in Retrovirology 2015 12:77
Abstract
Retroviruses are among the best studied viruses in last decades due to their pivotal involvement in cellular processes and, most importantly, in causing human diseases, most notably—acquired immunodeficiency syndrome (AIDS) that is triggered by human immunodeficiency viruses types 1 and 2 (HIV-1 and HIV-2, respectively). Numerous studied were conducted to understand the involvement of the three cardinal retroviral enzymes, reverse transcriptase, integrase and protease, in the life cycle of the viruses. These studies have led to the development of many inhibitors of these enzymes as anti-retroviral specific drugs that are used for routine treatments of HIV/AIDS patients. Interestingly, a fourth virus-encoded enzyme, the deoxyuridine 5′-triphosphate nucleotidohydrolase (dUTPase) is also found in several major retroviral groups. The presence and the importance of this enzyme to the life cycle of retroviruses were usually overlooked by most retrovirologists, although the occurrence of dUTPases, particularly in beta-retroviruses and in non-primate retroviruses, is known for more than 20 years. Only more recently, retroviral dUTPases were brought into the limelight and were shown in several cases to be essential for viral replication. Therefore, it is likely that future studies on this enzyme will advance our knowledge to a level that will allow designing novel, specific and potent anti-dUTPase drugs that are effective in combating retroviral diseases. The aim of this review is to give concise background information on dUTPases in general and to summarize the most relevant data on retroviral dUTPases and their involvement in the replication processes and pathogenicity of the viruses, as well as in possibly-associated human diseases.
Keywords
dUTPase
Retroviruses
Reverse transcription
dUTP
Mutagenesis
Beta-retroviruses
Non-primate and primate lentiviruses
HIV
Endogenous retroviruses
Background
The hallmark of all retroviruses is their replication strategy that relies on two critical steps. The first is the reverse transcription of the viral plus strand RNA into linear double-stranded DNA that is catalyzed by the viral reverse transcriptase (RT). The second step occurs when the synthesized DNA is subsequently integrated by the viral integrase (IN) enzyme into the cell genomic DNA [1–4]. After integration, the proviral DNA becomes a part of the cellular genomic DNA. The genome of all retroviruses is organized in three major distinct genes: gag, pol and env. In most retroviruses, the pol gene encodes for all three basic retroviral enzymes, the protease (PR), RT and IN [1]. Due to the critical role of these three retroviral enzymes in the viral cycle, a massive body of research was conducted on them. These studies were combined with a very extensive search for drugs effective against HIV, the AIDS causing retrovirus. This was done mainly by searching for selective inhibitors of the viral PR, RT and IN enzymes. Indeed, almost all anti-HIV/AIDS drugs that are currently used to treat patients are inhibitors of these three enzymes. In combination anti-HIV/AIDS therapies, several inhibitors (sometimes against more than one viral enzyme) are administered. Remarkably, relatively little attention was given to a fourth enzyme, encoded by several groups of retroviruses, the deoxyuridine 5′-triphosphate nucleotidohydrolase (dUTPase, EC 3.6.1.23). This lack of attention results probably from the absence of dUTPases from those retroviruses that were the most heavily studied so far (such as, HIV and other primate lentiviruses, gamma-retroviruses or the alpha-retroviruses). Thus, even reviews on retroviruses usually overlook this enzyme.
Cellular dUTPases hydrolyze dUTP into two products, dUMP and pyrophosphate (PPi). Subsequently, the product dUMP is used as a substrate for thymidylate synthase in the major biosynthesis pathway to dTTP. Therefore, dUTPases have essential roles in preserving low cellular dUTP over dTTP ratios [
5
–
7
]. Lowering the intracellular dUTP/dTTP ratios obstructs dUTP misincorporation into DNA, since most DNA polymerases can use dUTP instead of dTTP for DNA synthesis, a process that may result in introducing mutations into the synthesized DNA (Fig.
1
). To keep uracil residues out of DNA, most organisms, both prokaryotes and eukaryotes, as well as several DNA viruses (e.g., herpesviruses and poxviruses) and some groups of retroviruses, encode dUTPases that can be essential for their viability [
5
,
8
,
9
]. In this review, we will describe the most relevant information regarding the presence and functions of dUTPases in retroviruses and their involvement in the life cycle of the viruses and of the infected cells.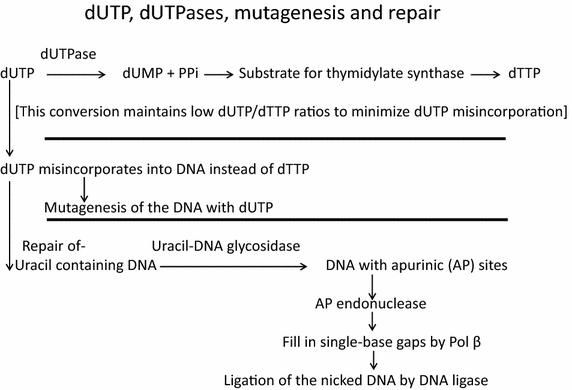 Conclusions
The data summarized in this review describe the importance of dUTPases to the retroviral life cycle in conjunction with cellular dUTPases, dUTP levels and mutagenesis (caused by dUTP misincorporation into DNA during the process of reverse transcription). Since both host cells and the infecting retroviruses have common goals to prevent and/or correct the detrimental effects caused by high dUTP levels, they have mutually developed analogous strategies to accomplish this objective. Interestingly, only several groups of retroviruses have evolved to express their own dUTPase, while others either take advantage of the cellular dUTPase or recruit a cellular UNG that initiates the correction of dUTP misincorporation. The association of HERV-K dUTPase with human psoriasis adds another twist to these relatively straightforward lines of reasoning, by highlighting the protein's involvement in cellular signaling processes, which is not related to the catalytic dUTPase activity. The questions surrounding the function of the unique dUTPase of BIV lead also to new, yet unexplored directions. Taken together, there are still many research avenues that should be undertaken to better understand the diverse molecular mechanisms associated with retroviral dUTPases. Conceivable, the development of specific inhibitors of retroviral dUTPase activity, and/or dUTPase-interacting molecules, could greatly help in answering some of the raised questions and possibly help in designing novel anti-retroviral drugs.
Declarations
Authors' contributions
AH wrote the manuscript. EH prepared the figures and read the manuscript. Both authors read and approved the final manuscript.
Compliance with ethical guidelines
Competing interests The authors declare that they have no competing interests.
Open AccessThis article is distributed under the terms of the Creative Commons Attribution 4.0 International License (http://creativecommons.org/licenses/by/4.0/), which permits unrestricted use, distribution, and reproduction in any medium, provided you give appropriate credit to the original author(s) and the source, provide a link to the Creative Commons license, and indicate if changes were made. The Creative Commons Public Domain Dedication waiver (http://creativecommons.org/publicdomain/zero/1.0/) applies to the data made available in this article, unless otherwise stated.
Authors' Affiliations
(1)
Department of Cell and Developmental Biology, Sackler School of Medicine, Tel Aviv University, Tel Aviv, Israel