Host restriction factors in retroviral infection: promises in virus-host interaction
Received: 26 November 2012
Accepted: 9 December 2012
Published: 20 December 2012
Abstract
Retroviruses have an intricate life cycle. There is much to be learned from studying retrovirus-host interactions. Among retroviruses, the primate lentiviruses have one of the more complex genome structures with three categories of viral genes: structural, regulatory, and accessory genes. Over time, we have gained increasing understanding of the lentivirus life cycle from studying host factors that support virus replication. Similarly, studies on host restriction factors that inhibit viral replication have also made significant contributions to our knowledge. Here, we review recent progress on the rapidly growing field of restriction factors, focusing on the antiretroviral activities of APOBEC3G, TRIM5, tetherin, SAMHD1, MOV10, and cellular microRNAs (miRNAs), and the counter-activities of Vif, Vpu, Vpr, Vpx, and Nef.
Review
As an obligatory intracellular parasite with limited genome size, retroviruses interact with both supportive and inhibitory host factors to complete their life cycle. Supportive factors help the virus enter the cell, duplicate its viral genome, make viral proteins, and release new progeny particles, while inhibitory factors could, in principle, intervene against the virus at every step of replication. These inhibitory factors are collectively called host restriction factors. Unique from other viruses, retroviruses require replication steps such as RNA reverse transcription and DNA integration, which create additional targets for restriction. Historically, the first host restriction for retroviruses was discovered when murine leukemia virus (MLV) infection was found to be inhibited by the Friend virus susceptibility factor-1 (Fv1) [1]. In the mouse genome, there are at least two Fv1 alleles (Fv1 n , Fv1 b ) that confer resistance to B-tropic MLV (B-MLV) or N-tropic MLV (N-MLV) infection. The B-MLV strains efficiently infect Fv1 b/b homozygous Balb/c mice but not the Fv1 n/n homozygous NIH/Swiss mice, whereas the N-MLV strains have an opposite tropism. The Fv1 gene is located on mouse chromosome 4 [2], which encodes an endogenous retrovirus Gag-like protein [3]. Fv1 recognizes the MLV capsid (CA) protein through a single residue at position 110 [4], and blocks the nuclear import of reverse transcribed retroviral pre-integration complex [5], but the precise mechanism is still unknown.
The initial observations on Fv1 have been followed by the discovery of additional restriction factors in mammalian cells [
6
]. In general, restriction factors have been identified from non-permissive cells, where virus replication is severely restricted. The restriction phenotype can be dominant and potent and can suppress viral replication up to several orders of magnitude. Thus, when a non-permissive cell is fused with a permissive cell, the heterokaryon inherits the restrictive phenotype. Another finding with restriction factors is that they can display hallmarks of positive genetic selection during evolution, indicative of their beneficial advantage to the host in settings of host-pathogen conflicts. Moreover, restriction factors can be constitutively or inducibly (e.g. induced by interferon) expressed, and many viruses have evolved countervailing stratagems to neutralize the activities of restriction factors. For example, HIV-1 co-opts the host ubiquitin/proteasome system (UPS) to degrade cellular restriction factors. The recent advances accrued from studying restriction factors have expanded our views on virus-host interaction as well as host innate immunity to viral infections [
7
]. The findings have not only provided a more comprehensive understanding of the virus life cycle, but have also offered clues on new antiviral mechanisms and targets. Below, we survey the antiviral activities of several cellular restriction factors that impede HIV replication, including APOBEC3, TRIM5α, tetherin, SAMHD1, MOV10 and cellular miRNAs; and we outline viral countermeasures to subdue these restrictions (Figure
1
).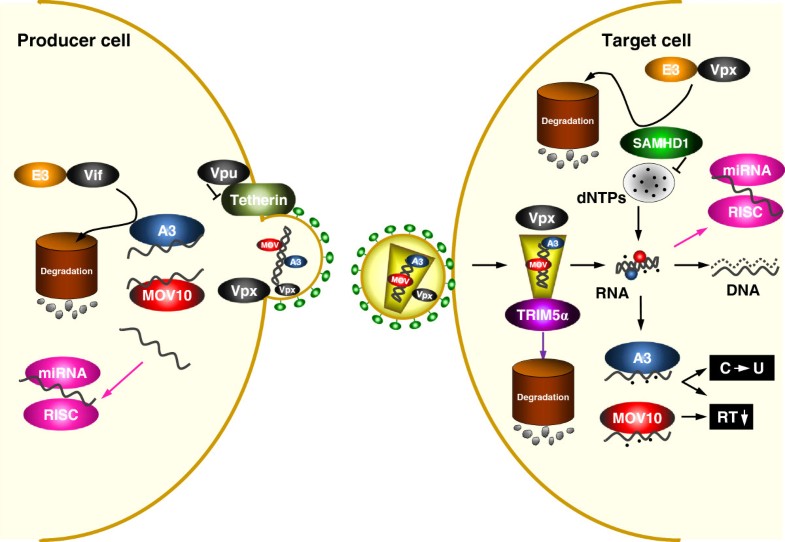 A3 and HIV evolution
Because HIV-1 replicates in A3-expressing cells in the presence of Vif, it has been thought that Vif completely counteracts A3's antiviral activity. However, the virus may not benefit from a complete inhibition of A3 activity. Although lethal mutations inhibit viral replication, sublethal mutations can promote viral propagation in hosts through a promotion of genome evolution. HIV-1 is notorious for its rapid evolution. It maintains an optimal mutation rate that allows viral escape from adaptive immunity and development of drug resistance. Among various mutations, the appearance of G-to-A hypermutations is the most frequent [139], which may explain why the HIV-1 genome is extremely A-rich [140, 141]. Although G-to-A hypermutations have been attributed to the errors of the low-fidelity viral reverse transcriptase and viral genomic recombination, it has been recently appreciated that A3 proteins are significantly responsible for this type of mutation. Analyses of viral hypermutations at population levels have detected both GG→AG or GA→AA dinucleotide motifs for introducing hypermutations [142–145]. In addition to inhibition of viral replication, A3 proteins may create beneficial hypermutations, which generate viral quasispecies and diversify viral genomes [146–148]. Both A3G and A3F facilitate viral adaptation to the new drug treatment environment if their activities are not completely neutralized by Vif [149, 150]. Several mechanisms may cause A3 activity to not be completely neutralized by Vif. First, the relative levels of protein expression may determine neutralization. Because A3 expression is interferon inducible, A3 expression level may well exceed the Vif expression level at the early stage of viral replication, which may make it impossible for Vif to neutralize fully A3 proteins. Second, the degree of neutralization may be regulated at the levels of protein quality. The vif gene itself could become the target for hypermutation and become polymorphic during natural infection. Any mutation that interferes with Vif binding to A3 and/or Cul5 E3 ligase will compromise A3 neutralization by Vif, resulting in incomplete A3 inactivation [151, 152]. Thus, it is anticipated that a balance between Vif and A3 proteins has to be established over time to maintain optimal viral fitness and composition of viral quasispecies in vivo. It is also conceivable that viral replication could be inhibited if this balance is disrupted by pharmacological intervention [153], either by a complete inhibition of Vif activity [154–156], or by a commensurate inhibition of A3 enzymatic activity [157].
Declarations
Acknowledgments
Due to space limitation, the authors apologize to those in the field whose work is not cited in this article. The opinions expressed in this review represent the authors' personal views and do not necessary reflect the views of their employers, particularly the National Institutes of Health (NIH), USA. Research performed in KT's laboratory is supported by grants from the Ministry of Education, Science, Technology, Sports and Culture of Japan (22590428), and from the Ministry of Health, Labor, and Welfare of Japan (Research on HIV/AIDS project no.H24-005, and −008). Research performed in KTJ's laboratory is supported by intramural funds from the NIAID, NIH; the IATAP program from the Office of the Director, NIH; and by the Bill and Melinda Gates Foundation. Research performed in YHZ's laboratory is supported by NIH grants AI063944 and AI080225.
Authors' Affiliations
(1)
Department of Microbiology and Molecular Genetics, Michigan State University, East Lansing, USA
(2)
The National Institutes of Health, Bethesda, USA
(3)
Department of Pathology, National Institute of Infectious Diseases, Tokyo, Japan
Copyright
© Zheng et al.; licensee BioMed Central Ltd. 2012
This article is published under license to BioMed Central Ltd. This is an Open Access article distributed under the terms of the Creative Commons Attribution License (http://creativecommons.org/licenses/by/2.0), which permits unrestricted use, distribution, and reproduction in any medium, provided the original work is properly cited.