Cyclophilin A interacts with diverse lentiviral capsids
Received: 27 July 2006
Accepted: 12 October 2006
Published: 12 October 2006
Abstract
Background
The capsid (CA) protein of HIV-1 binds with high affinity to the host protein cyclophilin A (CypA). This binding positively affects some early stage of the viral life-cycle because prevention of binding either by drugs that occupy that active site of cyclophilin A, by mutation in HIV-1 CA, or RNAi that knocks down intracellular CypA level diminishes viral infectivity. The closely related lentivirus, SIVcpz also binds CypA, but it was thought that this interaction was limited to the HIV-1/SIVcpz lineage because other retroviruses failed to interact with CypA in a yeast two-hybrid assay.
Results
We find that diverse lentiviruses, FIV and SIVagmTAN also bind to CypA. Mutagenesis of FIV CA showed that an amino acid that is in a homologous position to the proline at amino acid 90 of HIV-1 CA is essential for FIV interactions with CypA.
Conclusion
These results demonstrate that CypA binding to lentiviruses is more widespread than previously thought and suggest that this interaction is evolutionarily important for lentiviral infection.
Keywords
293T Cell
Feline Immunodeficiency Virus
African Green Monkey
P90A Mutant
CRFK Cell
Background
Cyclophilin A (CypA) is a highly conserved peptidyl prolyl isomerase (PPIA) that is incorporated into HIV-1 virions and plays a yet undefined role in the early stages of viral replication in some cell types [1–3]. CypA interacts with HIV-1 by virtue of a direct binding between residues in a loop between the fourth and fifth alpha-helices of the capsid (CA) protein of HIV-1 and the active site of CypA [4–6]. Cyclosporin A (CsA), an immunosuppressive drug, binds to the same region of binding groove of CypA and disrupts the CypA/CA interaction which leads to an attenuation of wild type HIV-1 infectivity by 2–5 fold in T cells [7–9]. Although CypA can bind to viral CA in the producer cell during viral assembly, it is CypA in the newly infected target cells that is important for infectivity rather than the CypA that is present in the producer cell [8–11]
Tripartite motif 5 isoform alpha (Trim5α) proteins also bind to retroviral CA early after viral entry, and can have a negative effect on the viral lifecycle by accelerating the viral core uncoating or CA degradation [12–15]. Trim5α contains a C-terminal B30.2 domain that recognizes retroviral CA and restricts viral replication in a species-specific manner [12, 16]. The resistance of cells from the owl monkey (Aotus trivirgatus) to HIV-1 infection is due to the presence of a natural fusion protein in this species, called TrimCyp, in which the B30.2 recognition domain of Trim5α was replaced by the CypA gene [17, 18]. CypA is important for the activities of some Trim5α alleles [19, 20].
The CypA/CA interaction was initially identified by two-hybrid analysis in yeast [1, 5]. In those studies, it was reported that only HIV-1 and the closely related SIVcpz encoded Gag proteins (which are cleaved by viral protease to generate CA during maturation) that could interact with CypA, while the Gag proteins from HIV-2, SIVmac, SIVs from African green monkeys-Sabaeus (SIVagmSAB), feline immunodeficiency viruses (FIV), and Mason-Pfizer monkey viruses (MPMV) failed to interact with CypA in this assay [5]. Furthermore, incorporation of CypA into virions was detected in HIV-1 and SIVcpz, but not in HIV-2, SIVmac, SIVagm-Grivet (SIVagmGRI), and murine leukemia viruses (MLV) [5]. However, here we show that the CypA/CA interaction is not unique to HIV-1/SIVcpz. By both genetic and biochemical experiments we show that FIV can bind CypA and its replication is affected by this interaction to the same extent as HIV-1. Moreover, we have identified an amino acid that is essential for FIV CA interaction with CypA that is in a nearly identical context to an amino acid necessary for the interaction of HIV-1 CA with CypA. Finally, we show that SIVagm-Tantalus (SIVagmTAN) is restricted by TrimCyp, strongly suggesting that this viral CA also interacts with CypA. While these studies were in progress, two other groups also provided evidence that FIV and SIVagm are both susceptible to the TrimCyp restriction in a CsA sensitive manner [21, 22]. Together, these results demonstrate that lentiviral interactions with CypA are more conserved than had been previously assumed and suggest that CypA/CA interactions play an evolutionarily conserved role in the life cycle of many lentiviruses.
Discussion
The CypA/CA interactions had originally been described only for HIV-1 and SIVcpz [5]. Here, we show that this phenotype is more widespread among lentiviruses because both FIV and SIVagmTAN also interact with CypA. Moreover, we identified an amino acid in FIV CA that is critical for CypA binding that is in a similar position in CA of HIV-1. Finally, we show that the CypA/CA interaction is functionally significant for FIV replication.
It is not clear why a functional assay (Fig. 1) and a direct binding assay (Fig. 2) detected the CypA/CA interaction in FIV, whereas previous reports that looked for interactions with a yeast-two hybrid assay or by expression of recombinant Gag and CypA in E. Coli did not [5]. It is possible that the formation of mature viral core may be more important for CypA recognition of FIV, or that subtle folding problems with FIV Gag was expressed in yeast and E. Coli might have prevented binding. Nonetheless, the two assays used here (TrimCyp restriction and GST-CypA pull down) were conducted in mammalian cells and thus more closely mimic the structure of CA found in natural targets cells.
The finding that FIV and SIVagmTAN also bind host CypA demonstrates that the CypA/CA interaction is a more wide spread phenotype among lentiviruses than just the HIV-1/SIVcpz lineage. At this point it is not possible to determine if this property arose independently in three separate lentivirus lineages, or if an ancestral retrovirus was able to bind CypA and then other lentiviruses (for example, SIVmac) each lost this ability. Although the latter possibility is more parsimonious, it will be important to test a much broader range of lentiviruses for CypA binding. It is also possible that the ability of a lentivirus to bind CypA is evolutionarily dynamic and changes upon adaptation to new hosts.
We determined that the proline at amino acid 90 on FIV CA is critical for the interaction with CypA. This is similar to the site on HIV-1 that binds CypA, suggesting the proline in the middle of the loop is crucial for CypA recognition. However, the CA sequence alignment of SIVmac with HIV-1 shows that SIVmac also possesses this corresponding proline (Fig.
5A
). The major difference of the loop between the fourth and fifth alpha-helices in HIV-1 and SIVmac is its length. We applied the SWISS-MODEL computer modelling to generate putative structure of CA from SIVmac and SIVagmTAN based on the crystal structure of HIV-1 CA bound to CypA (PDB:1AK4). We found that the CypA-binding loop of SIVagmTAN can be superimposed on the parallel loop of HIV-1 well, while the loop of SIVmac is shorter than that of HIV-1 and is not able to fit in the HIV-1 scale (Fig.
6
). This suggests that in addition to the proline at position 90 (based on HIV-1), the length of the loop also contributes to the CypA binding. A shorter loop might not be able to insert into the binding groove of CypA even though the target proline is present in the middle of the loop. On the other hand, Cyclophilin B (CypB), another member in the cyclophilin family, was showed to interact with Gag proteins from HIV-1 and SIVmac [
1
,
2
]. However, the CypB/Gag interaction in both HIV-1 and SIVmac is not mediated by binding of CypB to the same loop that CypA recognizes. To our knowledge, the CypB/Gag interaction has not been reported to affect viral replication.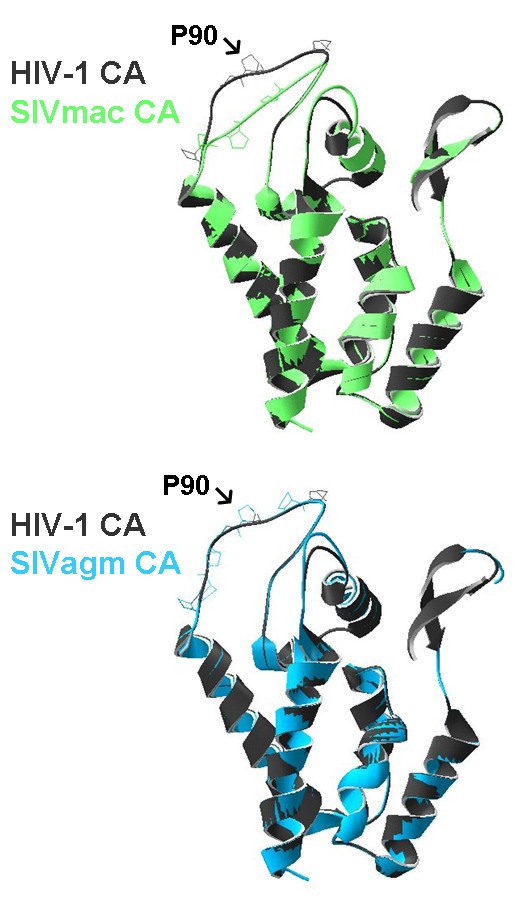 The exact role of CypA/CA interaction in HIV-1 life cycle is still not clear. However, several groups have suggested that CypA/CA interaction mediates the lentiviral susceptibility to Trim5α restriction [17–19, 26, 27]. The discovery of TrimCyp links the CypA/CA interaction with the post-entry restriction mechanism [17, 18]. The potent restriction against HIV-1 infection requires the recognition of HIV-1 CA by the C-terminal CypA domain of TrimCyp. In addition, the CypA/CA interaction in HIV-1 was shown to correlate with viral sensitivity to rhesus and African green monkey Trim5α restriction [19, 26, 27]. Blocking CypA/CA interaction by CsA or down-regulating endogenous CypA by RNAi rescues HIV-1 replication from rhesus and African green monkey Trim5α restriction, suggesting the rhesus and African green monkey Trim5α restrict HIV-1 via the CypA-binding pathway. Human Trim5α, on the other hand, weakly restricts HIV-1 via a pathway that is independent of CypA binding [26–28]. It is not clear whether the Trim5α restriction is mediated by direct binding to CypA or requires an unidentified adaptor protein. Another explanation is that CypA/CA interaction changes the CA conformation which provides access for rhesus and African green monkey but not human Trim5α. We report here that SIVagmTAN interacts with CypA, but it has a different recognition pattern by different Trim5α proteins when compared to HIV-1 [29]. SIVagmTAN is resistant to the African green monkey Trim5α but susceptible to rhesus Trim5α restriction, whereas HIV-1 is restricted by rhesus and African green monkey Trim5α via the CypA-binding pathway. The SIVagmTAN susceptibility to rhesus Trim5α is probably determined by the patch on the B30.2 domain and the CypA/CA has little to do with the restriction [30].
CypA binding is necessary for Trim5α restriction of HIV-1 in rhesus cells, but not for that in human cells. It has been hypothesized that CypA binding protects HIV from an unknown restriction factor in humans. If so, then this hypothesis would have to be extended to account for the fact that diverse lentiviruses also bind CypA. Our report here will provide a parallel line to investigate the role that CypA plays in lentiviral life cycle.
Declarations
Acknowledgements
We thank two rotation students, Olivier Humbert and Jon Reed, for initial experiments in this project to test the sensitivity of FIV to Trim5α and to TrimCyp, the FHCRC Flow Cytometry lab, Jeremy Luban and the NIH AIDS Reagent Repository for the TrimCyp construct, Eric Poeschla for the FIV GFP vector and packaging construct, and Eric Poeschila, Semih Tareen, Masahiro Yamashita, and Yegor Voronin for comments on the manuscript.
This work was supported by NIH grant R37 AI30937 to M.E.
Authors' Affiliations
(1)
Pathobiology Graduate Program, University of Washington, Seattle, USA
(2)
Division of Human Biology, Fred Hutchinson Cancer Research Center, Seattle, USA
Copyright
© Lin and Emerman; licensee BioMed Central Ltd. 2006
This article is published under license to BioMed Central Ltd. This is an Open Access article distributed under the terms of the Creative Commons Attribution License (http://creativecommons.org/licenses/by/2.0), which permits unrestricted use, distribution, and reproduction in any medium, provided the original work is properly cited.