Ribosome profiling of the retrovirus murine leukemia virus
Received: 20 November 2017
Accepted: 15 January 2018
Published: 22 January 2018
Abstract
Background
The retrovirus murine leukemia virus (MuLV) has an 8.3 kb RNA genome with a simple 5′-gag-pol-env-3′ architecture. Translation of the pol gene is dependent upon readthrough of the gag UAG stop codon; whereas the env gene is translated from spliced mRNA transcripts. Here, we report the first high resolution analysis of retrovirus gene expression through tandem ribosome profiling (RiboSeq) and RNA sequencing (RNASeq) of MuLV-infected cells.
Results
Ribosome profiling of MuLV-infected cells was performed, using the translational inhibitors harringtonine and cycloheximide to distinguish initiating and elongating ribosomes, respectively. Meta-analyses of host cell gene expression demonstrated that the RiboSeq datasets specifically captured the footprints of translating ribosomes at high resolution. Direct measurement of ribosomal occupancy of the MuLV genomic RNA indicated that ~ 7% of ribosomes undergo gag stop codon readthrough to access the pol gene. Initiation of translation was found to occur at several additional sites within the 5′ leaders of the gag and env transcripts, upstream of their respective annotated start codons.
Conclusions
These experiments reveal the existence of a number of previously uncharacterised, ribosomally occupied open reading frames within the MuLV genome, with possible regulatory consequences. In addition, we provide the first direct measurements of stop codon readthrough efficiency during cellular infection.
Keywords
RetrovirusRibosome profilingRNASeqViral translationMurine leukemia virusUpstream ORF
Background
Murine leukemia virus (MuLV), the prototype
Gammaretrovirus
, has long served as a model for the study of retrovirus molecular biology. The viral genomic RNA (gRNA) is approximately 8 kb in length; encoding the
gag
,
pol
, and
env
genes in the 5′–3′ direction (Fig.
1
a). Replication of the gRNA depends upon the binding of a host-derived tRNA, which primes the synthesis of negative-sense cDNA intermediates that are subsequently converted to dsDNA harbouring long terminal repeats (LTRs) at the 5′ and 3′ termini (Fig.
1
a) [
1
]. The LTRs contain the sequences required for integration of the virus into host chromosomal DNA, as well as regulatory elements that promote RNA polymerase II-dependent transcription of viral RNA from the integrated provirus. These RNA transcripts may be spliced to give rise to mRNAs encoding the envelope (Env) glycoproteins (Fig.
1
a); or they may remain unspliced, in which case they can either be utilised for the translation of the Gag and Gag-Pol polyproteins (Fig.
1
a), or packaged into newly synthesised virions as non-covalently associated gRNA dimers [
2
,
3
].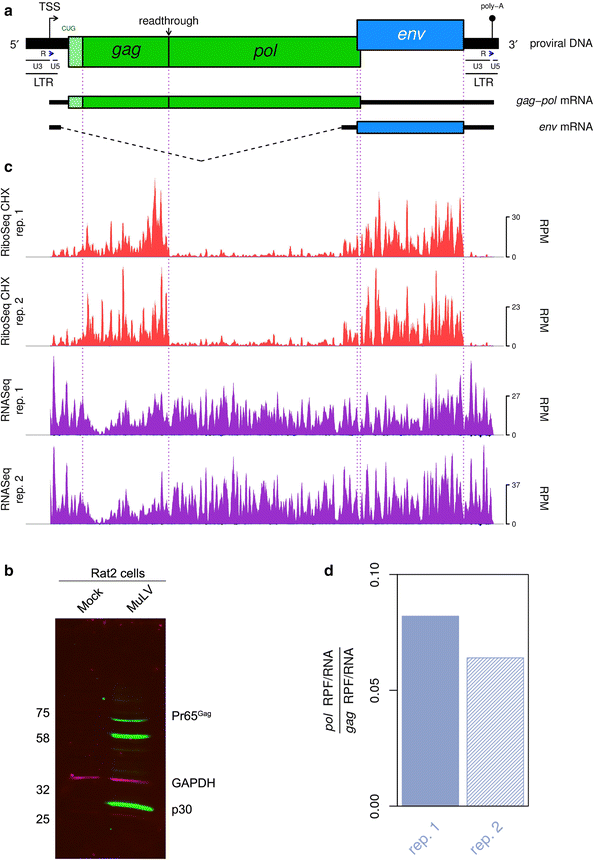 The development of advanced RNA sequencing methodologies in recent years has made it possible to monitor viral gene expression at single nucleotide resolution [4–6]. We carried out sequencing of total RNA (RNASeq) and sequencing of ribosome-protected RNA fragments (RPFs) (RiboSeq)—also known as ribosome profiling—of MuLV-infected Rat2 cells (a rodent-derived cell line). These data allowed us to delineate the transcription and translation of MuLV RNA in unprecedented detail.
Conclusions
This study constitutes the highest resolution analysis of the transcriptional and translational landscapes of a retrovirus generated to date. Our data indicate the existence of new translation initiation sites, new translated short ORFs and the first measurement of the gag-pol stop codon readthrough efficiency in the context of the full-length virus genome during infection. These data may contribute towards an improved understanding of the molecular biology of this important model retrovirus.
Methods
Virus assays
MuLV replication was assessed by transfection of the proviral clone and subsequent infection of Rat2 cells with virions released from transfected cells. 293T monolayers at 40% confluence were prepared in six-well plates and transfected with pNCA. At 72 h p.t. tissue culture supernatants were filtered through a 0.45-µm-pore-size filter prior to infection of fresh monolayers. Filtered supernatant (3 ml) from transfected cells was added directly to 10-cm plates of Rat2 monolayers at 10% confluence and incubated for 1 h at 37 °C, and the volume was adjusted to 10 ml with fresh medium (DMEM with 2% FCS) in the presence of 30 µg/µl of DEAE-dextran hydrochloride (Sigma). Cells were incubated at 37 °C and 10% CO2 for 4 days.
Immunoblotting
Proteins were separated by 10% SDS-PAGE and transferred to nitrocellulose membranes. These were blocked for 30–60 min with 5% powdered milk (Marvel) in PBST (137 mM NaCl, 2.7 mM KCl, 10 mM Na2HPO4, 1.5 mM KH2PO4, pH 6.7, and 0.1% Tween 20) and probed with polyclonal rabbit anti-MuLV p30 (ab130757; Abcam) (1:2000 in Marvel-PBST) and monoclonal mouse anti-GAPDH (G8795; Sigma-Aldrich) (1:20,000 in Marvel-PBST). Membranes were incubated in the dark with an IRDye-conjugated secondary antibody in PBST (IRDye 800CW donkey anti-rabbit IgGH+L and IRDye 680RD goat anti-mouse IgM [µ chain specific]).
Drug treatment and lysis
At 96 h p.i. cells were treated with CHX (Sigma-Aldrich; to 100 µg/ml; 2 min), or HAR (LKT laboratories; 2 µg/ml, 3 min) then CHX (to 100 µg/ml; 2 min). Cells were rinsed with 5 ml of ice-cold PBS, the dishes were submerged in a reservoir of liquid nitrogen for 10 s and then transferred to dry ice and 400 µl of lysis buffer [20 mM Tris–HCl pH 7.5, 150 mM NaCl, 5 mM MgCl2, 1 mM DTT, 1% Triton X-100, 100 µg/ml cycloheximide and 25 U/ml TURBO DNase (Life Technologies)] dripped onto the cells. Cells were scraped, collected and triturated with a 26-G needle ten times. Lysates were clarified by centrifugation for 20 min at 13,000g at 4 °C.
Ribosomal profiling and RNASeq
Cell lysates were subjected to RiboSeq and RNASeq as previously described [35]. The methodologies employed were based on the original protocols of Ingolia and colleagues [36, 37], except ribosomal RNA contamination was removed by treatment with duplex-specific nuclease (DSN) and library amplicons were constructed using a small RNA cloning strategy adapted to Illumina smallRNA v2 to allow multiplexing.
Computational analysis of RiboSeq and RNASeq data
Adaptor sequences were trimmed using the FASTX-Toolkit (hannonlab.cshl.edu/fastx_toolkit/) and reads shorter than 25 nt following adaptor trimming were discarded. Trimmed reads were then mapped to host (Rattus norvegicus) and virus RNA using bowtie version 1 [38], with parameters-v 2—best (i.e. maximum 2 mismatches, report best match). Mapping was performed in the following order: host rRNA; virus RNA; host RefSeq mRNA; host non-coding RNA. Reads which did not align to any of the aforementioned databases were then mapped to the host genome using STAR [39], again allowing a maximum of 2 mismatches per alignment.
To normalize for different library sizes, reads per million mapped reads (RPM) values were calculated using the sum of positive-sense virus RNA reads and host RefSeq mRNA reads as the denominator. For viral genome coverage plots, and for meta-analyses of host RefSeq mRNA coverage, mapping positions of RPFs were offset + 12 nt to approximate the location of the ribosomal P-site [5]. To calculate the length distributions of host- and virus-mapped RPFs, only those reads with a 5′ end + 12 nt offset mapping between the 16th nucleotide 3′ of the initiation codon and the 16th nt 5′ of the termination codon within coding regions (gag gene for virus; RefSeq mRNA coding regions for host) were counted. Histograms of the 5′ end positions (+ 12 nt offset) of host mRNA reads relative to initiation and termination codons were derived from reads mapping to RefSeq mRNAs with annotated coding regions ≥ 450 nt in length and with annotated 5′ and 3′ UTRs ≥ 60 nt in length. To estimate the gag stop codon readthrough efficiency, the expression levels (reads per kilobase per million mapped reads; RPKM) of the gag and pol ORFs were calculated by counting RPFs and RNASeq reads with 5′ end + 12 nt offset positions mapping within the respective coding regions, excluding 15 nt immediately upstream and downstream of the initiation and termination codons.
The short read length used for RNASeq (~ 28–34 nt) prevented a robust de novo analysis of MuLV splice variants from these data.
Abbreviations
MuLV:

murine leukemia virus
uORF:

upstream ORF
CHX:

cycloheximide
HAR:

harringtonine
Declarations
Authors' contributions
NI and IB conceived the study. NI performed the experimental analysis. AEF and AMD performed the bioinformatic analysis. AMD and NI wrote the paper. All authors approved the final version of the manuscript.
Acknowledgements
The full-length MuLV Moloney strain proviral clone pNCA was a kind gift from Professor S. P. Goff, Columbia University.
Competing interests
The authors declare that they have no competing interests.
Availability of data and materials
The datasets generated and analysed during the current study have been deposited in the EBI ArrayExpress database under the accession number E-MTAB-6231.
Funding
Sir Henry Wellcome Postdoctoral Fellowship (Wellcome Trust) to N.I.; Wellcome Trust grant [106207] and European Research Council (ERC) grant [646891] to A.E.F.; U.K. Biotechnology and Biological Research Council (BBSRC) grant [BB/G020272/1] and U.K. Medical Research Council (MRC) grant [MR/M011747/1] to I.B. The funders played no role in the study, or writing of the manuscript.
Publisher's Note
Springer Nature remains neutral with regard to jurisdictional claims in published maps and institutional affiliations.
Open AccessThis article is distributed under the terms of the Creative Commons Attribution 4.0 International License (http://creativecommons.org/licenses/by/4.0/), which permits unrestricted use, distribution, and reproduction in any medium, provided you give appropriate credit to the original author(s) and the source, provide a link to the Creative Commons license, and indicate if changes were made. The Creative Commons Public Domain Dedication waiver (http://creativecommons.org/publicdomain/zero/1.0/) applies to the data made available in this article, unless otherwise stated.
Authors' Affiliations
(1)
Division of Virology, Department of Pathology, University of Cambridge, Cambridge, UK