Structural alteration of DNA induced by viral protein R of HIV-1 triggers the DNA damage response
Received: 24 July 2017
Accepted: 4 January 2018
Published: 16 January 2018
Abstract
Background
Viral protein R (Vpr) is an accessory protein of HIV-1, which is potentially involved in the infection of macrophages and the induction of the ataxia-telangiectasia and Rad3-related protein (ATR)-mediated DNA damage response (DDR). It was recently proposed that the SLX4 complex of structure-specific endonuclease is involved in Vpr-induced DDR, which implies that aberrant DNA structures are responsible for this phenomenon. However, the mechanism by which Vpr alters the DNA structures remains unclear.
Results
We found that Vpr unwinds double-stranded DNA (dsDNA) and invokes the loading of RPA70, which is a single-stranded DNA-binding subunit of RPA that activates the ATR-dependent DDR. We demonstrated that Vpr influenced RPA70 to accumulate in the corresponding region utilizing the LacO/LacR system, in which Vpr can be tethered to the LacO locus. Interestingly, RPA70 recruitment required chromatin remodelling via Vpr-mediated ubiquitination of histone H2B. On the contrary, Q65R mutant of Vpr, which lacks ubiquitination activity, was deficient in both chromatin remodelling and RPA70 loading on to the chromatin. Moreover, Vpr-induced unwinding of dsDNA coincidently resulted in the accumulation of negatively supercoiled DNA and covalent complexes of topoisomerase 1 and DNA, which caused DNA double-strand breaks (DSBs) and DSB-directed integration of proviral DNA. Lastly, we noted the dependence of Vpr-promoted HIV-1 infection in resting macrophages on topoisomerase 1.
Conclusions
The findings of this study indicate that Vpr-induced structural alteration of DNA is a primary event that triggers both DDR and DSB, which ultimately contributes to HIV-1 infection.
Background
Combined antiretroviral therapy (cART) for human immunodeficiency virus-1 (HIV-1)-positive patients suppresses viral replication to a non-detectable level, thereby preventing immunodeficiency caused by T cell depletion. Unfortunately, the interruption of the cART regimen allows the expansion of viral replication from long-lived reservoir cells [1]. Because macrophages comprise the major cell population involved in the formation of viral reservoirs [2, 3], understanding the mode of viral infection in resting macrophages is crucial.
Viral protein R (Vpr) is an accessory gene of HIV-1, which encodes a virion-associated nuclear protein that is made up of 96 amino acids (aa) [4] and can facilitate viral infection in resting macrophages [5–8]. The induction of cell-cycle abnormality at the G2/M phase is a well-investigated function of Vpr among its pleiotropic activities [9]. Notably, Vpr induces a DNA damage response (DDR) involving ATR/ATRIP-Chk1 activation, the phosphorylation of histone H2AX (γH2AX) and the formation of BRCA1, 53BP1, RAD51 and FANCD2 foci [10–14]. Structural analyses revealed that Vpr contains three alpha helices with self-dimerisation properties along with a flexible carboxy (C)-terminal region with a basic stretch that is involved in DNA binding [15, 16], both of which were attributable to the cell-cycle abnormalities at the G2/M phase [17]. Originally, Vpr-induced G2/M arrest was proposed to contribute to viral infection by delaying cell death, thereby providing longer periods for viral replication [18]; however, its biological significance in resting macrophages remains largely unclear.
Regarding the upstream events that potentially trigger Vpr-induced DDR, several lines of evidence suggest that Vpr expression provokes replication stress, thereby inducing chromatin loading of the replication protein A 70-kDa subunit (RPA70), which is a DNA-binding subunit of the single-strand DNA (ssDNA) binding heterotrimeric protein [12, 19]). Considering that DNA binding of RPA70 triggers the ATR/ATRIP-Chk1 pathway responsible for G2/M cell-cycle arrest [20], it is imperative to determine the mechanism of RPA70 loading onto the chromatin. Furthermore, cellular ubiquitination by Vpr is also required for DDR activation: the Q65R mutant of Vpr, which cannot bind DDB1/VprBP, an adaptor protein for Cul4 E3-ligase, is defective for the G2/M checkpoint activation and cellular ubiquitination [21–24]. Although these findings imply that Vpr modulates RPA70 loading onto the chromatin in close functional association with the DDB1/VprBP-Cul4-dependent ubiquitination pathway, no cellular targets of Vpr-dependent ubiquitination have yet been identified.
For determining whether Vpr influences the structural alteration of DNA, Kichler et al. [25] performed an electron microscopic study and proposed that the C-terminal moiety of Vpr can aggregate plasmid DNA. Moreover, Lyonnais et al. [26] found that Vpr mediates the bridging and stretching of DNA helices. These observations strongly suggest that Vpr is capable of altering DNA structures. Generally, aberrant DNA structures interfere with DNA replication and transcription and may cause DNA damage. Such molecular consequences have been well-characterised in the context of DNA topological stress induced by camptothecin (CPT) and etoposide [27], which inhibit topoisomerase 1 (Topo1) and Topo2, respectively. Topo1 is involved in the relaxation of excess supercoils on dsDNA, whereas Topo2 is involved in the disentangling of dsDNA strands through cycles of cleavage and re-ligation. Chemical inhibition of re-ligation after relief of DNA distortions results in the formation of covalent complexes between Topo1 or Topo2 and cleaved DNA ends, which potentially induce DNA double-strand breaks (DSBs) due to subsequent collision of replication or transcription [27, 28].
Because Vpr itself does not possess DNA cleavage activity, Vpr must induce the DDR with the aid of host factor(s) [16]. Several cellular proteins, including UNG2, HTLF and SLX4 have been suggested as candidates for participation in Vpr-induced DDR [14, 29, 30]. UNG2 and HTLF are DNA repair proteins, and suppression of their functions leads to aggravation of DNA damage [29, 30]. On the other hand, Laguette et al. [14] suggested that Vpr causes the premature activation of the SLX4-Mus81/Eme1 complex, which is a structure-specific nuclease complex, and promotes the cleavage of its target DNA structures, including DNA replication and recombination intermediates [14]. These observations suggest that cellular proteins involved in replication stress or its repair contribute to Vpr-induced DDR induction.
The findings of this study revealed that Vpr-induced structural alteration of DNA lead to RPA70 loading and negative supercoil formations. We demonstrated lines of evidence supporting that such Vpr-induced structural alteration of DNA is an upstream event that leads to DDR induction as well as DSB formation. Similar activity was observed at the cellular level; when Vpr was artificially recruited onto a specific chromosomal locus, it induced RPA70 loading, accumulation of negative supercoils, formation of a Topo1-DNA covalent complex (Topo1-cc) and DSBs in the corresponding region. Notably, Vpr also induced the ubiquitination of histone H2B, thereby increasing histone mobility and promoting RPA70 loading onto the chromatin. Together with the data regarding the Vpr-induced promotion of viral DNA integration in resting macrophages in a Topo1-dependent manner, we proposed that the structural alteration of DNA by Vpr acts as a trigger event for DDR and DSBs induction, which ultimately contributes to HIV-1 infection.
Discussion
Studies aimed at elucidating the mode of Vpr-induced DDR identified multiple Vpr-interacting cellular factors; however, the initial triggering event remains elusive. Here we presented evidence that structural alteration of DNA is the most upstream event of Vpr-induced DDR. Interestingly, our data suggest that structural alteration of DNA also induce DSB and contribute to HIV-1 infection in resting macrophages.
First, AFM observations revealed that supercoiled DNA shifted to a relaxed form when rVpr was added to DNA in an aqueous solution. This structural alteration was confirmed with the detection of negatively supercoiled DNA using the supercoiling assay with E. coli Topo1. Previous reports demonstrating that negative supercoiling of dsDNA occurs when RNA polymerase unwinds dsDNA or the nucleosome assembles on dsDNA [49, 50] together suggest that similar change in the topological configuration of dsDNA was induced by Vpr. This idea was also supported by Vpr-dependent loading of the ssDNA-binding proteins onto dsDNA.
Vpr-induced structural alteration of DNA was also observed in vivo in an experimental series using the LacO/LacR system in U2OS/2-6-3 cells. When a chimeric fusion protein of Vpr and LacR accumulated on the LacO region, we observed the formation of activated forms of multiple DDR-related molecules, chromatin loading of RPA70, accumulation of negative supercoiling, generation of Topo1-cc and DSBs in the same region foci (Fig. 5 and Additional file 6: Figure S5). RPA70 loading onto chromatin by Vpr-induced unwinding of dsDNA effectively explains the mechanism of Vpr-induced DDR.
Notably, our data suggested that Vpr-induced RPA70 loading was modulated at least two steps (Fig.
9
). In the first step, the DNA-binding activity of Vpr changes the superhelicity of the DNA and partially unwinds dsDNA. This function was demonstrated using in vitro experiments (Fig.
1
c, d), which also revealed the importance of the positively charged amino acids in the C-terminal stretch. In the second step, Vpr-mediated ubiquitination is required for chromatin remodelling, which enables the recruitment of cellular factors, including RPA70, to chromatin. This step was demonstrated via experiments using well-characterised Q65R mutant, which is defective in the ubiquitination process [
21
,
22
]. Intriguingly, when the Q65R mutant was forced to accumulate on the LacO repeats, it could not stimulate RPA70 loading (Fig.
5
d), although the RPA70 loading defect of the Q65R mutant was complemented by TSA (Figs.
5
e,
6
e). To elucidate this phenomenon, we investigated whether Vpr modulated chromatin remodelling and induced ubiquitination of histone H2B [
51
,
52
]. Interestingly, the FRAP assay revealed that the recovery of H2B after photo-bleaching was more rapid in cells expressing Vpr-Wt than in those expressing the Q65R mutant. Similarly, a non-ubiquitinated H2B mutant exhibited reduced mobility in the Vpr-expressing cells. Moreover, the ubiquitination of H2B was promoted by Vpr-Wt, but not by the Q65R mutant. Considering that Cul4 regulates H2B ubiquitination for facilitating the DDR [
53
] and that the Q65R mutant is ubiquitination-defective due to its inability to bind DDB1/VprBP [
21
,
22
], it is plausible that H2B is a target of Vpr-mediated ubiquitination, which is critical for Vpr-induced RPA70 loading. In addition to histone H2B, the association of Vpr with several chromatin modification factors, including p300, SNF2 h, NuRD and HDAC1 [
38
,
54
–
56
], may also contribute to the efficient reorganization of chromatin. Our data suggested that the concerted actions of structural alteration of DNA and chromatin remodelling are required for efficient RPA70 loading by Vpr.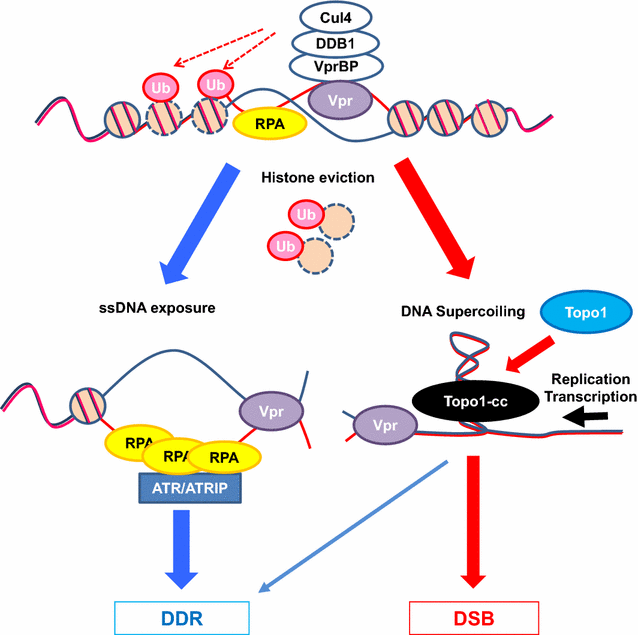 Notably, we found that Vpr-induced structural alteration of DNA could induce both DDR activation and DSB formation. In the latter process, Topo1 played a key role in creating DNA breaks (Figs. 4f, 8b, c; Additional file 8: Figure S7d), albeit its subtle contribution to Vpr-induced DDR activation (Fig. 4d). We also detected Vpr-induced DSB in resting macrophages in a Topo1-dependent manner (Fig. 8b, c), which suggested that Topo1-cc-mediated DSB could also arise in non-proliferating cells through interference with transcription [28]. Here, although we focussed on Topo1, we could not exclude the possibility of involvement of the other DNA structure modification factors such as Topo2, structure-specific nucleases including SLX4-Mus81/Eme1, and nucleotide excision repair (NER) factors in the processing of Vpr-induced aberrant DNA structures. Consistent with this possibility, we observed that the down-regulation of SLX4 or XPG (a nuclease acting in NER) by siRNA suppressed Vpr-induced DSB (Fig. 4f and Additional file 16: Figure S15c, d). In addition, these factors also function in Topo1-mediated DSB induction. SLX4 causes DSBs through Topo1-bound DNA strand incision during the replication process [57, 58] and XPG induces DSBs through the processing of R-loops (DNA/RNA hybrids), which are formed when Topo1 inhibition blocks the transcription [59, 60]. In resting macrophages, it is plausible that R-loop formation is a major trigger event of Vpr-induced DSBs. Consistently, we observed an increase in R-loops at the Vpr-accumulated region (Additional file 17: Figure S16) and a decrease in Vpr-induced γH2AX-positive cells by the over-expression of RNaseH1, an RNase that degrades R-loops (Additional file 5: Figure S4).
We confirmed the requirement of SLX4 for Vpr-induced DDR, which was in concordance with the report of Laguette et al. [14], but in contrast with another study that reported SLX4 to be dispensable [61]. These discrepant observations are attributable to the different levels of residual activity of SLX4 under down-regulation by siRNA and gene disruption. In addition, differentially reorganised DNA repair pathway in SLX4 deficient cells leads to different cellular responses to Vpr.
Several lines of evidence indicate that DSBs increase the efficiency of HIV-1 infection, especially in resting cells [8, 18, 62, 63]. The finding that Vpr-induced DSBs are important for viral infection in resting macrophages effectively explains the previous observations that Vpr is required for the infection of resting cells [5–8]. Furthermore, the observation that DSB sites are directly targeted by proviral DNA integration supports the relevance of Vpr-induced DSB in viral infection [8].
The mechanism by which Vpr induces structural alteration of DNA remains unclear. In this study, we analysed DNA supercoiling using recombinant Vpr and Vpr-derived peptides, which suggested the necessity of C-terminal stretch of Vpr for DNA unwinding. Notably, we also detected that a higher concentration of Vpr-derived peptides (0.15–1.5 Vpr-peptides/bp) resulted in strongly underwound DNA (Additional file 18: Figure S17) in the DNA supercoiling assay. In a previous electron microscopic study, higher concentrations of Vpr (at least 4.5 Vpr-peptides/bp) induced the aggregation of DNA [26]. Because plectonemic or toroidal DNA structures are the compacted forms of negatively supercoiled DNA, it is possible that our current findings reflect the same phenomena as that reported in a previous study [26]. Siddiqui et al. [64] reported that Vpr-induced DDR required helical domain II (37–50 aa), but not the C-terminal region. These contradictory observations in the function of the C-terminal region of Vpr could be derived from the methods adopted for evaluating the Vpr-induced DNA damages. Siddiqui et al. [64] assessed the chromosomal abnormalities as Vpr-induced DNA damages, whereas we measured DSB itself by neutral comet assay and LM-PCR (Figs. 4f, 5f).
HIV treatment with cART can effectively suppress viral replication. However, complete eradication of HIV has not been successfully achieved, largely due to long-lived reservoir cells [1]. Recent observations indicate that viral sanctuary sites are distributed in various organs, including in the gut-associated lymphoid tissue and the central nervous system, in which persistent infections are observed [2, 3]. Vpr has reportedly been detected in the cerebrospinal fluid of HIV-positive patients [65, 66]. Notably, Topo1-mediated DNA damage is responsible for several neurodegenerative disorders [67], suggesting that Vpr may be involved in the development of HIV associated neurocognitive disorder [68] by exacerbating Topo1 insults. Our results provide a rationale for developing anti-Vpr compounds, which can significantly contribute to the improvement of the therapeutic regimen for HIV-positive patients under the current cART.
Conclusions
We discovered that Vpr induces DNA structural alteration as an initial trigger of DDR and DSB. Notably, Vpr modulates chromatin remodelling by ubiquitinating histone H2B, and it facilitates RPA70 loading on unwound supercoiled DNA. We believe that our findings provide an answer to the long-standing question on how Vpr facilitates the infection of HIV-1 into macrophages.
Abbreviations
AFM:

atomic force microscopy
ATR:

ataxia-telangiectasia and Rad3-related
cART:

combined antiretroviral therapy
ChIP:

chromatin immunoprecipitation
CPT:

camptothecin
DDR:

DNA damage response
DSB:

DNA double-strand break
FRAP:

fluorescence recovery after photo-bleaching
HIV-1:

human immunodeficiency virus-1
LM-PCR:

ligation-mediated (LM)-PCR
MDMs:

monocyte derived macrophages
MOI:

multiplicity of infection
RADAR:

rapid approach to DNA adducts recovery
RPA70:

replication protein A 70-kDa subunit
SSB:

DNA single-strand break
Topo1:

topoisomerase 1
Topo1-cc:

Topo1-covalent complex
Vpr:

viral protein R
Declarations
Authors' contributions
KI conducted all experiments, and JK performed FRAP analysis. KI and YI designed the experiments and wrote the paper. All authors read and approved the final manuscript.
Acknowledgements
We thank Dr. Mari Shimura for Mit-23 cells, Dr. David Spector for U2OS/2-6-3 cells, Dr. Evi Soutoglou for the Cherry-LacR construct, and Dr. Kenzo Tokunaga for the pNL4-3 vector. FRAP and AFM analyses were supported by the Radiation Biology Center Cooperative Research Program (Kyoto University), and One-stop Sharing Facility Center for Future Drug Discovery (The University of Tokyo), respectively.
Competing interests
The authors declare that they have no competing interests.
Availability of data and materials
All data generated or analysed during this study are included in this published article. List of resources is included in Additional file 19: Table S2.
Consent for publication
Not applicable.
Ethics approval and consent to participate
Not applicable.
Funding
This work was supported in part by JSPS KAKENHI Grant Number JP26860313, Grant for National Center for Global Health and Medicine (21A-129), Grant-in-Aid for Research on HIV/AIDS Project from the Ministry of Health, Labor and Welfare of Japan, and the National Center for Global Health and Medicine (25A-108).
Publisher's Note
Springer Nature remains neutral with regard to jurisdictional claims in published maps and institutional affiliations.
Open AccessThis article is distributed under the terms of the Creative Commons Attribution 4.0 International License (http://creativecommons.org/licenses/by/4.0/), which permits unrestricted use, distribution, and reproduction in any medium, provided you give appropriate credit to the original author(s) and the source, provide a link to the Creative Commons license, and indicate if changes were made. The Creative Commons Public Domain Dedication waiver (http://creativecommons.org/publicdomain/zero/1.0/) applies to the data made available in this article, unless otherwise stated.
Authors' Affiliations
(1)
Department of Intractable Diseases, National Center for Global Health and Medicine, Tokyo, Japan
(2)
Department of Genome Repair Dynamics, Radiation Biology Center, Kyoto University, Kyoto, Japan