Multifaceted functions and roles of HBZ in HTLV-1 pathogenesis
Received: 9 February 2016
Accepted: 7 March 2016
Published: 15 March 2016
Abstract
Human T cell leukemia virus type 1 (HTLV-1) is an oncogenic retrovirus responsible for the development of adult T-cell leukemia (ATL). Although HTLV-1 harbors an oncogene, tax, that transforms T cells in vitro and induces leukemia in transgenic mice, tax expression is frequently disrupted in ATL, making the oncogenesis of ATL a bit mysterious. The HTLV-1 bZIP factor (HBZ) gene was discovered in 2002 and has been found to promote T-cell proliferation and cause lymphoma in transgenic mice. Thus HBZ has become a novel hotspot of HTLV-1 research. This review summarizes the current findings on HBZ with a special focus on its potential links to the oncogenesis of ATL. We propose viewing HBZ as a critical contributing factor in ATL development.
Keywords
HTLV-1HBZTaxViral oncogenesisRegulatory T cell
Background
Human T-cell leukemia virus type 1 (HTLV-1) is the first human retrovirus to have been identified (in the early 1980s), and it was later demonstrated to be the causative agent of adult T-cell leukemia (ATL), an aggressive cancer of peripheral CD4 T cells [1, 2]. HTLV-1 is able to infect various cell types in vitro, yet the HTLV-1 provirus is predominantly detected in CD4 T cells in vivo [3]. The CD4 T cell tropism of HTLV-1 is likely due to selected expansion of infected CD4 T cells rather than a receptor preference, because the HTLV-1 receptor, glucose transporter 1 (GLUT1) is ubiquitously expressed [4, 5].
The HTLV-1 provirus is 9 kb long and has multiple coding regions flanked by two identical 750-bp long terminal repeats (LTRs) in the 5′ and 3′ ends (Fig.
1
), both of which are composed of unique 3′ (U3), repeat (R) and unique 5′ (U5) regions. The 5′ LTR serves as the promoter for all structural genes and most accessary and regulatory genes, including the gene for the transactivator Tax, which upregulates 5′ LTR activity by recruiting cAMP response element-binding protein (CREB) to three viral CREB-responsive element (vCRE) tandem repeats in the 5′ LTR [
6
]. Transcriptional coactivators such as CBP/p300 and P/CAF are also recruited to vCRE by Tax [
6
]. The 3′ LTR is able to initiate transcription from the negative strand of the provirus and serves as the promoter for the only antisense transcript of the virus, HTLV-1 basic leucine zipper factor (HBZ) [
7
–
9
].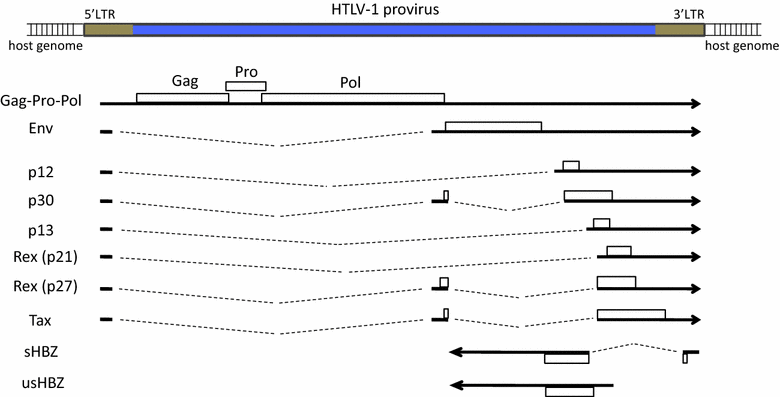 Although most HTLV-1 infected individuals remain lifelong asymptomatic carriers, approximately 5 % of them will develop ATL after a long latency of decades [10]. HTLV-1 also causes several inflammatory diseases such as uveitis, dermatitis and a neurodegenerative disorder called HTLV-1-associated myelopathy/tropical spastic paraparesis (HAM/TSP) [11].
Review
The HBZ gene
Tax is of crucial importance for its unique ability to drive HTLV-1 replication and to immortalize T cells [12] and thus has long been thought to be the main causal factor of ATL. However, it has been reported that Tax expression is frequently inactivated in ATL cases by either abortive mutations in the tax gene or DNA methylation of the 5′ LTR [13–16]. In addition, a defective provirus with the 5′ LTR partially or completely deleted has been found in up to 40 % of ATL cases [17, 18]. Host immunosurveillance by cytotoxic T lymphocytes (CTLs) is thought to be responsible for the loss of Tax expression, since Tax protein is a major target of CTLs [19]. In contrast to the 5′ LTR, the 3′ LTR remains intact and non-methylated—and the HBZ gene harbors no abortive mutations and is consistently expressed in ATL patients and HTLV-1 infected individuals [18, 20, 21]. Furthermore, HBZ mRNA abundance positively correlates with HTLV-1 proviral load in asymptomatic carriers (AC), HAM/TSP and ATL patients [22–24]. The distinct expression patterns of HBZ and tax suggest that they have different roles in the course of HTLV-1 pathogenesis.
The HBZ gene has two transcription isoforms: an unspliced (usHBZ) form and a spliced (sHBZ) form. usHBZ was discovered in 2002 [8] and early publications on HBZ were exclusively based on usHBZ. The alternative transcript, sHBZ, was first reported in 2006 [25–27]. These two transcripts have different 5′ untranslated regions (UTRs) and differ slightly in the 5′ region of their coding sequences (CDS) (Fig. 1). Consequently, the usHBZ and sHBZ proteins have almost identical sequences except for the first several amino acids (MAAS for sHBZ and MVNFVSA for usHBZ). Previous studies have shown that usHBZ and sHBZ exhibit similar functions. However, since sHBZ is more abundantly expressed in infected cells [9, 22], current studies are mostly focused on sHBZ. This review mainly addresses the functions of sHBZ.
The transcription of sHBZ initiates from the U5 and R regions of the 3′ LTR [25, 27], and the whole 3′ LTR likely serves as a TATA-less promoter of sHBZ [9]. sHBZ transcription terminates at a classical polyadenylation signal downstream [27]. Three vCRE [28] and three specificity protein 1 (Sp1) binding sites [9] have been discovered in the 3′ LTR, and they seem to be critical for its promoter activity. Due to the presence of vCRE, the activity of the 3′ LTR is enhanced by Tax via a CREB-dependent mechanism [28]. HBZ, by recruiting JunD to the Sp1 sites, also enhances the activity of the 3′ LTR [29].
It is interesting that the activity of the 3′ LTR seems to respond to some stimuli in an opposite way from that of the 5′ LTR. It has been reported that two Tax antagonistic cellular proteins, TCF1 and LEF1, significantly inhibit Tax-mediated 5′ LTR activation but slightly enhance 3′ LTR activation [30]. In addition, valproic acid (VPA), a deacetylase inhibitor, is reported to have opposite effects on the 3′ and 5′ LTRs, in that it represses HBZ expression but increases Tax expression [31].
Functions of HBZ protein
HBZ is a nuclear protein [
32
–
35
] and comprises an activation domain (AD) in the N-terminus, a central domain (CD), and a basic leucine zipper (bZIP) domain in the C-terminus (Fig.
2
). The N-terminus of HBZ was found to possess transactivating potential when fused with the DNA-binding domain of GAL4 and therefore termed AD [
8
]. Within the AD of HBZ, two LXXLL-like motifs have been identified and shown to bind to the KIX domain of CBP/p300 [
36
], well-known transcription coactivators that are involved in a variety of cellular functions [
37
]. These LXXLL motifs are also required for HBZ to activate TGF-β/Smad signaling, which is critical for HBZ-induced Foxp3 expression [
38
]. The bZIP domain enables HBZ to hetero-dimerize with cellular bZIP proteins of the AP1 superfamily [
39
], such as CREB2 [
8
], c-Jun [
40
,
41
], JunB [
40
], JunD [
29
,
42
], CREB [
43
], MafB [
44
] and ATF3 [
45
] (Fig.
2
). In most cases the HBZ/AP1 hetero-dimerization impairs the association of AP1 proteins with their responsive DNA elements [
8
,
40
,
41
,
43
,
44
] but in some cases dimerization can instead result in enhanced DNA binding—as is the case for JunD [
29
,
42
]. It should be noted that although HBZ protein is modified by phosphorylation, acetylation or methylation, a recent report demonstrates that none of these post-translational modifications likely affect its function [
46
].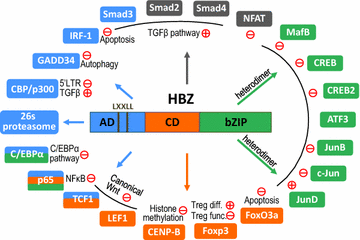 HBZ RNA is growth promoting and anti-apoptotic
HBZ is unique in that it is the only HTLV-1 gene transcribed from the antisense strand—a subtle mechanism that avoids the use of the frequently disrupted or methylated 5′ LTR as its promoter and also evades host APOBEC3G-induced nonsense mutations [18, 20]. Intriguingly, HBZ RNA carries regulatory functions aside from the common protein-coding function. It has been reported that HBZ RNA itself supports the proliferation of the IL-2-dependent T-cell line Kit225 cultured at a suboptimal concentration of IL-2. The precise mechanism is unclear but HBZ RNA likely achieves this by targeting E2F1 and upregulating its expression, as well as the expression of its downstream target genes, to enhance proliferation [25]. A recent study revealed that HBZ RNA also inhibits apoptosis in mouse CD4 T cells [84]. HBZ RNA increases the transcription of the anti-apoptotic gene survivin, a fact which likely accounts for its anti-apoptotic effects. These two key functions of HBZ mRNA (proliferation-enhancing and anti-apoptotic) imply that HBZ might contribute to the oncogenesis of ATL in its RNA form as well. Since mRNAs ordinarily localize to the cytoplasm for the sake of translation, whereas regulatory long noncoding RNAs (lncRNA) are found mostly in the nucleus [85, 86], the dominant nuclear localization of HBZ RNA reported in several studies [54, 55, 87] supports the regulatory role of HBZ RNA as well.
Antisense protein of HTLV-2 (APH-2)
HTLV-2 is a close relative of HTLV-1 that has not been linked to any diseases and thus is considered to be non-pathogenic. HTLV-2 has also been reported to encode an antisense transcript termed APH-2 [88]. APH-2 has similar functions as HBZ such as inhibiting transcription from HTLV-2 5′ LTR and is dispensable for in vitro T-cell immortalization [89]. APH-2 demonstrates distinct activities as HBZ in modulating cellular pathways [90] whereas it lacks the ability to promote T-cell proliferation [91], which might contribute to the nonpathogenic nature of HTLV-2.
Perspective
It has been assumed as an oncogenesis model for HTLV-1 that Tax initiates cellular transformation at an early stage, while HBZ maintains the transformed phenotype during the late stage when Tax expression is absent or suppressed. However, since HBZ expression has always been present regardless of early or late stage, it seems inaccurate to attribute the first hit of oncogenesis solely to Tax. In fact, accumulating evidence now implies a critical role of HBZ throughout the course of HTLV-1 mediated oncogenesis. As summarized above, HBZ has been found to carry a wide variety of functions that associate with seven out of ten cancer hallmarks (Fig.
3
) [
92
]. If we exclude hallmarks like angiogenesis or invasion that are generally characteristics of solid cancers, then deregulation of cellular energetics is the only hallmark yet to be associated with HBZ. Hence, despite the fact that HBZ has not been reported to associate directly with cellular transformation like Tax does, HBZ does seem to harbor the required potential to cause cancer. Tax and HBZ frequently shows opposite effects on signaling pathways, suggesting that HBZ plays different roles in oncogenesis from Tax. Furthermore, given the fact that the HBZ gene is the only HTLV-1 gene present in all infected individuals, HBZ-targeting strategies are expected to serve as promising therapeutics for ATL in the future.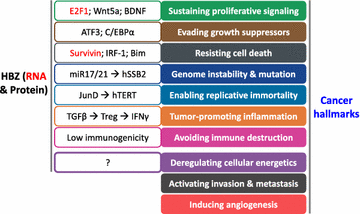 Declarations
Authors' contributions
GM, MM wrote the review. GM, JY, and MM were involved in discussions and critical reading of the manuscript. All authors read and approved the final manuscript.
Acknowledgements
We thank Linda Kingsbury for proofreading. This study was supported by grants from the Ministry of Education, Science, Sports, and Culture of Japan to M.M. (25293219) and J.Y. (26460554), the Mitsubishi foundation (M.M.), the Ichiro Kanehara Foundation (J.Y.) and SENSHIN Medical Research Foundation (J.Y.)
Competing interests
The authors declare that they have no competing interests.
Open AccessThis article is distributed under the terms of the Creative Commons Attribution 4.0 International License (http://creativecommons.org/licenses/by/4.0/), which permits unrestricted use, distribution, and reproduction in any medium, provided you give appropriate credit to the original author(s) and the source, provide a link to the Creative Commons license, and indicate if changes were made. The Creative Commons Public Domain Dedication waiver (http://creativecommons.org/publicdomain/zero/1.0/) applies to the data made available in this article, unless otherwise stated.
Authors' Affiliations
(1)
Laboratory of Virus Control, Institute for Virus Research, Kyoto University, Kyoto, Japan