Identification of novel monocistronic HTLV-1 mRNAs encoding functional Rex isoforms
Received: 20 January 2015
Accepted: 19 June 2015
Published: 2 July 2015
Abstract
Background
Human T cell leukemia virus type 1 (HTLV-1) gene expression is controlled by the key regulatory proteins Tax and Rex. The concerted action of these proteins results in a two-phase kinetics of viral expression that depends on a time delay between their action. However, it is difficult to explain this delay, as Tax and Rex are produced from the same mRNA. In the present study we investigated whether HTLV-1 may produce novel mRNA species capable of expressing Rex and Tax independently.
Findings
Results revealed the expression of three alternatively spliced transcripts coding for novel Rex isoforms in infected cell lines and in primary samples from infected patients. One mRNA coded for a Tax isoform and a Rex isoform, and two mRNAs coded for Rex isoforms but not Tax. Functional assays showed that these Rex isoforms exhibit activity comparable to canonic Rex. An analysis of the temporal expression of these transcripts upon ex vivo culture of cells from infected patients and cell lines transfected with a molecular clone of HTLV-1 revealed early expression of the dicistronic tax/rex mRNAs followed by the monocistronic mRNAs coding for Rex isoforms.
Conclusion
The production of monocistronic HTLV-1 mRNAs encoding Rex isoforms with comparable activity to canonical Rex, but with distinct timing, would support a prolonged duration of Rex function with gradual loss of Tax, and is consistent with the two-phase expression kinetics. A thorough understanding of these regulatory circuits will shed light on the basis of viral latency and provide groundwork to develop strategies for eradicating persistent infections.
Keywords
HTLV-1RexSplicing
Findings
Human T cell leukemia virus type 1 (HTLV-1) is the causative agent of adult T-cell leukemia-lymphoma (ATLL) and tropical spastic paraparesis/HTLV-1-associated myelopathy (TSP/HAM) (reviewed in [
1
]). HTLV-1 expression is controlled by Tax and Rex, two key viral regulatory proteins coded by a doubly-spliced dicistronic mRNA containing exons 1, 2 and 3 (Figure
1
). Tax provides a positive feedback circuit by driving transcription of the viral genome [
2
]; Rex enhances the nuclear export and expression of a subset of mRNAs coding for the virion-associated proteins Gag-Pol and Env, while reducing the levels of the
tax/rex
mRNA, thus exerting a negative feedback loop on viral transcription [
3
,
4
]. Using quantitative RT-PCR (qRT-PCR), we recently demonstrated a two-phase kinetics of HTLV-1 expression in short-term cultures of primary PBMCs from infected patients [
5
–
7
]. We also showed that this timing of viral gene expression was strictly dependent on Rex. Mathematical modelling [
5
,
8
] indicated that a time delay between the positive (Tax) and negative (Rex) regulatory loops is necessary to explain the observed kinetics. This notion is in apparent contrast with the fact that Tax and Rex are known to be produced together from the
1
-
2
-
3
mRNA. However, we provided experimental evidence that Tax protein is more rapidly degraded than Rex, a property that might contribute, at least partially, to a temporal separation between maximal Tax and Rex function [
5
]. To better define the molecular mechanisms determining the time delay between Tax and Rex function, in the present study we investigated whether HTLV-1 may produce novel mRNA species capable of expressing Rex and Tax independently.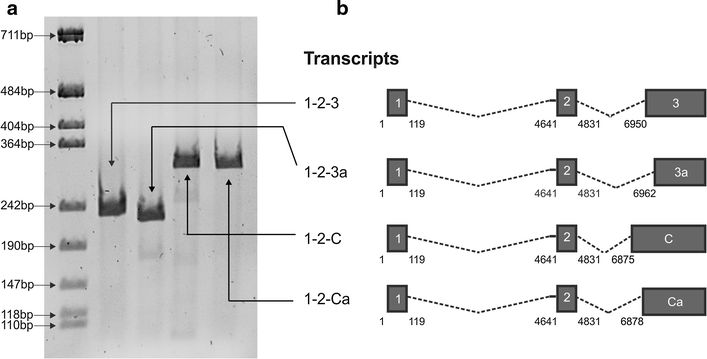 Declarations
Authors' contribution
FR carried out the molecular cloning, immunofluorescence, immunoblot and functional assays, analyzed and interpreted the data, IC carried out the qRT-PCR assays, analyzed and interpreted the data. VA and VWV helped with in initial pilot experiments. VC and GF conceived the study, analyzed and interpreted the data, and DMD participated in its design and coordination and helped to interpret the results. All authors read and approved the final manuscript.
Acknowledgements
We thank Luigi Chieco-Bianchi for discussions and Charles Bangham and Graham Taylor for discussions and patient samples. The research was supported by investigator Grants from the Associazione Italiana per la Ricerca sul Cancro (AIRC; nos. 4175 and 13378), an AIRC-Cariverona Regional Grant, and the University of Padua (Ateneo Grant no. CPDA124913/12).
Compliance with ethical guidelines
Competing interests The authors declare that they have no competing interests.
Open AccessThis article is distributed under the terms of the Creative Commons Attribution 4.0 International License (http://creativecommons.org/licenses/by/4.0/), which permits unrestricted use, distribution, and reproduction in any medium, provided you give appropriate credit to the original author(s) and the source, provide a link to the Creative Commons license, and indicate if changes were made. The Creative Commons Public Domain Dedication waiver (http://creativecommons.org/publicdomain/zero/1.0/) applies to the data made available in this article, unless otherwise stated.
Authors' Affiliations
(1)
Department of Surgery, Oncology and Gastroenterology, University of Padova, Padua, Italy
(2)
Animal Models and Retroviral Vaccines Section, National Cancer Institute, Bethesda, USA
(3)
Department of Biomedical Sciences, University of Padova, Padua, Italy
(4)
Istituto Oncologico Veneto-IRCCS, Padua, Italy
(5)
Translational Hemato-Oncology Group, Department of Clinical Science, Centre of Cancer Biomarkers CCBIO, University of Bergen, Bergen, Norway
(6)
Novartis Vaccines Loc., Sovicille, Italy