Modulation of HIV-1-host interaction: role of the Vpu accessory protein
Received: 12 November 2010
Accepted: 22 December 2010
Published: 22 December 2010
Abstract
Viral protein U (Vpu) is a type 1 membrane-associated accessory protein that is unique to human immunodeficiency virus type 1 (HIV-1) and a subset of related simian immunodeficiency virus (SIV). The Vpu protein encoded by HIV-1 is associated with two primary functions during the viral life cycle. First, it contributes to HIV-1-induced CD4 receptor downregulation by mediating the proteasomal degradation of newly synthesized CD4 molecules in the endoplasmic reticulum (ER). Second, it enhances the release of progeny virions from infected cells by antagonizing Tetherin, an interferon (IFN)-regulated host restriction factor that directly cross-links virions on host cell-surface. This review will mostly focus on recent advances on the role of Vpu in CD4 downregulation and Tetherin antagonism and will discuss how these two functions may have impacted primate immunodeficiency virus cross-species transmission and the emergence of pandemic strain of HIV-1.
Keywords
Simian Immunodeficiency VirusTrans Golgi NetworkVirological SynapseTetherin AntagonismTetherin Restriction
Introduction
HIV-1 interaction with host target cells is complex with nearly every step of the virus infection cycle relying on the recruitment of cellular proteins and basic machineries by viral proteins [1]. For instance, the Tat regulatory protein recruits the pTEFb complex during viral transcription to enhance host RNA polymerase II processivity and promote efficient elongation of viral transcripts (reviewed in [2]). Similarly, the p6 domain of the Gag structural protein interacts with the ESCRT complex during viral assembly to direct the budding of progeny virions (reviewed in [3]). Recent discoveries have shed light on an additional level of complexity involving host proteins that provide considerable resistance to infection by HIV-1 and other viruses via cell-autonomous mechanisms that are likely part of the antiviral innate immune response. As a virus which induces a persistent infection, HIV-1 has evolved countermeasures to overcome the antiviral activity of these host factors, also called restriction factors, mainly through the activities of a set of viral accessory proteins that include the Vif, Vpr, Vpu and Nef proteins. These accessory proteins, which have been recently the subject of intense research and progress, represent one of the defining features of primate immunodeficiency viruses. They are not commonly found in other retroviruses and as such are likely to play a key role in HIV-1 pathogenesis. Overall, it is becoming increasingly clear that the function of these non-enzymatic viral proteins is to modulate the cellular environment within infected cells to promote efficient viral replication, transmission and evasion from innate and acquired immunity (for recent reviews [4, 5]). In this review, we will focus on the recent progress in our understanding of the functions and mode of action of the HIV-1 Vpu accessory protein and relate these to the pathogenesis of the virus as well as the emergence of pandemic HIV-1 strains. Furthermore, we will highlight some important questions for the future.
The vpugene product
Vpu was initially identified as the product of an open reading frame (ORF), referred as the U ORF (initially all HIV-1 ORFs were designated by alphabetical letters) located between the first exon of the tat and env genes of HIV-1 [6, 7]. The vpu gene is present in the genome of HIV-1 but is absent from HIV-2 and other related SIVs, such as SIV from sooty mangabey (SIVsmm) and SIV from rhesus macaques (SIVmac) [6, 7]. Structural homologues have been detected in SIV from chimpanzee (SIVcpz), the precursor of HIV-1, and in SIVs from the mona monkey (Cervicopithecus mona; SIVmon), the greater spot-nosed monkey (Cercopithecus nictitans; SIVgsn), the mustached monkey (Cercopithecus cephus; SIVmus) and more recently in Dent's mona monkey (Cercopitheus mona denti; SIVden) and gorilla (Gorilla gorilla; SIVgor) [8–13].
The Vpu protein encoded by HIV-1 is a 77-86 amino-acids membrane-associated protein capable of homo-oligomerization [
14
]. The protein is translated from a Rev-dependent bicistronic mRNA, which also encodes the viral envelope glycoprotein (Env), suggesting that expression of Vpu and Env are coordinated during HIV-1 infection [
15
]. The protein is predicted to have a short luminal N-terminal domain (3-12 amino acids), a single transmembrane (TM) spanning domain that also serves as an uncleaved signal peptide (23 amino acids) and a charged C-terminal hydrophilic domain of 47-59 residues that extends into the cytoplasm [
14
,
16
] (Figure
1A
). While the crystal structure of the entire Vpu protein has yet to be solved, the molecular structure of the N-terminal domain (residues 2-30) has been determined by nuclear magnetic resonance (NMR) and found to contain a TM α-helix spanning residues 8 to 25 with an average tilt angle of 13 degrees [
17
,
18
]. Interestingly, modeling as well as biochemical and genetic evidence have suggested that the TM domain is critical for Vpu oligomerization and that a pentameric structure for the TM domain would be optimal for the formation of an ion channel [
19
,
20
]. In that regard, several studies have suggested that Vpu, like the M2 protein of influenza, may have an ion channel activity (for a recent review [
21
]). However, whether the ion channel activity of Vpu is required for Vpu function is still controversial. NMR analysis of the cytosolic domain, on the other hand, revealed that this part of the protein comprises two α-helical regions interconnected by a flexible loop containing a highly conserved sequence (DSGNES) [
16
,
22
,
23
], which includes a pair of serine residues (S52 and S56) that are phosphorylated by casein kinase II [
24
–
27
] (Figure
1
).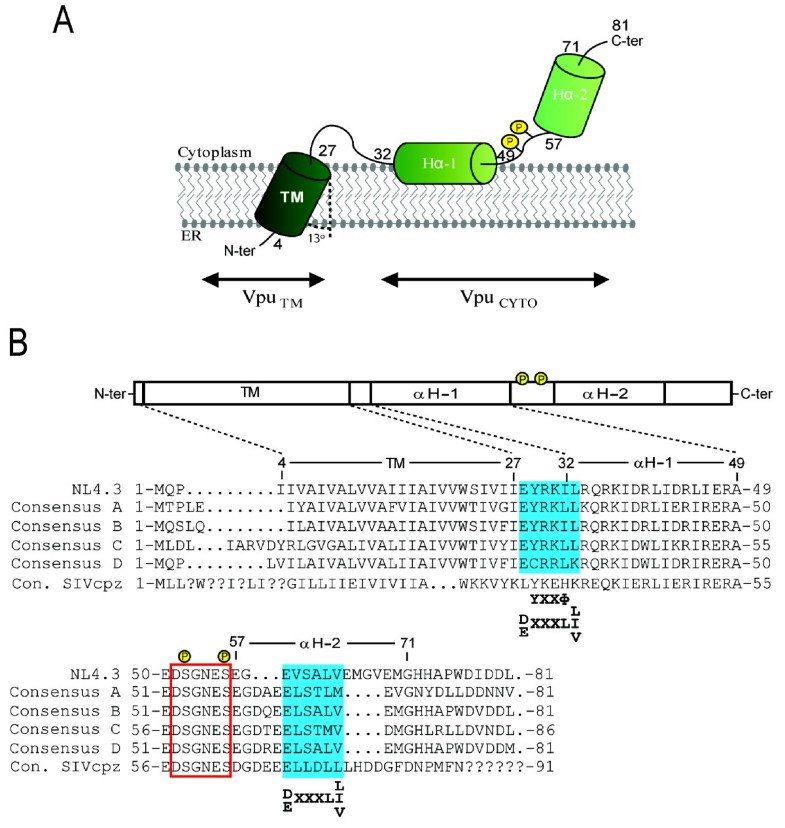 HIV-1 Vpu proteins encoded by subtype B strains appear to be largely expressed on intracellular membranes, which correspond to the ER, the trans Golgi network (TGN) as well as endosomal compartments, but no accumulation of the protein is readily detected at the cell surface [28–30]. Unlike the better-studied HIV-1 subtype B Vpu proteins, subtype C and SIVcpz Vpu alleles fused to EGFP were reported to be transported to the plasma membrane [31–33]. Interestingly, as depicted in Figure 1B, amino acid sequence analysis of the cytosolic domain of HIV-1 Vpu reveals the presence of putative trafficking signals that harbor a degree of amino acid variation among Vpu alleles from different subtypes [34]. These trafficking signals include: 1) an overlapping tyrosine (YXXΦ where Φ designs a hydrophobic residue) and an acidic/dileucine based ([D/E]XXXL[L/I/V]) sorting motifs in the hinge region between the TM anchor and the cytosolic domain, normally implicated in endocytosis as well as in the targeting of TM proteins to lysosomes and lysosome-related organelles [35]; 2) another acidic/dileucine sorting signal, [D/E]XXXL[L/I/V], in the second α-helix of the Vpu cytoplasmic tail [32] (Figure 1B). The fact that several laboratory-adapted strains and primary isolates of HIV-1 harbor vpu genes with polymorphism at the level of these putative trafficking signals [29, 34] raises the possibility that regulation of Vpu subcellular localization and perhaps biological activities may indeed confer the virus a selective advantage in some physiological conditions.
Studies mostly performed with Vpu originating from subgroup B laboratory-adapted strains (NL4-3, BH10) have established two main functions during infection of HIV-1 target cells in tissue culture systems. First, Vpu induces a rapid degradation of newly synthesized CD4 receptor molecules in the ER via the ubiquitin-proteasome system [36, 37]. In addition to its effect on CD4 catabolism, Vpu promotes the release of progeny virions from HIV-1-infected human cells [7, 26, 28, 38–40] by counteracting Tetherin (also designated BST2, CD317 and HM1.24), a host restriction factor that strongly inhibits the release of virions from the host cell surface [41, 42].
Role of Vpu in HIV-1-induced CD4 receptor downregulation
Role of Vpu in HIV-1 release and transmission
Role of Vpu in primate lentivirus cross-species transmission and the emergence of pandemic HIV-1 strains
Genes encoding for restriction factor, such as TRIM5-α, APOBEC3G and Tetherin undergo rapid evolution, a process also known as positive selection, most likely as the result of the selective pressure imposed by new emerging viral pathogens or to escape from viral antagonists during the millions of years of virus-host co-evolution [154–156]. Consequently, these restriction factors display a high degree of sequence divergence and constitute potent limiting barriers to virus cross-species transmission because viral antagonists usually function in a species-specific manner. In fact, sequence alignment of Tetherin from different primate species reveals important selective genetic changes that lead to amino-acid substitution or deletion primarily in the cytoplasmic and TM domains of the protein, regions that are now known to be targeted by Tetherin antagonists [138, 156, 157] (Figure 3B).
These genetic changes in Tetherin sequence have shaped the evolution of primate lentiviruses and influenced at least in part their ability to transmit across species. There is evidence suggesting that SIVcpz, the precursor of HIV-1, results from recombination events between the precursors of the SIVgsn/mon/mus and the SIV from red capped mangabeys (SIVrcm) lineages [
158
] (Figure
6
). The precursor of SIVgsn/mon/mus that contributed to the 3'-half of the SIVcpz/HIV-1 genome, most likely harbored a
vpu
gene product able to both induce CD4 degradation and antagonize Tetherin since all descendants do. Since it is believed that the ancestor of the SIVrcm lineage used Nef to antagonize Tetherin, given that this lineage does not encode a
vpu
gene, the chimeric virus that gave rise to SIVcpz contained two potential Tetherin antagonists. However, the SIVcpz Vpu protein inherited from the SIVgsn/mon/mus lineage is devoid of any activity against the chimpanzee and human Tetherin [
151
,
153
,
157
].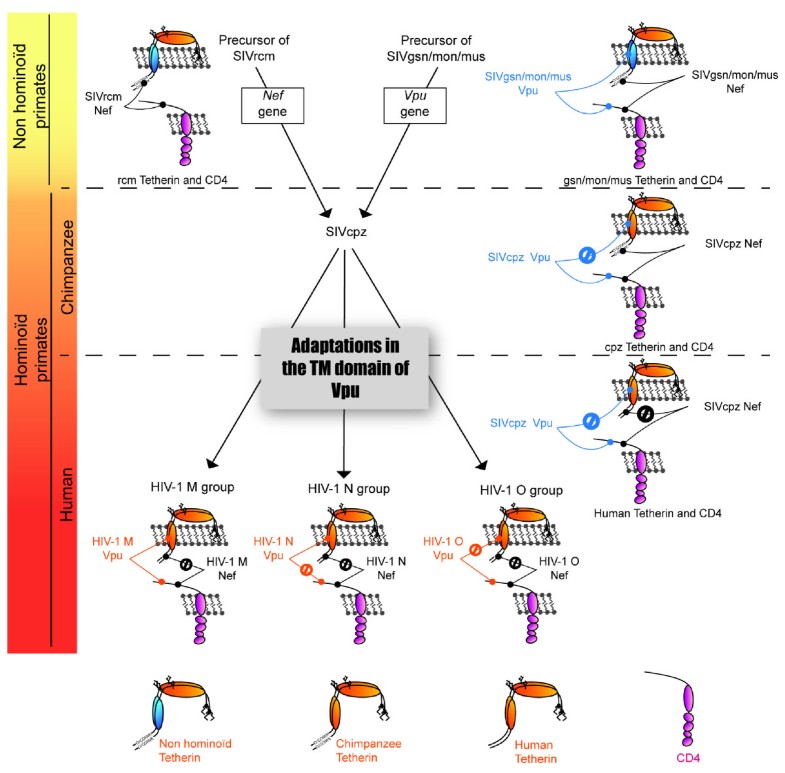 The resistance displayed by the chimpanzee Tetherin to the Vpu protein originating from the SIVgsn/mon/mus lineage results from the high sequence variability in the TM domain of Tetherin reported between non-hominoid primates (monkeys such as rhesus or African green monkey) and hominoid primates (such as chimpanzees, gorillas and humans) [151, 156, 157] (Figure 1B). Indeed, this TM domain was demonstrated to be the site conferring Vpu susceptibility and binding [131, 132, 136, 138, 156]. As a result Nef, and not Vpu, evolved to become an effective Tetherin antagonist in SIVcpz-infected chimpanzee, most likely because the cytoplasmic domain sequence DDIWK targeted by Nef is somewhat less divergent between chimpanzee and monkey than the TM domain targeted by Vpu [150–153, 157]. The deletion of sequences, highly subjected to adaptation and recognized by Nef, in human Tetherin is hypothesized to be the result of a previous encounter with a viral pathogen during human evolution that used a Nef-like protein, if not Nef itself, to antagonize Tetherin [157]. Conversely, few differences were observed in the TM domain of Tetherin between chimpanzee and human Tetherin, suggesting that Vpu has not driven Tetherin adaptation for a long period in primate evolution and accounting for the ability of the HIV-1 Vpu to counteract the chimpanzee Tetherin [157] (Figure 3B).
The inability to use Nef as a human Tetherin antagonist following SIVcpz cross-species transmission to human has likely led SIVcpz to proceed to a ''neofunctionalization'' of its initially incompetent Vpu protein in order to efficiently overcome the restriction imposed by human Tetherin (Figure 6). In support of this adaptation mechanism, it was recently reported that the differential ability of HIV-1 and SIVcpz Vpu to antagonize human Tetherin could be mapped to two regions of the TM domain of Vpu (amino-acid residues 1-8 and 14-22). Importantly, SIVcpz Vpu was completely able to overcome the human Tetherin restriction when these two regions were substituted for those from HIV-1 Vpu [157]. Furthermore, analysis of a SIVcpz strain (LB7) that represents the closest relative to HIV-1 group M revealed that the LB7 Vpu allele is predicted to need 7 minimal adaptations within these two critical regions of the TM domain to gain the ability to antagonize human Tetherin [157]. Consistent with these findings, mutagenesis of the prototypical NL4.3 Vpu TM domain identified three amino acid positions A14, W22 and, to a lesser extent A18, as Vpu residues critical for Tetherin binding and antagonism [135] (Figure 1B). Interestingly, these residues are predicted to align on the same face of the Vpu TM α-helix and as such might potentially be part of the interface that directly or indirectly interacts with the TM domain of human Tetherin.
The adaptation towards Vpu specifically shaped to counteract the hominoid Tetherin is at the center of the lineage-specific anti-Tetherin activity harbored by HIV-1 Vpu [138, 151, 156]. In line with this observation, substituting the TM domain of the human Tetherin with that from African green monkey or rhesus monkey Tetherin abrogated the chimeric protein sensitivity and binding to HIV-1 Vpu [131, 132, 156]. Indeed, analysis of the residues within the TM domain of human Tetherin, which determines the susceptibility to HIV-1 Vpu-mediated antagonism, revealed that one single substitution mutation for a residue found in the monkey Tetherin (T45I) combined to a deletion of two amino acids (G25, I26), absent from agm Tetherin, resulted in an efficient restriction of wild-type HIV-1 [156]. More recently, using a live cell based assay to monitor interaction, Kobayashi and colleagues performed a detailed analysis of the amino-acid residues within the TM domain of human Tetherin that are involved in Vpu binding [136]. This study identified three amino acid residues (I34, L37 and L41) as critical determinants for Vpu interaction and susceptibility [136] (Figure 3B). Furthermore, consistent with previous studies [132, 138, 156, 159], they found that the integrity of the 22L-L-L-G-I26 amino acid sequence, which is indeed altered by a deletion of two amino acids in agm/rhesus Tetherins (deletion of L22, L23 or L24, G25 or G25, I26, depending on the alignment), and/or conservation of a threonine at position 45 is required for the antagonism by Vpu (Figure 3B). On the basis of computer-assisted structural modeling and mutagenesis data, this study proposes that alignment of amino-acids of I34, I37, L41 and T45 on the same helical face in the TM domain, a positioning apparently governed by the presence of L22 and L23 (or perhaps the integrity of the 22L-L-L-G-I26 amino-acid sequence), is crucial for human Tetherin antagonism by Vpu. Intriguingly, while mutation at position T45 affected the sensitivity of human Tetherin to Vpu, it did not significantly affect the formation of a Tetherin-Vpu complex, suggesting that interaction of Vpu to Tetherin alone is not sufficient to mediate Tetherin antagonism. Further studies will be necessary to address this potentially important issue.
Phylogenetic analyses indicate that at least three independent cross-species transmissions of SIVcpz gave rise to HIV-1 group M (main), N (non-M, non-O) and O (outlier) [160]. The functional properties acquired by Vpu proteins during these three independent transmissions of SIVcpz to humans have been recently analyzed and shown to have perhaps determined the propensity of these different groups to spread efficiently [151]. The Vpu protein of the HIV-1 M group responsible for the global HIV-1 pandemic was found to efficiently antagonize human Tetherin and to induce CD4 degradation. In contrast, the non-pandemic HIV-1 group O Vpu was found to have preserved its ability to mediate CD4 degradation but displayed a very weak activity against human Tetherin, while the rare HIV-1 group N gained some anti-human Tetherin activity, but lost its ability to degrade CD4 (Figure 6). These observations have led Kirchhoff and colleagues to propose that the acquisition of a fully competent Vpu protein able to antagonize Tetherin and mediate CD4 degradation may have facilitated the global spread of the HIV-1 M group, as opposed to the N and O groups whose distribution has remained very limited and focused to West Africa [151]. Nevertheless, the fact that HIV-1 from the N and O groups are still able to cause AIDS in infected individuals suggests that Vpu-mediated CD4 degradation and Tetherin antagonism may not be biological activities required for HIV-1 dissemination within an infected individual but rather functions that are critical for efficient transmission between individuals. A similar parallel can also be established with HIV-2, whose geographical distribution has been limited in comparison to HIV-1 [161]. As discussed previously, HIV-2 antagonizes human Tetherin using its Env glycoprotein since its genome does not encode a Vpu protein and its Nef protein cannot counteract human Tetherin [145, 148]. Interestingly, HIV-2 Env was found to antagonize Tetherin less efficiently than HIV-1 Vpu, perhaps, because its mode of action solely involves a trapping of the restriction factor in the TGN [148]. However, the fact that this virus uses a structural protein to both downregulate CD4 (through complex formation in the ER) and Tetherin, could have also entailed a greater fitness cost to the virus than the use of accessory proteins such as Vpu or Nef, thus explaining in part its attenuated virulence in comparison to HIV-1 [161]. Therefore, it will be interesting to assess in the future whether Tetherin antagonism and/or CD4 degradation promote human-to-human HIV-1 transmission, perhaps by increasing the secretion of infectious virions into the genital fluids.
Conclusions and perspectives
As molecular and cellular details about the mechanisms through which Vpu mediates CD4 degradation and antagonizes Tetherin emerge, it is becoming increasingly clear that the acquisition of a multifunctional Vpu protein by HIV-1 has played a crucial role in the virulence of this virus. Although the role of Vpu as an antagonist of Tetherin has obvious implications on virus secretion and potentially on the transmission efficiency from human to human, its effect on the dissemination of HIV-1 following establishment of infection is less clear, especially since the potential restricting effect of Tetherin imposed on cell-to-cell viral transmission does not appear to significantly interfere with viral spread at least in T lymphocytes [124]. It is possible that once infection is established in lymphoid tissue, such as the gut-associated lymphoid tissue (GALT), a major site of HIV-1 replication, cell-to-cell transfer may be an important mode of HIV-1 dissemination as opposed to a transmission via cell-free virus. One might speculate that Tetherin antagonism by Vpu may be less critical at this point. More studies will be required in the future to address this issue and to assess whether enhanced cell-to-cell transmission might not be a way for HIV-1 to escape or even tolerate Tetherin restriction. The contribution of Vpu-mediated CD4 degradation to HIV-1 spread remains unclear and will need to be further addressed. As discussed above, previous studies have suggested that this function would facilitate virion assembly by releasing Env precursor gp160 trapped with newly synthesized CD4 in the ER and maintain the release of fully infectious virions (reviewed in [21]). In that regard, experiments using the simian-human immunodeficiency virus (SHIV) model in pigtail macaques, a host that does not express a Tetherin protein susceptible to HIV-1 Vpu, suggested that the ability of Vpu to downregulation CD4 expression directly correlated with the progression of disease in this animal model [162, 163]. Macaques inoculated with SHIV expressing a Vpu protein with mutations of the two phosphoserines involved in the recruitment of β-TrCP did not show any evidence of CD4+ T cell depletion and maintained significantly lower viral loads than macaques inoculated with parental SHIV. These findings obtained in vivo suggest that Vpu-mediated CD4 degradation may have an important role in disease progression. However, we cannot rule-out that Vpu may have additional functions that are important for viral pathogenesis. In that regard, it is interesting to note that a recent study reported a novel activity of Vpu, that is the downregulation of CD1d at the cell surface of infected DCs and the impairment of CD1d-mediated natural killer T (NKT) cell activation [164]. CD1d is a membrane-associated protein that is expressed at the cell surface of antigen presenting cells (APCs), such as monocytes, macrophages and DCs. This protein is responsible for the presentation of exogenous pathogen-induced lipid antigens to NKT cells expressing an invariant αβT cell receptor and in doing so triggers the mutual activation of both APCs and NKT cells and the subsequent induction of cellular immune responses. Analysis of the mechanism of Vpu-mediated CD1d downregulation revealed that Vpu does not enhance constitutive endocytosis of CD1d nor induces its degradation. Rather, Vpu was found to interact with CD1d and inhibit its recycling from endosomal compartments to the plasma membrane by sequestering CD1d in an intracellular compartment. Targeting of membrane-associated surface proteins by Vpu does not appear to be limited to CD4, Tetherin and CD1d since recent evidence indicates that Vpu can also downregulate the NK-T and B cell antigen (NTB-A) co-activator at the surface of infected cells and as a result interferes with the degranulation of NK cells [165]. NTB-A is type 1 membrane-associated protein that belongs to the signaling lymphocytic activation molecules (SLAM) family of receptors that functions as a homotypic ligand-activation NK receptor pair in the induction of NK cell responses. Interestingly, NTB-A downregulation by Vpu was found to be distinct from CD4 and Tetherin downregulation since Vpu did not alter the steady-state levels of NTB-A and did not rely on the recruitment of β-TrCP to reduce cell surface NTB-A. Like with CD1d and Tetherin, Vpu did not enhance NTB-A endocytosis but rather appeared to interact with co-activator molecules through its TM domain. These findings suggest that Vpu might also downregulate NTB-A through alteration of the protein trafficking and/or recycling, which would lead to the sequestration of the molecule in an intracellular compartment. Importantly, Vpu-mediated downregulation of NTB-A was found to interfere specifically with NK cell degranulation, thus ultimately protecting infected cells from NK cell-mediated lysis.
The fact that Vpu is now reported to target, in addition to CD4, three membrane-associated cell surface proteins involved in various aspects of the innate immune response raises the possibility that Vpu may be a key factor used by HIV-1 to evade innate immunity. While it may be too soon to call Vpu a virulence factor, the recent discoveries presented in this review tend to suggest that this accessory protein provides HIV-1 with unique properties at the level of virus transmission and escape from host defenses. Further research in these areas will not only provide exciting new insight into the role of Vpu in HIV-1 pathogenesis but may also lead to new therapeutic interventions for treating HIV-1 infection.
Declarations
Acknowledgements
We apologize to the authors of many interesting studies that could not be cited due to space limitations. EAC is recipient of the Canada Research Chair in Human Retrovirology and is supported by grants from the Canadian Institute of Health Research (CIHR) and the Fonds de Recherches en Santé du Québec (FRSQ).
Authors' Affiliations
(1)
Laboratory of Human Retrovirology, Institut de Recherches Cliniques de Montréal (IRCM), Montreal, Canada
(2)
Department of Microbiology and Immunology, Université de Montréal, Montreal, Canada
Copyright
© Dubé et al; licensee BioMed Central Ltd. 2010
This article is published under license to BioMed Central Ltd. This is an Open Access article distributed under the terms of the Creative Commons Attribution License (http://creativecommons.org/licenses/by/2.0), which permits unrestricted use, distribution, and reproduction in any medium, provided the original work is properly cited.