Nuclear import of Avian Sarcoma Virus integrase is facilitated by host cell factors
Received: 05 May 2008
Accepted: 07 August 2008
Published: 07 August 2008
Abstract
Background
Integration of retroviral DNA into the host cell genome is an obligatory step in the virus life cycle. In previous reports we identified a sequence (amino acids 201–236) in the linker region between the catalytic core and C-terminal domains of the avian sarcoma virus (ASV) integrase protein that functions as a transferable nuclear localization signal (NLS) in mammalian cells. The sequence is distinct from all known NLSs but, like many, contains basic residues that are essential for activity.
Results
Our present studies with digitonin-permeabilized HeLa cells show that nuclear import mediated by the NLS of ASV integrase is an active, saturable, and ATP-dependent process. As expected for transport through nuclear pore complexes, import is blocked by treatment of cells with wheat germ agglutinin. We also show that import of ASV integrase requires soluble cellular factors but does not depend on binding the classical adapter Importin-α. Results from competition studies indicate that ASV integrase relies on one or more of the soluble components that mediate transport of the linker histone H1.
Conclusion
These results are consistent with a role for ASV integrase and cytoplasmic cellular factors in the nuclear import of its viral DNA substrate, and lay the foundation for identification of host cell components that mediate this reaction.
Keywords
Nuclear Localization SignalNuclear ImportWheat Germ AgglutininNuclear Pore ComplexNuclear Localization Signal Sequence
Background
Integration of viral DNA into the genome of its host cell is an essential step in the replication of all retroviruses. This reaction is catalyzed by the retroviral integrase (IN), an enzyme that, along with reverse transcriptase, enters the cell within the infecting viral capsid. Reverse transcription of the RNA genome to produce retroviral DNA is known to take place in the cytoplasm, shortly after entry. However, the manner in which viral DNA and IN enter the nucleus is not well understood and, indeed, may vary among the different retroviruses. Nuclear import of the human immunodeficiency virus type 1 (HIV-1) preintegration complex, which includes viral DNA and IN, has been the subject of intense investigation. As HIV and other lentiviruses can infect non-dividing cells, in which nuclei remain intact, some nuclear import mechanism must exist for these viruses. In addition to IN, the HIV Gag proteins, matrix (MA) and Vpr, as well as a unique central DNA flap, have been proposed to contribute to this process, although none of the latter three components appear to be essential and details of the process remain controversial and unresolved [1, 2]. We and others have shown that the avian sarcoma virus (ASV), an alpharetrovirus, can infect cycle-arrested cells [3, 4] and terminally-differentiated neurons [5] quite efficiently. Furthermore, both HIV and ASV can enter the nucleus in cycling cells during interphase, before nuclear disassembly [6, 7]. These findings indicate that some mechanism for nuclear import must also be available for ASV.
Nuclear import occurs through large, multi-protein pore complexes that span the nuclear envelope of eukaryotic cells. Passage through these pores is a multi-step process facilitated by nuclear localization signals (NLSs) that are embedded in import substrates called "cargos." Classical NLSs are characterized by clusters of basic amino acids, and can be grouped into two related categories [
8
]. The monopartite NLSs, such as that in the SV40 large T antigen (SV40 TAg) (Fig.
1C
), contain a short, continuous stretch of basic residues [
9
,
10
]. Bipartite NLSs, including the nucleoplasmin NLS [
11
], contain two clusters of basic residues separated by a spacer region of at least 10 amino acids.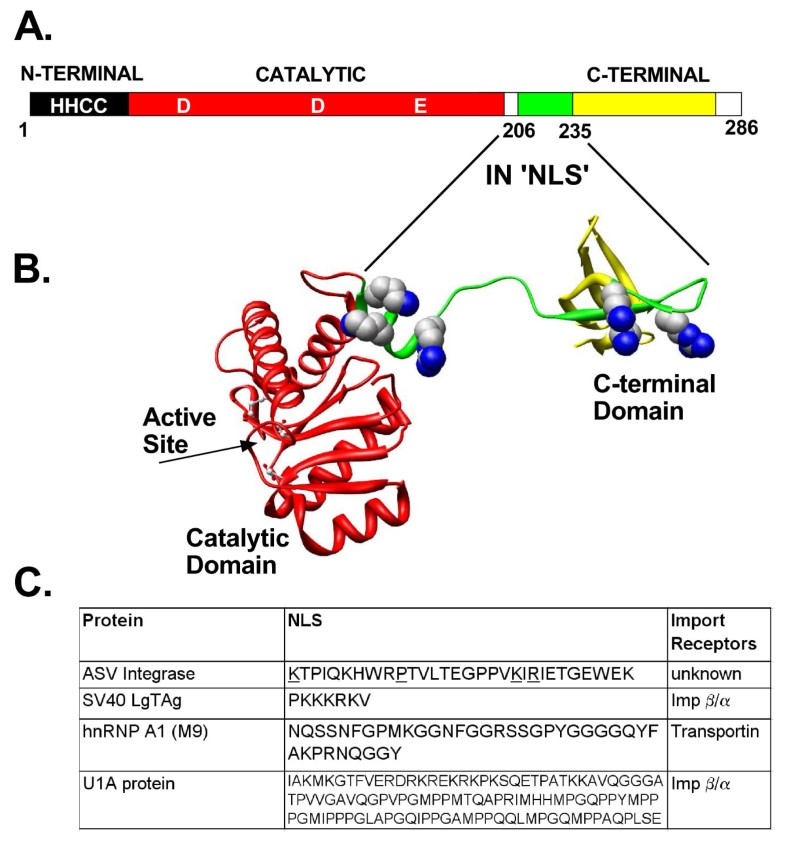 Much of our knowledge of the mechanism of nuclear translocation comes from the study of these model NLSs using an in vitro assay that employs digitonin-permeabilized cells [12, 13]. In this assay, nuclear import of proteins containing classical NLSs requires a nucleoside triphosphate, ATP or GTP, a functional NLS, and is dependent on the addition of cytosolic extract or purified cytosolic proteins [12]. Studies with this system have led to the purification of two soluble proteins, Importin-α (Impα) [14, 15] and Importin-β (Impβ) [16, 17], and others [18, 19] that participate in import [20] of these NLSs-containing proteins. In the classical pathway, Impα acts as an adaptor protein, binding both to the NLS on the cargo protein and to a specific site on Impβ, which then mediates transport through the nuclear pore complex. In other, non-classical pathways, import is mediated by Impβ alone, or by one or more of a number of other transport receptors and NLSs [21].
Our previous investigations identified a nuclear localization signal in a linker region between the catalytic core and C-terminal domain of ASV IN (Fig. 1). This sequence, comprising 30 amino acids (residues 206–235), is sufficient to target a cytoplasmic protein to the nucleus of mammalian cells in transient transfection assays [22]. We have also observed that substitution of specific Lys or Arg residues within this sequence had no effect on the activities of the purified ASV IN proteins in vitro, but prevented nuclear accumulation of a Lac-fusion construct and caused delayed replication kinetics when the corresponding mutations were included in the viral genome [23]. Subsequent studies have shown that the IN domain of the β subunit in the ASV heterodimeric reverse transcriptase (RT) accounts for its nuclear accumulation when expressed independently [24]. As integrase is a component of the functional ASV pre-integration complex, we have proposed that this protein may facilitate nuclear transport of the viral DNA to which it is bound. Because the NLS of ASV IN has only limited similarity to the mono- or bi-partite classical NLSs [20], and no similarity to several other known NLSs (Fig. 1C), it seemed possible that this sequence represents a distinct class of karyophilic signals. Here we describe studies of the nuclear import of the ASV IN protein using in vitro assays with digitonin-permeabilized cells [12], and investigate whether such import exploits the classical transport receptors.
Discussion
The studies reported here exploit an in vitro, permeabilized cell assay to investigate the nuclear import of ASV IN, mediated by an NLS initially identified in transient transfection experiments [22, 23]. This in vitro cell assay makes it possible to monitor nuclear import directly, and to delineate critical properties of the reaction. Use of a large substrate comprising the NLS peptide crosslinked to bovine serum albumin revealed that NLS-mediated import can be blocked by wheat germ agglutinin and is, therefore, dependent on transport through the nuclear pore complex. Such transport was also shown to be saturable, and to require soluble cellular factors. Sensitivity to treatment with apyrase, which could be reversed by addition of ATP, was also observed.
The requirement for ATP could reflect a need for replenishment of GTP. The GTP-bound form of the Ran GTPase is concentrated in the nucleus, where it binds to importins and causes release of their cargo. Depletion of ATP, with concomitant decrease in Ran GTP, is known to decrease the recycling of importins to the cytoplasm [40, 41]. However, recycling of import receptors may not be required in the permeabilized cell assay if an excess of the relevant Importin is present in the cytosolic extract. Therefore, it is also possible that the ASV IN NLS-mediated import is Ran-GTP-independent and, as is the case for the transit of some large proteins, ATP is required for transit through the nuclear pore complex [42, 43]. Further studies will be required to distinguish between these two possibilities.
We have also used this permeabilized cell assay to analyze the nuclear import of fusion proteins containing full length ASV IN or specific segments of this protein. Our results show that the ASV IN NLS is also active within the context of the full protein or segments of the protein that include the NLS. Constructs containing IN segments that lacked the NLS were not imported to the nucleus, indicating determinants essential for nuclear import of IN are contained within the identified NLS. These results are consistent with our previous transfection studies, in which nuclear accumulation of various Lac-IN fusion proteins was monitored [23].
Although the ASV IN NLS comprises an apparently unique sequence, it does bear some similarity to classical bipartite NLSs such as nucleoplasmin, comprising clusters of basic residues separated by a spacer. We therefore considered the possibility that import of ASV IN might depend on the same cellular factors that mediate import of the classical NLSs, the adapter Impα and Impβ. This hypothesis was tested in a variety of ways. Competition experiments with the BSA conjugates showed that addition of excess amounts of peptides corresponding to the classical SV40 TAg NLS or the IN NLS could block nuclear import mediated by the corresponding NLS, but had no effect on the activity of the other. We also found that excess IN NLS did not compete for nuclear import mediated by the U1A NLS, even though IN- or IN NLS-mediated import was abolished. Lastly an antibody that blocks Impα/Impβ mediated SV40 T-antigen import was not observed to inhibit ASV IN import. All these experiments failed to support the hypothesis that transport of ASV IN requires this classical pathway. We concluded from these results the ASV IN NLS does not bind Impα nor utilize the Impα/Impβ heterodimer.
Basic residues are also known to be critical for binding to Impβ by various nonclassical NLS sequences that, like the ASV IN NLS, are Impα-independent. For example, structural analyses of the parathyroid hormone-related protein (PTHrP) NLS bound to Impβ reveal a requirement for a cluster of basic amino acids followed by a twist in the peptide and then an extended segment. This NLS binding is stabilized by a combination of charge interactions with the basic residues and hydrophobic interactions with the extended peptide [44]. As several basic residues as well as one proline are required for IN NLS function [23], both its conformation and accessibility (see Fig. 1) are consistent with this type of interaction, and it remains conceivable that the soluble cellular factor(s) required for ASV IN import is a β-like Importin [21] acting alone or in conjunction with Impβ.
ASV IN is a highly basic protein (pI of 9.8), and excess histone H1 competes for ASV IN import in our assay. While H1 is best transported by the Impβ/Imp7 heterodimer it has been shown to bind to Imp5, as well as Impβ or Imp7 alone. The core histones are even more promiscuous in their usage of various importins [45, 46], as are several other proteins such as c-Jun [47], and other viral proteins (Rev) [48]. As noted below, this also seems to be the case for HIV IN, for which several import pathways have been identified. An excess of histone H1 might then be expected to sequester several other importins in addition to the Impβ/Imp7 heterodimer. We speculate that ASV IN may also have the capacity to utilize more than one import receptor, for example, those that mediate the nuclear import of other basic cellular proteins, such as ribosomal proteins and core histones. Several of these are reported to function as cytoplasmic chaperones that prevent polyanion-mediated aggregation of these basic proteins as well as mediators of nuclear import [39]. Our data suggest that ASV IN takes advantage of one or more of the transport pathways for such basic cellular proteins, which are distinct from the classical NLS pathways, but essential for cell metabolism.
In measuring the kinetics of nuclear import in the permeabilized cells, we observed very rapid accumulation (within 2–10 min) with GST-fusion proteins that included the isolated M9 or IN NLS sequences. A different pattern was observed with fusions that included full length IN or IN(1–236), which also contains the NLS. In these cases we observed staining only in the cytoplasmic compartment in the 2–10 min time period, and the fusion proteins were largely excluded from the nuclei. Upon further incubation, for 20–30 min, staining was no longer seen in the cytoplasmic compartment, but the fusion proteins with the IN NLS now localized to the nuclei. This difference could not be attributed to size of the cargo, as the smaller fusion proteins containing only the SV40 TAg NLS or the U1A NLS exhibited the same slow patterns observed with the full length IN protein. Nor is this binding to cytosolic components likely to be due to aggregation; the IN fragment 1–207 is monomeric in solution at high concentrations, and yet this protein exhibits prominent cytoplasmic binding. The simplest explanation of these results is that ASV IN protein and some of the isolated NLSs can bind to cytoplasmic components. The biological significance of this observation is unclear, as soluble components are lost from the permeabilized cells, and cytoskeletal or other remaining components may be exposed in some aberrant fashion. Comparison of the patterns obtained with proteins containing the full length IN or IN(1–236) with IN(201–286) suggest that interaction with these cellular components may retard nuclear uptake. When nuclear import cannot occur due to lack of an NLS, as with GST-IN(1–207), cytoplasmic staining was maintained throughout the course of the experiment. This indicates that determinants responsible for interactions with the cytoplasmic components are contained within the N-terminal and catalytic core domains of the IN.
Investigations of the nuclear import of HIV-1 IN have implicated the classical Impα-Impβ [49] and also Imp7 in this process [50]. Using digitonin-permeabilized cells, Fassati and coworkers [51] (supplementary data) reported that Imp7 promotes nuclear transport of purified HIV-1 reverse transcription complexes (RTCs), and that siRNA-knockdown of Imp7 inhibits HIV-1 infection. These findings are consistent with a model in which the interaction between Imp7 and HIV-1 IN facilitates Impβ nuclear import of the preintegration complex. More recent experiments with this same in vitro assay have provided evidence that certain tRNAs may also promote RTC import [52], and the role of another importin in HIV-1 infection, Transportin 3, has been reported [53], further implicating multiple pathways in this process.
As noted above, our results fail to support a role for Impα-Impβ in nuclear transport of ASV IN. In preliminary experiments, using transduction of a reporter gene as a readout for successful nuclear import, we observed that while siRNA knockdown of Imp7 reduced transduction by an HIV-1 vector, it had little effect on transduction by ASV. Differences in import pathways for these two retroviruses are not unexpected. The NLS of ASV IN is not conserved among the retroviral genera, and although reports of the location of NLS sequences in HIV-1 IN vary, residues that bind Imp7 have been identified in the C-terminal, SH3-like domain, distal to the location of the NLS in ASV IN [50]. This suggests that some other member(s) of the Importin superfamily or other karyophilic macromolecules promote import of ASV IN.
As with HIV [1, 2], NLSs have been found in ASV Gag proteins. Analysis of the function of these sequences suggest that nuclear entry mediated by the basic NLS in the ASV nucleocapsid (NC) protein requires the classical Impα-Impβ, while import mediated by the more unusual NLS in the matrix protein (MA) is facilitated by other members of the Importin superfamily [54]. It has been proposed that these signals may allow the ASV Gag polyprotein precursor to enter the nucleus and capture viral RNA genomes for virion assembly [55]. The possibility that the mature Gag proteins could also contribute to nuclear import of the preintegration complex has been noted, but the biological role for these Gag NLS sequences remain uncertain. Further study, using the system described here and purified transport receptors should make it possible to identify the specific factors required for nuclear import of ASV IN and to evaluate the role of this viral protein in shepherding viral DNA through the nuclear pore.
Conclusion
By use of an in vitro assay with digitonin-permeabilized cells, we confirmed that nuclear import of ASV IN is mediated by a previously identified NLS sequence. This import is active, saturable, ATP-dependent, and relies on cytosolic factors to transit through the nuclear pore complex. These results are consistent with a role for ASV IN in the nuclear import of the preintegration complex of this retrovirus.
Although the ASV NLS exhibits similarity to some classical NLSs, we present a variety of evidence that make it unlikely that the classical Impα/Impβ heterodimer is required for its import. The results indicate that the ASV IN NLS is recognized by other, perhaps Impβ-like soluble karyophilic protein(s), which is also able to mediate nuclear accumulation of the cellular linker histone H1. The system we describe may be useful to identify the factor(s) and evaluate its role in ASV replication.
Abbreviations
IN:

integrase
NLS:

nuclear localization sequence
ASV:

avian sarcoma virus
HIV:

human immunodeficiency virus
BSA:

bovine serum albumin
WGA:

wheat germ agglutinin
GST:

glutathione S-transferase.
Declarations
Acknowledgements
This work was supported by National Institutes of Health grants CA071515, AI040385, F32AI09924, Institutional grant CA006927 from the National Institutes of Health, and also by an appropriation from the Commonwealth of Pennsylvania. We acknowledge use of the Fox Chase Cancer Center DNA Sequencing Facility and the Cell Culture Facility. We thank Marie Estes for help in preparing the manuscript. Dr. Michael Malim (University of Pennsylvania) was most generous with advice and provision of important reagents. We thank Dr. D. Görlich (University of Heidelberg, Germany) for his gracious hospitality to one of us (MDA) and providing help in development expertise with the assay, as well as valuable reagents. We are grateful to our colleague Dr. Richard Katz for advice and suggestions during the course of this work and to Drs. Katz, Jonathan Chernoff, and Glenn Rall for critical review of the manuscript. The work of MMS is dedicated to the memory of Martin Z. Sauter. The contents of this manuscript are solely the responsibility of the authors and do not necessarily represent the official views of the National Cancer Institute, or any other sponsoring organization.
Authors' Affiliations
(1)
Institute for Cancer Research, Fox Chase Cancer Center, Philadelphia, USA
Copyright
© Andrake et al; licensee BioMed Central Ltd. 2008
This article is published under license to BioMed Central Ltd. This is an Open Access article distributed under the terms of the Creative Commons Attribution License (http://creativecommons.org/licenses/by/2.0), which permits unrestricted use, distribution, and reproduction in any medium, provided the original work is properly cited.