HIV-1 transcription and latency: an update
Received: 4 December 2012
Accepted: 29 May 2013
Published: 26 June 2013
Abstract
Combination antiretroviral therapy, despite being potent and life-prolonging, is not curative and does not eradicate HIV-1 infection since interruption of treatment inevitably results in a rapid rebound of viremia. Reactivation of latently infected cells harboring transcriptionally silent but replication-competent proviruses is a potential source of persistent residual viremia in cART-treated patients. Although multiple reservoirs may exist, the persistence of resting CD4+ T cells carrying a latent infection represents a major barrier to eradication. In this review, we will discuss the latest reports on the molecular mechanisms that may regulate HIV-1 latency at the transcriptional level, including transcriptional interference, the role of cellular factors, chromatin organization and epigenetic modifications, the viral Tat trans-activator and its cellular cofactors. Since latency mechanisms may also operate at the post-transcriptional level, we will consider inhibition of nuclear RNA export and inhibition of translation by microRNAs as potential barriers to HIV-1 gene expression. Finally, we will review the therapeutic approaches and clinical studies aimed at achieving either a sterilizing cure or a functional cure of HIV-1 infection, with a special emphasis on the most recent pharmacological strategies to reactivate the latent viruses and decrease the pool of viral reservoirs.
Keywords
HIV-1
Transcription
Post-integration latency
Persistence
Chromatin
Pharmacological strategies
Reservoirs
Therapy
Cure
Review
Human Immunodeficiency Virus type 1 (HIV-1) is the cause of the acquired immunodeficiency syndrome (AIDS) and the responsible of a devastating pandemic that affects around 34 million people worldwide (UNAIDS, 2011). Thirty years after the discovery of HIV-1, the virus can still not be cured. Combination antiretroviral therapy (cART) has significantly reduced AIDS-related morbidity and mortality. New regimens are more potent, have fewer side effects and a low pill burden. However, these antiretroviral drugs do not fully restore health or a normal immune status in HIV-1 infected individuals. Patients experience co-morbidities, such as increased cardiovascular disease, bone disorders and cognitive impairment. Interruption of cART almost invariably leads to the re-emergence of detectable viral replication and the progression of AIDS. Moreover, a significant proportion of patients fail to maintain undetectable plasma viral load because of adherence and/or because of the development of drug resistance (reviewed in [1]). Even with optimal treatment and adherence, some patients have problems to keep the virus under control and/or show progressive immune pathology manifesting increased mortality compared to HIV-1 uninfected individuals. This increased mortality is closely associated with inflammation, which persists in cART-treated HIV-infected individuals despite levels of plasma viremia below detection limits. Chronic, pathological immune activation is a key factor in progression to AIDS in untreated HIV-infected individuals. Today, only a small percentage of the HIV-infected people who need treatment worldwide have access to cART. Clearly, more innovative approaches are urgently needed to address these issues.
Untreated HIV-1 infection is characterized by continuous viral replication that drives CD4+ T cell loss and predicts disease progression. During cART, the plasma virus levels fall below the level of detection of current classical assays (50 copies of viral/HIV-1 RNA per ml of plasma). This decrease goes through several phases of decay corresponding to the half-lives of different populations of HIV-infected cells, which are progressively eliminated (Figure
1
). The first decay phase is rapid, being related to the virus produced by activated short-lived CD4+ T cells with a half-life of less than a day in the productively infected state [
2
]. The second phase reflects virus production by another population of infected cells with a half-life of 1–4 weeks. The third phase is a constant phase with no appreciable decline, caused at least partially by the activation of resting memory CD4+ T cells that start to produce virions. During this constant phase, occasional viremic episodes (called blips) are detected despite prolonged cART treatment from latently infected T cells that became productive after a transient activation of the immune system (i.e. caused by a viral or bacterial infection). Moreover, during this constant phase, a persistent residual low-level viremia (ranging from 1 to 5 copies of viral RNA/ml) can be detected in most patients using ultrasensitive RT-PCR assays. Persistent viremia in cART-treated infected individuals could arise from latently infected cellular reservoirs and/or residual ongoing viral replication.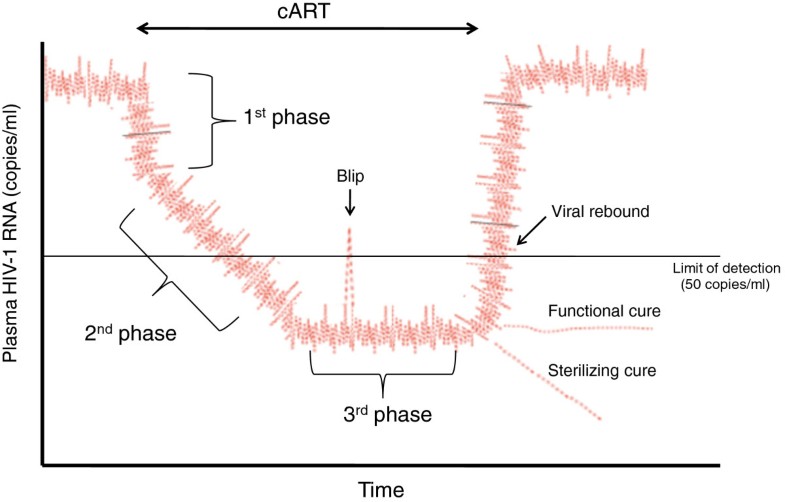 Two general forms of viral latency (reversibly non productive state of infection) have been observed and can be segregated based on whether or not the virus has integrated into the host cell genome: pre-integration and post-integration latency (reviewed in [3–5]). Pre-integration latency results from partial or complete block of the viral life cycle at steps prior to the integration of the virus into the host genome (incomplete reverse transcription, impaired import of the pre-integration complex into the nucleus or incomplete integration) [6, 7]. Unintegrated forms persist in the cytoplasm of CD4+ T cells for only one day and cannot account for the formation of long-term latently infected reservoirs (reviewed in [8]). Although macrophages and some tissues like the brain may retain these forms for a longer period, pre-integration latency appears to be less clinically relevant [9, 10]. Indeed, episomal HIV-1 cDNAs are used as surrogate markers for recently infected cells in vivo[11, 12]. Post-integration latency is a rare event that occurs when a provirus fails to effectively express its genome and is reversibly silenced after integration into the host cell genome. This latent state is exceptionally stable and is limited only by the lifespan of the infected cell and its progeny. Post-integration latency is a multifactorial phenomenon. Mechanisms that maintain HIV-1 latency in vivo are incompletely understood. Latently infected cells may be maintained by mechanisms operating at the post-transcriptional level (i.e. inhibition of nuclear RNA export and inhibition of HIV-1 translation by microRNAs). However, in the majority of latently infected cells, HIV-1 infection appears to be blocked at the transcriptional level. HIV-1 transcriptional repression is crucial to the establishment and maintenance of post-integration latency. Several elements contribute to the transcriptional silencing of integrated HIV-1 proviruses (reviewed in [3, 13, 14]: 1) the site of integration into the host cell genome, the cellular chromatin environment at this site and mechanisms of transcriptional interference; 2) the spatial sub-nuclear positioning of the integrated provirus (reviewed in: [15]); 3) the absence of crucial inducible host transcription factors, such as NF-kappaB (Nuclear Factor Kappa-light-chain-enhancer of activated B cells) or NFAT (Nuclear Factor of Activated T-cells), that are excluded from the nuclei of resting cells and transiently activated by various stimuli; 4) the presence of transcriptional repressors, such as CTIP2 (COUP-TF Interacting Protein 2), DSIF (DRB-Sensitivity Inducing Factor), NELF (Negative Elongation Factor) and the family of TRIM proteins (tripartite motif); 5) the chromatin structure of the HIV-1 promoter and the presence of a repressive nucleosme (nuc-1); 6) the epigenetic control of the HIV-1 promoter (histone posttranslational modifications, such as acetylation and methylation, and DNA methylation); 7) The sequestration of the cellular positive transcription elongation factor b (P-TEFb), composed of cyclin-dependent kinase 9 (cdk9) and human cyclin T1, in an inactive form by the HEXIM-1 (hexamethylene bisacetamide (HMBA)-induced protein 1)/7SK snRNA (7SK small nuclear RNA) regulatory complex; 8) the sub-optimal concentration of the viral transactivator Tat, which promotes transcription by mediating the recruitment to the HIV-1 promoter of the kinase complex P-TEFb, of histone-modifying enzymes and of ATP-dependent chromatin-remodeling complexes required for nucleosomal disruption and transcriptional processivity.
Several therapeutic approaches aimed at achieving either a sterilizing cure (in which all replication-competent virus is eradicated, Figure
1
) or a functional cure (lack of detectable viremia in the absence of cART despite the presence of replication-competent HIV-1 for prolonged periods together with normal or near normal immunological functions, Figure
1
) are under scrutiny (Figure
2
and Table
1
). In this context, further understanding of the molecular mechanisms regulating HIV-1 latency (Figure
2
) and reactivation from latency in different target cells harboring the virus will help to devise novel strategies to eliminate latent HIV-1 infection or to restrict the latent pool to a size bearable by the host immune system. This could allow individuals to envisage therapeutic interruptions ("treatment-free windows") and could lead to decrease of the long-term cART side effects and improvement of quality of life.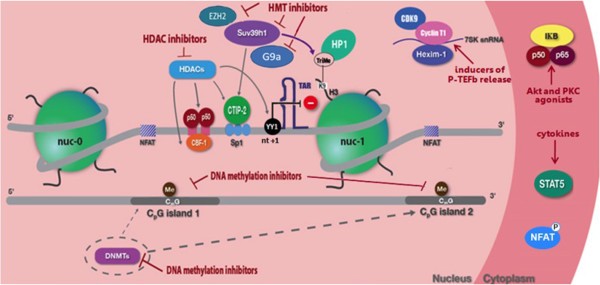 Table 1
HIV cure clinical trials
| Trial/investigator | Intervention | ClinicalTrials.gov | Status |
| --- | --- | --- | --- |
| Optiprim ANRS 147 (A. Chèret) | 3 vs 5 ARV at AHI | NCT01033760 | Ongoing |
| IntensVIH (A. Lafeuillade) | RAL + MRV intensification | NCT00935480 | Ongoing |
| Eramune 01 (C. Katlama) | IL7 + intensification RAL/MVC | NCT01019551 | Ongoing |
| Eramune 02 (R. Murphy) | Vacc + intensification RAL/MVC | NCT09976404 | Ongoing |
| S. Deeks | Disulfiram | NCT01286259 | Ongoing |
| D. Margolis | Vorinostat (SAHA) | NCT01319383 | [229], Ongoing |
| S. Lewin | Vorinostat (SAHA) | NCT01365065 | Ongoing |
| L. Østergaard | Panobinostat | NCT01680094 | Ongoing |
| J. Lalezari | ZFN (CCR5) | NCT01252641 | Ongoing |
| P. Tebas | ZFN (CCR5) | NCT00842634 | Ongoing |
| A. Krishnan | Autologous SC with anti-HIV genes | NCT00569985 | Ongoing |
| F. Maldarelli | INFα 2b | NCT01295515 | Ongoing |
| Gilead | Romidepsin | NA | To be started |
| S. Moreno | Bryostatin | NA | To be started |
| H. Hatano | Anti-PDI antibody | NA | To be started |
| A. Woolfrey | Intervention autologous HIV resistant cells | NA | To be started |
In this review, we will focus on the latest developments leaving the previous enormous amount of work and discoveries to further reading, including our previous reviews on the same topic [3, 5]. We will start discussing the potential sources of residual viremia in cART-treated patients and the nature of the HIV-1 reservoirs and continue with the establishment of in vitro models for latency and the study of latency in the patient cells and in animal models. Next, we will describe the recent progress in the molecular understanding of HIV-1 persistence with a special attention to strategies that are being proposed to target these pathways. Finally, we will discuss the therapeutic options that are currently being proposed.
Potential sources of residual viremia in cART-treated individuals
The low-level residual viremia in cART-treated patients is indicative of active virus production, which can occur without new rounds of infection and propagation of the infection to additional cells. In principle, residual viremia could result from a low degree of ongoing cycles of viral replication (either in the presence of antiretroviral drugs or in anatomical sanctuaries where drug penetration is suboptimal), and/or reactivation of viral expression from latently infected resting CD4+ T cells (harboring stably integrated, transcriptionally silent but replication-competent proviruses), and/or the release of virus from other stable reservoirs.
Concerning ongoing viral replication, it has been demonstrated that productively infected CD4+ T cells persist in the blood and gut-associated lymphoid tissue (GALT) of infected individuals receiving cART. The precise mechanism of this persistence has not been fully delineated but homeostatic proliferation of latently infected resting CD4+ T cells [12] and a sub-optimal intracellular penetration of antiretroviral drugs in lymphoid tissues may contribute to this phenomenon. If viral replication continues during suppressive therapy, low-level viremia would be reduced by the addition of another antiretroviral compound. In this regard, two studies have shown that intensification of conventional cART leads to reduction of the level of cell-associated HIV-1 RNA in CD4+ T cells in the terminal ileum [16] and to the accumulation of circularized 2-LTRs DNA circles in CD4+ T cells in the peripheral blood of some (30%) infected individuals receiving cART [17]. Moreover, the group of David Baltimore has reported that cell-to-cell spread of HIV-1 permits ongoing replication despite cART [18]. However, other intensification studies using Raltegravir have not shown any noticeable diminution of plasma viremia in infected individuals who had been on cART and had maintained <50 copies/ml of HIV-1 RNA ([19–21], abstract 51, session 11 presented at the CROI, 2011). Moreover, most viral evolution studies failed to detect evolutionary genetic changes in the persistent virus population in the majority of cART patients [22–25].
In addition to ongoing viral replication, the cellular latent reservoirs harboring transcriptionally silent but replication-competent stably integrated HIV-1 proviruses are insensitive to cART and able to escape from the host immune response. They are therefore a permanent source for virus reactivation and could be responsible for the rebound of plasma viral load observed after cART interruption.
Altogether, these results indicate that low-level viremia might arise from several different sources including: 1) long-lived HIV-1 infected cells that produce virus; 2) ongoing replication cycles in cells located in sanctuary sites where drug levels are suboptimal such as a tissue-based foci of viral replication within CD4+ T cells and/or myeloid cells; and/or 3) proliferation of latently infected cells with regeneration of a stable reservoir of slowly dividing infected cells.
Nature of cellular reservoirs
A viral reservoir can be defined as a cell type or anatomical site where a replication competent form of the virus persists for a longer time than in the main pool of actively replicating virus. Over the years, researchers have found that latency can exist in a range of anatomical sites and cell types. The nature of the HIV-1 reservoirs has been recently reviewed [26, 27] and will be only briefly summarized here. The most prominent ones are the CD4+ T-cell subsets, primarily resting central memory T cells (TCM) (defined as CD45RA- CCR7+ CD27+) and translational memory T cells (TTM) (defined as CD45RA- CCR7- CD27+) [12, 28, 29]. A critical issue is where these cells are derived from in the infected patient. Direct infection of quiescent T cells can occur ex vivo when cells are treated with a selected set of chemokines [30–33] or by spinoculation [34, 35] (see chapter 5). Normally, however, because of the presence of various blocks to the viral lifecycle, HIV-1 is not able to infect quiescent T cells efficiently [36–39]. Hence, latently infected resting memory T cells may be generated when HIV-1 infected actively replicating antigen-stimulated cells survive long enough to revert back to a resting memory state and differentiate into long-lived (half-life of ~44 months) resting memory T cells [40–42]. Unfortunately, to date there is no experimental evidence in vivo that can tell us if the latent cells have been directly infected or reversed to the quiescent state with the integrated provirus. The issue is complicated by the fact that the frequency of infected resting memory CD4+ cells is very low in vivo. The frequency of latently infected cells, expressed in terms of infectious units per million resting CD4+ T cells, is determined using Poisson statistics and is on the order of 0.1-10 infectious units per million resting CD4+ T cells in most patients on long term cART [28, 43, 44].
Although the existence of a stable latent reservoir in resting CD4+ T cells is clearly established, evidence for additional reservoirs comes from a detailed analysis of residual viremia. The residual viremia in some patients is dominated by oligoclonal populations called predominant plasma clones that are rarely found in circulating CD4+ T cells [22, 45–47]. This phenomenon has suggested the existence of a second reservoir for HIV-1 in a cell type capable of proliferating after infection. Tissue macrophages, primary targets of HIV-1 infection, could be the source of these persistent oligoclonal HIV-1 populations. Indeed, cells belonging to the monocyte/macrophage lineage, are one of the major persistent HIV-1 reservoirs. In these cells, viruses are generally not completely silent but maintain a low level of replication. In contrast to T cells, HIV-1 infection is less cytopathic to these cells; it even extends their lifespan and makes them more resistant to apoptosis. To prove that macrophages function as a reservoir, studies of HIV-1 infection of these cells in various tissues will have to be performed in cART-treated patients who have had prolonged suppression of viremia.
Naïve T cells have also been demonstrated to contain latent proviruses [12, 48, 49]. HIV-1 DNA persists in naïve CD4+ T cells in patients on suppressive cART, although the frequency of infection is approximately 1–2 logs less than in memory CD4+ T cells [12]. The infection of naïve T cells, which are quiescent in nature, could be explained by their transient partial activation, such as under the influence of cytokines or during thymopoiesis, but they eventually return back to the quiescent (G0) phenotype [48–50]. The HIV-1 DNA concentration has been shown to be similar in CD31+ naïve CD4+ T cells (enriched for recent thymic emigrants) and CD31- naïve CD4+ T cells (naïve cells that have undergone homeostatic proliferation) both prior to and following cART [48, 51]. The S. Lewin's group has shown that the absolute number of infected naïve CD4+ T cells (expressed as HIV-1 DNA copies/ml of blood) in fact increases following cART, suggesting that in the setting of cellular proliferation, the reservoir of infected naïve T cells may expand over time [48].
Patients infected with HIV-1 present hematopoietic abnormalities, which are caused by HIV-1 infection of the bone marrow [52]. Hematopoietic progenitor cells (HPC) have been proposed as a reservoir. A recent study has shown that HIV-1 infects multipotent HPCs and that latent HIV-1 infection is established in some of these HPCs [53]. A follow-up study indicated that CD133+ cord-blood-derived cells were susceptible to in vitro infection, but only with X4 tropic virus [54]. However, more recent studies of HPCs in patients on cART have used more rigorous purification of CD34+ cells and have not detected HIV-1 DNA by PCR and therefore not confirmed latent infection of HPCs [55, 56]. Further studies will therefore be necessary to determine whether HPCs could constitute a reservoir.
Anatomic sites of HIV-1 persistence
The central nervous system (CNS)
An important anatomical site for the HIV-1 reservoir is the CNS, where HIV-infected cells are continuously replenished by circulating infected monocytes. These monocytes cross the blood–brain barrier and differentiate into macrophages and microglial cells. Within the CNS, HIV-1 infection is detected principally in perivascular macrophages and microglial cells [57]. Integrated HIV-1 DNA has also been found in astrocytes from the brains of HIV-infected patients [58], and is associated with HIV-associated dementia [59]. However, it may be important to extend these studies, performed in viremic patients, by studies of astrocytes in patients on suppressive cART. The blood–brain barrier, which restricts entry of cytotoxic T cells and does not allow free flow of anti-HIV-1 drugs, reduces the impact of immune responses and cART on CNS-localized HIV-1 viruses [60, 61]. The significance of the CNS viral reservoir is still debated, since the overall share of CNS-derived viruses in persistent viremia appears to be negligible [62].
The gut-associated lymphoid tissues (GALT)
Another important HIV-1 reservoir is in the GALT, where 5–10 times more HIV-1 RNA than in peripheral blood mononuclear cells can be recovered [16, 63]. Moreover, the addition of Raltegravir to patients on suppressive cART results in a non significant decrease in unspliced HIV-1 RNA in the ileum, potentially consistent with ongoing replication at this site [21]. Of note, a recent report has described a lack of evolution in the proviral sequences from recto-sigmoid biopsies [23], results that are inconsistent with continuous viral replication in this site.
Lerner et al. [64] have shown that, in three patients who initiated cART during acute infection, there was no phylogenetic relationship between the HIV-1 RNA sequences from the rebound virus and HIV-1 DNA from the gastrointestinal tract tissue, suggesting that the gastrointestinal tract is not the primary source of rebound viremia after cART interruption cessation. However, these data cannot exclude the possibility that a minor population of the gastrointestinal tract contributes to the rebound of viremia.
Models of latency
To develop strategies towards a cure, the precise molecular mechanisms responsible for HIV-1 latency and reactivation have to be studied in the more valuable models. Unfortunately, the study of latency in vivo has been hampered by the scarcity of latently infected cells, by their difficult enrichment due to the lack of a specific viral marker on the surface thus complicating their isolation from non-infected counterparts and by the high background rate of defective integrated proviruses. Consequently, most of the biochemical studies concerning the molecular aspect of HIV-1 latency until very recently were performed using latently infected transformed cell lines. However, the quiescent phenotype of the latently infected CD4+ T cells found in vivo is substantially different from the constitutively activated and proliferating nature of infected cell lines. Since these cell line models do not accurately represent the quiescent cellular environment of primary latently infected cells in vivo, the development of improved models ex vivo is an important goal for HIV-1 research. Resting memory CD4+ T cells, the major reservoir of latent HIV-1, can be subdivided in central memory T cells (TCM: CCR7+; CD27+) and their derivatives after TCR engagement called effector memory T cells (TEM: CCR7-; CD27-) (for a review: [65]). Subsets of TEM are further characterized by the expression of CCR5, IL-12betaR and intracellular IFNgamma (Th1) or CRTH2 and intracellular IL-4 (Th2). TCM and TEM are CD45RO, while naïve cells express CD45RA. Chomont and collaborators have reported that TCM, together with a subset of cells with functional and transcriptional characteristics that are intermediate between those of TCM and TEM called transitional memory T cells (TTM), are the major reservoir of latent HIV-1 [12]. TEM, naïve T, or terminally differentiated T cells, which are equally susceptible to HIV-1 infection, are not involved in long-term latency during cART. Recent years have shown an effort to establish an experimental system of HIV-1 latency that represents a complete recapitulation of the biologic state of the latent cell reservoir in vivo. These systems would be very important for the rational design of drugs to target HIV-1 latency. However, there are inherent difficulties for a unified model system given the presence of multiple cell types where the virus can establish latency and the variety of mechanisms that lead to latency and reactivation. In this context, many laboratories have therefore come up with several informative primary cell-based model systems. In addition to ex vivo cellular models, in order to study the properties of reservoirs in vivo, models in mice and in primates have been developed.
In vitromodels
Most studies of HIV-1 latency have been conducted using latently infected transformed cell lines. However, recent progress in the field allowed the generation of models of latently infected primary lymphocytes.
Latently infected transformed cell lines
The study of HIV-1 latency in transformed cell has revealed many insights into the mechanisms of HIV-1 latency, despite the fact that establishment of latency in such systems is often linked to mutations in viral genes or to an effect specific to the site of integration, perhaps not uniformly representative of the quiescent nature of resting CD4+ T cells in patients. Indeed, each latently infected cell line possesses a different HIV-1 provirus (full-length or not) and may contain one or more copie(s) of the integrated provirus in different integration sites or epigenetic environments. Firstly, several models have been developed based on proviruses with minimal HIV-1 features of the LTR/Tat axis from models carrying a full-length provirus. For example, the Jurkat E4 cells and Jurkat bearing an integrated HIV-1 mini-virus are T-lymphoid Jurkat cells containing one single copy of the integrated provirus. However, E4 Jurkat cells possess a fragment of the HIV-1 pNL4-3 (containing tat, rev, env and vpu) and a short-lived green fluorescent reporter protein (d2EGFP) in place of the nef gene [66, 67] The Jurkat cells bearing an integrated HIV-1 mini-virus posses an HIV-1 reporter mini-virus, where luciferase is produced from the HIV-1 5'LTR as an in-frame fusion with p24gag [68].
Secondly, other models have been proposed that are based on full-length proviruses including ACH2, the inducible HIV-rtTA variant, J-Lat T cell lines and U1 promonocytic cell lines. The ACH2 T-cell line [69] and the promonocytic U1 cell line [70, 71] show minimal constitutive expression of HIV-1 genes, but a marked activation of viral gene expression following treatment with cytokines or mitogens. However, these models present mutations in Tat (U1) [72] or in its RNA target TAR (ACH2) [73], which have been demonstrated to be causative of the latent phenotype of the proviruses integrated in these two cell lines. Ben Berkhout's laboratory has developed stable cell lines containing an HIV-rtTA variant (in which the Tat/TAR axis transcription motifs have been inactivated and replaced by the inducible Tet-ON system [74]). The HIV-rtTA provirus is completely doxycycline-dependent for virus production, it contains the original transcription factor binding sites in the HIV-1 5'LTR, and infected cells have been obtained without selection steps avoiding any bias towards activation markers [75]. However, the implications of the Tat/TAR axis in reactivation cannot be analyzed. More recently, J-Lat cell lines were developed with an HIV-1-based vector containing an intact Tat/TAR axis [76]. These cells whose unique provirus carries the coding sequence for the green fluorescent protein (GFP) replacing the nef gene were selected for a lack of GFP expression under basal conditions [76]. J-Lat cells allow for the rapid assessment of HIV-1 transcriptional activity by cytometric detection of GFP epifluorescence. Consequently, the latently infected transformed cell lines are still useful to study and understand the basic mechanisms governing HIV-1 latency. The first models allow principally the study of HIV-1 promoter activity. The second category permits a complete study of the molecular mechanisms of latency with the influence of produced viral proteins on the HIV-1 promoter but also on host genes.
Interestingly, the J. Karn's lab has recently generated a HIV-1 latently infected microglial cell line named CHME-5 [77]. To this end, the CHME-5 cell line (primary fetal human microglial cells immortalized with the SV40 large T antigen [78]) was infected with vesicular stomatitis virus G (VSVG)-pseudotyped HIVs bearing a fragment of HIV-1pNL4-3, containing tat, rev, env, and vpu, plus nef adjacent to the reporter gene d2EGFP inserted next to env. GFP + cells were next selected by FACS, and further cultured and allowed to enter into a latent state for 4 weeks. Latency of the CHME-5 cell line was characterized by reactivating expression and evaluating nuclear translocation of NF-kappaB [77].
Latently infected primary cells
Many laboratories have developed new ex vivo experimental primary human CD4+ T cell-based model systems to study HIV-1 latency in a more physiological context (reviewed in [79, 80]). Several groups have attempted to mimic in vitro the infection of activated CD4+ T cells, with HIV-1 or HIV-1 derived vectors, followed by the transition of these infected cells to a resting state to establish latency in memory CD4+ T cells. These cells are difficult to generate and maintain because most CD4+ T cells die soon after activation if not continuously cultured in the presence of specific cytokines. This results in few cells that have transitioned to a quiescent state and contain integrated HIV-1 that can be used for further study. Culturing of CD4+ T cells in the presence of cytokines, such as IL-2 or IL-7, increases their survival and allows time (several weeks) for more cells to transition to a memory state with integrated HIV. However, IL-2 and IL-7 have been implicated in the reactivation of latent HIV-1 [81–83]. Therefore, these cytokines must be used at a concentration that can maintain CD4+ T cells in culture without reactivating latent HIV. Alternatively, activated and HIV-infected CD4+ T cells can be maintained in culture and allowed to transition back to a resting state in the absence of cytokines by utilizing strategies, such as transduction with anti-apoptotic proteins or co-culture with feeder cell lines [84–86]. All these strategies lead to more viable cells that have been infected and returned to a resting state, allowing for HIV-1 latency to be studied in a physiologically relevant setting.
The first model of HIV-1 latency in primary lymphocytes was developed by Sahu et al. [84] and uses a replication-competent virus for the infection. The feeder cell line H80 (a brain tumor-derived cell line) promotes cell survival in the absence of any cytokine and allows the production of long-lived, mostly central memory CD4+ T cells. However, despite being phenotypically similar to resting cells in many respects, a significant fraction of this population continues to express the early activation marker, CD69, suggesting that these cells are not completely resting. In J. Karn's laboratory, Tyagi et al. [86] developed a model of latency in which cells are infected with VSV-G-pseudotyped, HIV-1 vectors that lack env and encode a fluorescent marker in place of nef. Interestingly, they use HIV-1 vectors that express a mutated Tat with the single amino-acid change (H13L) that permits a quicker establishment of the latent state. This model leads to a relatively homogeneous population of central memory CD4+ T cells, which are not completely resting since they continue to express significant levels of the late activation marker, CD25 (CD69 expression is not measured). Marini et al. [87] have developed a primary latency model presenting the advantage of using a replication-competent wild type HIV-1. The majority of cells exhibits a central memory phenotype and is negative for CD25 (CD69 expression is not shown) but is larger and more granular than freshly isolated CD4+ T cells, suggesting that cells may not be completely resting. A disadvantage of this model is the requirement for IL-7, which has been shown to reactivate HIV-1 in latently infected cells [83, 88]. Bosque and Planelles [89, 90] developed a model in which cells are infected with an envelope-deficient HIV-1 virus that is pseudotyped with HIV-1 Env, thus limiting infection to a single round. Isolated CD4+ T cells were activated first with αCD3/αCD28 antibodies in the presence of IL-2 and then were cultured for several days in three different conditions that produced Th1-helper, Th2-helper, and nonpolarized CD4+ T cells [91]. Biochemical analysis indicated that the Th1 and Th2 populations closely resembled both effector memory and central memory CD4+ T cells, in vivo, while the nonpolarized population more closely resembled central memory CD4+ T cells. However, activation markers such as CD25 and CD69 were not assessed before reactivation, giving no indication if these cells were resting or active. Finally, Siliciano and collaborators [85, 92] increase cell survival in their model by transduction of a lentivector to express BLC2 prior to primary cells activation and expansion by αCD3/αCD28 antibodies and IL-2. Subsequent infection with a HIV-1 vector lacking several genes (including gag, vif, vpr, vpu and env) and encoding GFP in place of nef, an establishment of latency allowed the screening of a small library of random drug-like molecules for anti-latency compounds. This model generates effector memory cells expressing high levels of CD45RO and low levels of CCR7. A small fraction of them still expresses CD69 and CD25.
At variance with the infection of activated primary cells it is possible to infect directly resting (not activated) CD4+ T cells [30, 34, 35]. However, this is an inefficient process owing to several blocks imposed by the cellular environment of resting T cells (including lack of dNTPs needed for reverse transcription, a lack of ATP needed for nuclear import of the viral DNA, as well as a restrictive cortical barrier). Swiggard et al. [34] used spinoculation to efficiently deliver large quantities of replication competent HIV-1 virions to freshly isolated resting CD4+ T cells (a mixture of naïve, TCM and TEM cells) in the absence of any activating stimuli. Integration occurred resulting in latently infected cells, albeit at a much lower frequency than activated CD4+ T cells. Alternatively, Saleh et al. [30] have first stimulated freshly isolated resting CD4+ T cells (naïve/TCM/TEM cells) from uninfected donor blood with the CCR7 (a lymphoid organ homing receptor) ligands, CCL19 and CCL21. These chemokines induce neither CD69 nor CD25 expression, but do increase the susceptibility of resting CD4+ T cells to infection by a replication-competent HIV-1 virus. Interestingly, chemokine-induced changes in the actin cytoskeleton that are involved in cell migration appear to be sufficient to allow HIV-1 integration independently of cell activation [32]. Recent results also showed that memory T cells are more sensitive to chemotactic stimulation,which greatly facilitated HIV-1 infection [93]. Hence, there might be a pathway of direct infection of resting T cells also in vivo during normal chemokine-directed recirculation of CD4+ T cells between blood and tissue. More recently, by using novel reporter viruses, the W. Greene's group [35] described an improved version of the primary CD4+ T-cell model originally developed in the O'Doherty's laboratory [34]. The Green's model allows the study of latency with replication-competent proviruses in all subsets of CD4+ T cells. In addition to the GFP reporter virus that measures the number of cells in which the latent HIV-1 provirus is successfully reactivated, the Green's lab has created a luciferase-expressing virus that measures overall levels of transcriptional reactivation of latent HIV-1. Importantly, they also generated a novel mCherry-luciferase dual reporter HIV-1 virus to assess simultaneously the number of cells containing reactivated latent provirus in response of a specific inducer (mCherry) and the magnitude of the response within the entire population (luciferase) [35].
In addition to primary CD4+ T cell models, the Collins's group has generated an ex vivo model for establishing latency in progenitor cells derived from human umbilical cord or bone marrow [94]. CD133+ cells were isolated by magnetic separation and infected with pseudotyped HIV-1 ΔEnv encoding a reporter. Three days after infection, actively infected cells expressing the reporter protein were removed and the remaining cells were resuspended in media with an integrase inhibitor to ensure that increases in reporter gene expression would derive solely from the reactivation of the integrated virus. HIV-1 could establish a latent infection in all of the subsets of HPCs that were examined, including an immature population that includes hematopoietic stem cells and multipotent progenitors. These cells could be reactivated by TNFalpha, SAHA, but not HMBA or 5-aza-2'-deoxycytidine. Although this latter model is preliminary, it appears that differences exist in the establishment of latency in HPCs versus memory T cells that should be analyzed in more detail.
After years when the only experimental models for HIV-1 latency were a series of transformed cell lines carrying an integrated latent provirus, we have entered a new phase with a variety of primary cell-based models. Although it is clear that current research on HIV-1 latency requires such models, the choice of the right system remains difficult. A fundamental issue is that we still don't know how HIV-1 latently infected resting memory T cells are established in vivo. Either route of infection, direct or after reversal to the quiescent state are plausible and can be recapitulated in vitro. Since each route may impact on the chromatin environment of the integrated virus, it is likely that the results of experiments aimed at understanding the mechanisms of latency and reactivation will be affected. Another non-trivial aspect to consider is the length of the experiment. Ex vivo activation of primary cells, their infection and induction of latency is a lengthy process that takes weeks while direct infection is much quicker. In addition to obvious practical reasons, long term cell culture might induce changes in the chromatin environment of the provirus that do not necessarily mimic the hypothetical in vivo situation. On the other hand, techniques such as spinoculation, where a great quantity of virus is forced to infect a resting cell, are not physiological as well.
To conclude, while these primary cell-based models have several attractive features including the ability to rapidly establish latency in memory CD4+ T cells, it will be important to test each model side-by-side with the others. Only by carefully comparing results from the different models to results obtained with cells isolated from blood of cART-treated HIV-infected patients will it be possible to identify meaningful in vitro models for in vivo HIV-1 latency.
Ex vivocultures of cells from patients
Viral outgrowth using resting CD4+ T cells isolated from cART-treated aviremic HIV-infected patients seems to be the gold-standard tool for screening and evaluating anti-latency drug candidates, although it is a difficult and costly one. In some of these systems, latently infected cells were treated with a drug candidate to induce virus production, and viral progeny was amplified through co-culture with allogenic, activated, CD8+ depleted PBMCs and in presence of IL-2 [95, 96]. Importantly, in contrast to such systems, the Van Lint's group [97, 98] performed ex vivo cultures of purified patient cells in the absence of both added IL-2 and allogenic stimulation (i.e. co-culture with PBMCs from an uninfected individual) to avoid extensive nonspecific T-cell activation and proliferation, that may result in the amplification of the genomic viral RNA level. Although assays of resting CD4+ T cells obtained from patients are excellent systems for validating the anti-latency activity of drug candidates, a whole-animal system would allow for a more complete evaluation of reservoirs and potential therapeutic interventions.
In vivomodels in mice and in nonhuman primates
Limitations of human clinical studies, especially invasive sampling of multiple reservoirs sites, make it imperative to develop analogous and tractable animal models to carefully characterize viral reservoirs and to rigorously test the efficacy of novel approaches and their effects on tissue reservoirs. HIV-1 cannot be studied in normal mice due to limited species tropism of the virus. Through the pioneering efforts of many investigators, humanized mice are now routinely used to rapidly advance HIV-1 research. The major humanization protocols and contributions to HIV-1 research of each models were reviewed in [99]. Briefly, unlike transgenic mice, models of severe combined immune-deficienthumanized mice (SCID-hu, [50, 100, 101]) are not genetically manipulated to express human proteins involved in different aspects of the HIV-1 life cycle. Rather, SCID-hu mice models are based on transplantation into immune-deficient mice of either human tissues or hematopoietic stem cells. More specifically, the CB17-SCID-hu mice model transplanted with human fetal thymus and liver tissues under the kidney capsule, allowed the study of thymic infection but there was no systemic reconstitution of the immune system and sites of potential infection were therefore limited [50]. Moreover, since most of the cells generated in this model were naïve, memory cell infection was more difficult to study. Newly developed humanization protocols can overcome some of these limitations: both NOD/SCID BLT mice [99] and hu-Rag2−/− γc−/− mice [102] reconstitute better the human immune system as well as mucosal tissues by transplantation of bone marrow, liver and the thymus under the kidney capsule and by transplantation of bone marrow following irradiation, respectively. In both models, resting memory CD4+ T cells constitute the predominant human T cell population. Moreover, it has been recently demonstrated that cART in HIV-1-infected hu-Rag2−/− γc−/− mice recapitulates some aspects of cART in humans [103]. Complete suppression of viremia on cART and viral rebound following cART discontinuation were observed, suggesting the presence of persistent infection in this model [103].
Of note, Murphy et al. have recently reported findings consistent with feline immunodeficiency virus (FIV) latency in peripheral blood CD4+ T cells isolated from chronically infected cats [104]. This could represent a valuable alternative to primates for the study of HIV-1 latency.
The nonhuman primate models are other important models for HIV-1 cure research (reviewed in [105]). Several similarities between HIV-1 and pathogenic SIV (Simian Immunodeficiency virus) infection of macaques exist including chronic immune activation, mucosal immune dysfunction, microbial translocation and high levels of infection of central memory CD4+ T cells. These nonhuman primate models provide real opportunities for several reasons: (i) identity, dose, and route of virus challenge are known (ii) various clinical parameters such time of infection or duration of cART can be controlled (iii) active and persistent reservoirs can be fully characterized (iv) testing of "risky" interventions is possible. Longitudinal collections of blood/tissue, as well as elective necropsy are available for determining virological and immunological parameters. cART therapy has been modeled using a larger number and variety of anti-retrovirals in nonhuman primates [106, 107]. Moreover, an animal model for a functional cure has been developed in rhesus macaques using the SIVagm.sab92018 strain [108]. It allows the study of virological and immunological events that may lead to the infection control both in blood and tissues [108]. Remarkably, Shytaj et al. recently reported complete viral suppression of SIVmac replication in rhesus macaques by a potent multidrug combination [109]. This is an important step in developing an animal model for HIV-1 cure research because it parallels the effects of antiretroviral therapy in HIV-infected humans. Without complete suppression, testing of therapeutic strategies to reduce viral reservoirs is confounded by ongoing cycles of viral replication that can replete such reservoirs.
Since none of the current animal models perfectly reproduce HIV-1 infection and cART, it is likely that several different models will be needed to understand virus persistence, latency, reactivation, and eradication.
Regulation of HIV-1 gene expression and latency: mechanisms and pharmaceutical targeting
Highly relevant to the transcriptional state of HIV-1 provirus is the chromatin environment that surrounds the viral promoter. Therefore, a big effort is being put in the definition of the integration site-selection preferences of HIV-1 and in the chromatin landscape of the integration site. Since most of the studies for HIV-1 latency have been conducted in T cells, we will focus on those keeping in mind that there might be differences in the mechanisms of latency in other infected cells such as monocytes/macrophages and myeloid dendritic cells.
Therapeutic strategies
Despite current effective and life-prolonging cART, a small population of latently infected cells persists in the human body. These HIV-1 reservoirs are insensitive to cART and able to escape from the host immune response [1, 3]. These are therefore a permanent source for virus reactivation and could be responsible for the rebound of plasma viral load observed after cART interruption [1, 3]. Therefore, cART treatment requires lifelong adherence, leading to several long-term side effects and a life expectancy lower than that of uninfected individuals. Moreover, several problems, such as the cost, the access for everybody, the stigma, the possibility of resistance with non-adherence, as well as the fact that intensification of cART is unlikely to lead to eradication, contribute to the necessity of finding a cure. Several therapeutic approaches aiming at achieving either a sterilizing cure (elimination of HIV-1 from the human body) or a functional cure (long-term control of HIV-1 replication and disease progression in the absence of cART) have been proposed [1, 14]. Such strategies aimed at eliminating the HIV-1 reservoir have been extensively reviewed in [8, 373]. In this review, we will essentially focus on strategies to induce the reactivation of HIV-1 production from latently infected cells and the purge of latent reservoirs.
A sterilizing cure
Strategies for sterilizing cure include hematopoietic stem cell transplantation and gene therapy. The former is certainly not a feasible approach for treatment worldwide but it has provided the first evidence of virus eradication from an infected patient. The latter aims at rendering the target cells refractory to infection.
The "Berlin patient"
A breakthrough in HIV-1 research is the first case of a possible sterilizing cure, "the Berlin patient". This HIV-1+ patient was treated for acute myeloid leukemia with multiple rounds of chemotherapy and hematopoietic stem cell transplantations from a donor with genetic HIV-1 resistance, a CCR5delta32 homozygous [374]. It is well established that homozygosity for a naturally occuring 32-bp deletion in the chemokine receptor CCR5, the major coreceptor for HIV-1 [375], provides resistance against HIV-1 acquisition [375–382]. The patient stopped cART the day prior to transplant and over 5 years later has not had a rebound in viremia or other indications of viral replication [383]. However, after this intervention, in vitro studies demonstrated that the donor-derived cells were susceptible to infection by X4 virus, but X4 variants have not emerged in vivo[384]. This cleverly designed strategy out of fortunate circumstances led to a patient who remained without viral rebound long after transplantation and discontinuation of antiretroviral therapy. This case has renewed hope for gene therapy in order to specifically eliminate or reduce the expression of HIV-1 coreceptor CCR5. More recently, a recent report has shown that two patients under cART with relapsed Hodgkin's lymphoma who received a CCR5 −/+ haemopoetic stem-cell transplant, had undetectable proviral DNA and replication-competent HIV 8–17 several months after transplantation (Henrich et al. XIX International AIDS Conference, Washington DC, USA, 22–27 July 2012).
Gene therapy
Gene therapy has been first proposed as a treatment for HIV-1 infection in 1988 by David Baltimore with the term "intracellular immunization" [385]. Several approaches of gene therapy have been proposed in the past. Recently, RNA based strategies (ribozymes, antisense RNA, small-interfering RNA) or protein-based strategies such as zinc-finger nucleases have been implemented (reviewed in [386, 387]). In brief, hematopoetic cells from patients were either transduced ex vivo with a retroviral vector carrying a gene for a ribozyme targeting viral RNA encoding the viral proteins Tat and Vpr [388] or transfected with a vector delivering a ribozyme targeting the CCR5 co-receptor, a short-interfering RNA targeting expression of the HIV-1 proteins Tat and Rev, and a RNA decoy to Tat [384]. The hematopoetic cells or CD4+ T cells can be also treated with a zinc-finger nuclease that is designed to specifically eliminate or reduce expression of the HIV-1 coreceptors CCR5 or CXCR4 (reviewed in [8]). The zinc-finger nuclease can be delivered by adenoviral or retroviral vectors or by nucleofection. These genetically modified cells were then transfused back into the autologous donors. Recently published clinical trials of gene therapy in HIV-1-infected patients are summarized in [8], Table 1.
A functional cure
A functional cure aims at the long-term control of virus infection without the drawbacks of cART [389]. Structured activation of HIV-1 gene expression in latently infected cells together with an intensive antiviral regimen is proposed as an adjuvant therapy aimed at decreasing the pool of latent reservoirs. This could be combined with immune-based strategies aimed at enhancing the clearance of latently infected cells which have been induced to express HIV antigens.
Elite controllers and VISCONTI patients
Several examples of "natural" functional cure exist. Indeed, a group of rare HIV-1-infected patients spontaneously control HIV-1 replication in absence of cART for prolonged periods of time. These patients called "elite controllers" carry a specific HLA polymorphism and show an effective cytolytic CD8+ T-cell response and an enhanced activity of myeloid dendritic cells [390, 391]. This group represents an imperfect model for a functional cure because their status is linked to a precise genetic background that cannot be reproduced therapeutically and also because they still show disease progression [390]. However, the study of genetics, viral and immune characteristics of elite controllers can teach us a lot about the criteria to be taken into account to achieve a transposable functional cure in naïve or chronic HIV-1 infected patients. In this context, several studies have shown that the reservoir of elite controllers is significantly smaller with low concentration of HIV-1 DNA in different subsets of blood cells and in tissues (reviewed in [390, 391]). The reservoirs of HIV-1 establish early in the infection. Consequently, early treatment may be a potential strategy to reduce or even control the reservoir and to allow preserving immune response. In addition, rare HIV-1-infected patients acquire a controller status after prolonged cART initiated in the acute phase [392, 393] or, even more rarely, in the chronic phase [394, 395]. Treatment initiation during primary HIV-1 infection rather than during chronic HIV-1 infection may: i) further reduce residual viral replication [396], ii) limit viral diversity [397] and viral reservoirs [398], iii) preserve innate immunity and T/B cell functions [399–401], and iv) accelerate immune restoration [402]. Moreover, studies also show that CD4+ T cell counts are higher and that viral rebound occurs later (and at a lower level) after the discontinuation of treatment that began during primary infection compared with treatment that began during chronic HIV-1 infection [403, 404]. In this context, a cohort, called VISCONTI (for Viro-Immunological Sustained Control after Treatment Interruption), is ongoing where patients have been treated with prolonged therapy that was initiated in acute HIV-1 infection and maintain both undetectable plasma viremia and low cell-associated DNA levels despite cART interruption for several years [405]. These individuals are called post-treatment controllers (PTCs). Importantly, a recent and elegant study from the same group has characterized a group of 14 PTCs [406]. These authors found that most PTCs were readily distinguishable from spontaneous HIV controllers in many respects (severe primary infection, unfavorable HLA genotypes, low CD8+ T cell activation status). They have highlighted that the control of viremia following treatment interruption was associated with very low HIV-1 blood reservoirs in the PTCs. Interestingly, five PTCs experienced a progressive decline in their viral reservoir after treatment interruption, which is one of the goals in the search for an HIV cure [406]. Akey additional element might be a low reservoir distribution in cell subsets with long lifespan as naïve and central-memory T cells. They showed that the cell subsets of all the PTCs analyzed ex vivo carried very low levels of HIV-1 DNA [406]. These results argue in favor of early cART initiation and open up new therapeutic perspectives for HIV-1-infected patients. However, arguments against cART initiation during primary HIV-1 infection include the potential for long-term toxicity, the development of resistant viruses and the cost. A low reservoir and a boosted immune response seem to be the two requisite criteria to allow a control of HIV-1 by the host immune system.
Reactivation of latent reservoirs of HIV-1
Early but unsuccessful attempts at purging the latent pool of infected cells were performed using IL-2 and other mitogenic stimuli that mimicked T cell activation (reviewed in [3]). Initial attempts to reduce the frequency of latently infected CD4+ resting T cells in patients on cART have often involved immune activation therapy approaches. These studies were based on the assumption that activation of the latent viral reservoir would result in rapid cell death due to HIV-induced cytopathic effects and that the infections virus released by these activated cells would be contained by the administration of cART. The rational for this is that eradication of latent reservoirs might be feasible through global cellular activation (by using for example IL-2, alone or in combination with an anti-CD3 monoclonal antibody (OKT3) [81, 145, 407]). While these therapies significantly reduced latently infected cell numbers, a rebound of plasma viremia still occurred several weeks after cART treatment interruption. Moreover, induction of generalized immune activation is not really desirable in purging strategies because it leads to severe side effects in patients and produces an abundance of activated target cells for the neo-synthesized viruses. However, this latter problem may be partially resolved by intensification of cART during the treatment period.
There is now interest in the cytokine IL-7 since it is more effective in reversing latency than IL-2 via the JAK/STAT5 signaling pathway [145]. Moreover, IL-7 has been shown to reactivate HIV-1 in primary T cells and seems well tolerated in HIV-infected patients [83, 88]. The administration of IL-7 in cART-treated patients was associated with a small increase or "blip" in plasma HIV-1 RNA [408, 409]. To determine whether IL-7 reduces latent HIV-1 reservoir, a clinical trial, called ERAMUNE01 directed by C. Katlama (ClinicalTrials.gov NCT01019551) is ongoing with HIV-1-infected patients receiving IL-7 in combination with an intensification of cART (Table 1). The outcomes of this trial could help in the development of new and important therapies for HIV-1 eradication, even though some concerns were reported regarding the use of IL-7. Indeed, IL-7 drives homeostatic proliferation of memory T cells and may potentially expand not only uninfected cells, but also latently infected cells by inducing proliferation of all cells, specifically transitional memory T cells [12]. IL-7 has recently been shown unable to reduce the reservoirs size in a model of HIV-1 latency [89] or to reactivate the latent viral pool in patients receiving a single dose to increase their CD4+ T cell count [410]. Therefore, the results of the ERAMUNE01 clinical trial will be of great interest.
Up-regulating cellular transcription to induce HIV-1 gene expression has been proposed as another strategy for reducing latent HIV-1 reservoirs. Recent studies have identified individual compounds that are capable of reversing HIV-1 latency without T-cell activation (described in section 6). Among those, HDACIs are the most studied in anti-HIV-1 clinical trials. In 2005, the Margolis group used VPA, a relatively weak and non-toxic HDACI, in a small pilot study in which a modest decline of the latent reservoir size was observed in three out of four patients [411]. However, latter studies have failed to demonstrate any benefit from VPA in reducing the number of latently infected resting CD4+ T cells [232, 412–414]. Most recently, Routy et al. confirmed that adding VPA to stable cART does not reduce the latent HIV-1 reservoirs in virally suppressed patients [415]. This latter multicentre randomized clinical study based on 56 virologically suppressed patients has shown no significant reduction in the frequency of CD4+ T cells harboring replication-competent HIV-1 after 16 and 32 weeks of VPA therapy 500 mg twice a day [415]. A far more potent HDACI, vorinostat (SAHA), has significant potency in promoting HIV-1 replication in vitro from latently infected cells [224, 225]. Vorinostat is licensed for the treatment of cutaneus T-cell lymphoma and relatively well tolerated in humans. Vorinostat has already entered two clinical trials to evaluate its effect on latent infection in HIV-infected patients: one directed by S. Lewin (ClinicalTrials.gov NCT01365065) at the Alfred Hospital, Melbourne, Australia and the other by D. Margolis (ClinicalTrials.gov NCT01319383) at the University of North Carolina, Chapel Hill, USA (Table 1). The first study currently evaluates the effect of vorinostat at 400 mg per day for 14 days, with a primary end point of change in cell-associated unspliced RNA in CD4+ T cells isolated from both blood and rectal tissue. Results from this study should be available in the next 1–2 years (reported in [226]). In the second study published in July 2012, the Margolis's group reported that administration to cART-treated patients of a single clinically tolerable dose of vorinostat disrupts HIV-1 latency in blood resting CD4+ T cells. Briefly, these authors first performed validation assays by purifying the resting CD4+ T cells from 16 patients in whom viremia was fully suppressed by cART and by testing the reactivation potential of vorinostat in these ex vivo cultures. Following a 6 h vorinostat exposure, HIV-1 RNA expression and chromatin acetylation level were significantly up-regulated in 11 of the 16 patient cell cultures [230]. Of the 11 eligible/responder patients, 8 patients agreed to receive a single 200 mg dose of vorinostat, followed by a 400 mg dose at 4- to 5-weeks later. In all 8 patients, this exposure resulted in a significant increase in acetylation of total cellular histone H3, temporally associated with an increased (mean increase of 4.8 fold) expression of unspliced HIV-1 gag RNA within resting CD4+ T cells [230]. These results demonstrated that, at least for a period of time in some infected cells, all of the restrictions that limit the expression of latent proviral genomes have been overcome. In contrast, in this trial, the authors observed neither an alteration of residual low-level viremia nor a substantial reduction in the frequency of replication-competent HIV-1 within resting CD4+ T cells [230]. These latter results might reflect that multiple doses of vorinostat, reactivation/anti-latency combination approach and/or additional interventions are required to clear infected cells. Recently, a pilot clinical trial has started with the HDACI panobinostat (called also LBH589) directed by L. Østergaard (ClinicalTrials.gov NCT01680094) at Aarhus University Hospital, Aarhus, Denmark. The primary outcome measure is the change from baseline in HIV transcription in latently infected CD4+ T-cells as quantified by copies of unspliced HIV-RNA in the CD4+ T-cells of HIV-infected patients on suppressive cART. These issues are important goals for future studies as well as the development of HDACI with improved specificity, potency and safety profiles for the selective targeting of latent proviral genomes.
Romidepsin (called also FK288), another HDACI approved by the FDA for the treatment of cutaneous T cell lymphoma, has been shown to be one thousand fold more potent then SAHA at inducing latent HIV-1, one thousand to twenty thousand fold more potent in inhibiting HDAC enzymatic activity and induced HIV RNA expression ex vivo in 12 of 13 HIV + cART-treated patients (Geleziunas et al., 2012, abstract Retrovirology, 9 (Suppl1):O2). The average increase in viral RNA was approximately 8.6-fold (Geleziunas et al., 2012, abstract Retrovirology, 9 (Suppl1):O2). Therefore, the HDACI Romidepsin may be a very promising latent HIV-1 inducer in vivo and its favorable toxicity profiles could allow multiple-dose treatment. A clinical trial is ongoing with Romidepsin and the results are awaited with high interest. Of note, it would be very important to measure the size of the reservoirs during the course of Romidepsin administration in the HIV-1+ patients enrolled in this trial.
PKC inducers also present several advantages in the context of anti-HIV-1 purging strategies (described in section 6.2). In this context, bryostatin, the only clinically available PKC agonist [241] is currently tested with HIV-1-infected patients in a pilot clinical trial directed by S. Moreno, Department of Infectious Diseases, Ramon y Cajal Hospital, Madrid, Spain (Table 1). This ongoing trial evaluates the latent cell reservoir size, residual viremia and cell associated viral RNA after a single dose of bryostatin-1 and results are yet unavailable (Moreno S, 2012, abstract Retrovirology, 9(Suppl 1):I16).
Disulfiram (DSF), a safe and well tolerated FDA-approved drug to treat chronic alcoholism (described in section 6.2), is currently evaluated in a pilot clinical trial (ClinicalTrials.gov NCT01286259) under the direction of S. Deeks at the University of California, San Francisco, USA to assess whether a decrease in the frequency of resting CD4+ T cells harboring replication-competent HIV-1 occurs. This pilot clinical trial involved 14 patients on cART with plasma viral loads below 50 copies HIV-1 RNA/ml of plasma. DSF was administrated for two weeks and the frequency of latently infected cells as well as residual viral viremia was measured during disulfiram administration. Preliminary results from this trial revealed that disufiram administration resulted in a small transient increase in viral load in some trial participants (Spivak et al., 2012, Abstract 19th Conference on Retrovirus and Opportunistic Infections. Seattle, March 5–8). No significant change in the size of the latent reservoir was observed at these intervals.
The hypothesis was that pharmacological reactivation of latent HIV-1 would cause death of the infected cells by viral cytophatic effects or host cytolytic T lymphocytes (CTLs), thereby decreasing the size of the latent pool. Indeed, an overarching question is whether the increases in viral RNA induced either by these compounds will be sufficient to raise the amount of viral protein expression in reactivated cells to levels that lead to viral cytopathicity and/or elimination by cytotoxic T cells. In this regard, the group of Siliciano has recently reported that virus reactivation with vorinostat occurs in latently infected primary CD4+ T cells generated in vitro, but is not associated with death induced directly by viral protein, i.e. viral cytopathic effect [416]. Moreover, unstimulated HIV-specific CTL from cART-treated patients also fail to kill autologous latently infected CD4+ T cells after latent viruses are reactivated [416]. In contrast, antigen-specific stimulation of patient CTLs prior to virus reactivation leads to rapid killing of latently infected vorinostat-reactivated cells [416]. Moreover, monocytes-macrophages and myeloid dendritic cells are more resistant to the cytophatic effects of the virus. Indeed, macrophages have the peculiar capacity to accumulate virions in intracellular vacuolar compartments, as observed originally in vivo in macrophages infiltrating the brain of individuals with HIV-1 encephalopathy and AIDS-associated dementia [417]. However, macrophages could be cleared by host mechanisms if cytolytic T lymphocyte responses are boosted with HIV-1 specific antigens to more efficiently kill infected cells, in which latency has been reversed. Therefore, significant boosting of CTL responses, through therapeutic vaccination or other means, prior to virus reactivation might be an effective strategy for purging the latent pool and thereby eradicating HIV-1 infection. Several approaches of immunotherapy are reviewed in [389].
Conclusions
Overall, cumulated data indicate that a series of complementary mechanisms are involved in mediating HIV-1 latency and reactivation. Different forms of latency probably coexist in a single patient and vary from one patient to the other. Therefore, further research in the basic mechanisms of HIV-1 latency remains a priority because pharmacological anti-latency compounds would have to be multi-pronged. Indeed, additional mechanistic studies of HIV-1 latency will identify novel targets for pharmacological approaches to reactivate latent reservoirs. Studying the epigenome and DNA methylome of the host genes following HIV-1 infection also constitutes an important issue. Such combinatory strategies to eliminate HIV-1 reservoirs with selective activators of viral expression, even if they do not achieve total eradication, could lead to a decline of HIV-1 reservoir levels sufficient to allow an efficient control of the infection by the host immune system. Lower viral loads should permit highly welcome therapeutic interruptions ("drug-free windows"). However, intentional re-ignition of HIV-1 expression by the above approaches aimed at eliminating latently infected cells has yet to be further characterized in vivo. The future goals in HIV-1 research are varied but inter-connected. Improvement of assays, technologies and in vitro (cellular) models for exploring potential reactivation strategies will be necessary. Moreover, further studies on animal models aimed at demonstrating their validity for HIV persistence should be conducted. A better characterization of latent HIV infection in non-T cell HIV reservoirs, including tissue macrophages, astrocytes and dendritic cells is also waited. An important effort remains to be done for the improvement of the anti-latency drugs. In a therapeutic goal, the ideal compounds should be orally available, active but not toxic in a wide variety of cell types (or presenting mild host toxicities if administrated for limited periods of time), unable to induce global immune activation and compatible with the different components of cART. Careful consideration of both short- and long-term toxicities, as well as activity of these compounds and quantification of their effects on viral reservoirs (including sanctuaries such as CNS and GALT) are key issues in further developing such anti-latency drugs. In addition to latency, the failure to cure HIV-1 infection is believed to be the result of T-cell dysfunction stemming from persistent immune activation. Therefore, new therapeutic strategies should also include reversal of immune exhaustion and boosting of specific anti-HIV-1 CTL immune responses.
Abbreviations
5-Aza:

5-azacytidine
5-Aza-CdR:

5-aza-2'-deoxycytidine
AIDS:

Acquired immunodeficiency syndrome
AP-1:

Activating protein-1
APOBEC3G:

APOlipoprotein BmRNA editing catalytic subunit-like protein 3G
ATP:

Adenosine TriPhosphate
Bcl-2:

B-cell Lymphoma 2
BRD4:

Bromodomain-containing protein 4
BRM:

Brahma gene
cART:

Combination antiretroviral therapy
CBF-1:

C-promoter binding factor-1
CCR5:

Chemokine CC motif receptor 5
CD4:

Cluster designation 4
Cdk9:

Cyclin-dependent kinase 9
c-Myc:

v-myc myelocytomatosis viral oncogene homolog
CNS:

Central nervous system
COUP-TF:

Chicken ovalbumin upstream Promoter-transcription factor
CTD:

Carboxy-terminal domain
CTIP-2:

COUP-TF interacting protein 2
CTL:

Cytolytic T lymphocytes
CXCR4:

Chemokine CXCMotif receptor 4
CycT1:

Cycline T1
DNA:

Deoxyribonucleic acid
DNMT:

DNA MethylTransferase
DNMTI:

DNA MethylTransferase inhibitor
dNTP:

DeoxyNucleotide TriPhosphate
DSF:

Disulfiram
DPP:

12-DeoxyPhorbol 13-Phenylacetate
DSIF:

DRB-Sensitive inducing factor
EC:

Elite controllers
EZH2:

Enhancer of Zeste 2
FDA:

Food and Drug Administration
FIV:

Feline immunodeficiency virus
FRAP:

Fluorescence recovery after photobleaching
GALT:

Gut-associated lymphoid tissue
GFP:

Green fluorescent protein
GM-CSF:

Granulocyte-macrophage colony-stimulating factor
HAT:

Histone AcetylTransferase
HDAC:

Histone DeACetylase
HDACI:

Histone DeACetylase inhibitor
HEXIM1:

HMBA inducible protein 1
HIV-1:

Human immunodeficiency virus type 1
HMBA:

HexaMethylene BisAcetamide
HMT:

Histone MethylTransferase
HMTI:

Histone MethylTransferase Inhibitor
IN:

Integrase
HP1:

Heterochromatin Protein 1
HPC:

Hematopoietic progenitor cells
HRP-2:

Hepatoma-derived growth factor related protein 2
IKB:

Inhibitor of NF-kappaB
IKK:

IKappaB kinase
IL-2:

InterLeukin 2
Ini1:

Integrase-interacting protein 1
JAK:

Janus kinase
JNK:

c-Jun N-terminal kinase
LARP7:

La-related protein 7
LEDGF:

Lens epithelial derived growth factor
LEF-1:

Lymphoid enhancer factor 1
LSD1:

Lysine specific demethylase 1
LSF:

Late SV40 Factor
LTNP:

Long-term nonprogressors
LTR:

Long terminal repeat
MBD:

Methyl-CpG binding domain protein
MeCP2:

Methyl-CpG binding protein 2
miRNA:

Micro RNA
NAP1L1:

Nucleosome assembly factor 1 like 1
Nef:

Negative regulatory factor
NELF:

Negative eLongation factor
NFAT:

Nuclear factor of activated T cells
NF-kappaB:

Nuclear factor kappa B
OKT3:

Orthoclone K T-cell receptor 3 antibody
PAFc:

Polymerase-associated factor complex
PBMC:

Peripheral blood mononuclear cell
PCAF:

p300/CBP-associated factor
PIC:

Preintegration complex
PKC:

Protein kinase C
PMA:

Phorbol 12-myristate 13-acetate
PRC2:

Polycomb repressive complex 2
PSF:

PTB-associated factor
PTB:

Polypyrimidine tract binding protein
P-TEFb:

Positive transcription elongation factor b
PTEN:

Phosphatase and tensin homolog
RISC:

RNA-induced silencing complex
RNAPII:

RNA polymerase II
RRE:

RNA element called the Rev response element
SAH:

S-adenosyl-L-homocysteine
SAM:

S-AdenosylMethionine
SAHA:

SuberoylAnilide hydroxamic acid
SCID-hu:

Severe combined immunodeficient-human mice
SEC:

Super elongation complex
SET:

Su(var)3-9 enhancer-of-zeste and Trithorax
SIRT:

(Sirtuin) Silent mating tape information regulation 2 homolog
SIV:

Simian immunodeficiency virus
Sp1:

SV40-promoter specific factor
STAT:

Signal transducers and activators of transcription
Suv39h1:

Suppressor of variegation 3–9 homolog 1
SWI/SNF:

SWItching/sucrose non fermenting
TAR:

Tat responsive element
Tat:

TransActivator of transcription
TCF-4:

T cell factor 4
TCF-LEF:

T cell factor/lymphoid enhancer factor
TCM:

Central memory T cells
TCR:

T-Cell receptor
TEM:

Effector memory T cells
TNF-α:

Tumor necrosis factor-α
TPX:

Trapoxin
TRIM:

Tripartite motif protein
TSA:

TrichoStatin A
TTM:

Transitional memory T cells
Vif:

Viral infectivity factor
VPA:

Valproic Acid
Vpu:

Viral protein U
VSVG:

Vesicular stomatitis virus G
YY1:

Ying Yang protein 1
ZBRK:

KRAB-zinc finger.
Declarations
Acknowledgements
C.V.L. is "Directeur de Recherches" of the Belgian Fund for Scientific Research (FRS-FNRS, Belgium). S.B. is fellow of the Belgian « Fonds pour la Recherche dans l'Industrie et l'Agriculture » (FRIA). We acknowledge grant support from the FRS-FNRS (Belgium), the Télévie-Programme of the FRS-FNRS, the Programme d'Excellence « Cibles » of the Région Wallonne, the NEAT (European AIDS treatment network) integration grant, the International Brachet Stiftung, the "Fondation Roi Baudouin" (Belgium), the "Fondation Brachet" (ULB), and the Agence Nationale de Recherches sur le SIDA (ANRS; France). Work in AM's laboratory is supported by the AIDS Program of the "Istituto Superiore di Sanità" of Italy, by the EC STREP consortium 012182 and by the Beneficientia Stiftung.
This work is dedicated to the memory of Kuan-Teh Jeang who commissioned this review. Teh has been an inspiring scientist and a tireless Editor-in-Chief of Retrovirology. We will all miss him very much.
Authors' Affiliations
(1)
Université Libre de Bruxelles (ULB), Service of Molecular Virology, Institute of Molecular Biology and Medicine, Gosselies, Belgium
(2)
The Laboratory of Molecular Virology, International Centre for Genetic Engineering and Biotechnology (ICGEB), Trieste, Italy
Copyright
© Van Lint et al.; licensee BioMed Central Ltd. 2013
This article is published under license to BioMed Central Ltd. This is an Open Access article distributed under the terms of the Creative Commons Attribution License (http://creativecommons.org/licenses/by/2.0), which permits unrestricted use, distribution, and reproduction in any medium, provided the original work is properly cited.