M48U1 CD4 mimetic has a sustained inhibitory effect on cell-associated HIV-1 by attenuating virion infectivity through gp120 shedding
Received: 19 June 2012
Accepted: 8 January 2013
Published: 1 February 2013
Abstract
Background
HIV-1 infected cells can establish new infections by crossing the vaginal epithelia and subsequently producing virus in a milieu that avoids the high microbicide concentrations of the vaginal lumen.
Findings
To address this problem, here, we report that pretreatment of HIV-infected peripheral blood mononuclear cells (PBMCs) with a 27 amino acid CD4-mimetic, M48U1, causes dramatic and prolonged reduction of infectious virus output, due to its induction of gp120 shedding.
Conclusions
M48U1 may, therefore, be valuable for prophylaxis of mucosal HIV-1 transmission.
Keywords
HIVEntryCD4 binding sitegp120SheddingInhibition
Findings
The majority of new HIV infections worldwide are acquired through heterosexual transmission. Although receptive transmission at the vaginal mucosa is thought to be primarily caused by cell-free virus (CFV) [
1
], it may also involve transfer of HIV-infected leucocytes (i.e., cell-associated virus; CAV) present in semen [
2
,
3
]. The observation that CFV infection via the vaginal mucosa requires a ~10
3
-10
6
higher virus dose [
4
] than is needed to establish infection by the intravenous route suggests that the healthy epithelium of the female genital tract is a robust barrier to HIV transmission. However, in contrast to CFV, infected seminal lymphocytes or macrophages are capable of migrating through intact epithelia and delivering virus directly to the submucosa or even the draining lymph nodes. This putative 'Trojan Horse' infection route (Figure
1
A) is supported by various studies in mouse and macaque models [
4
–
9
].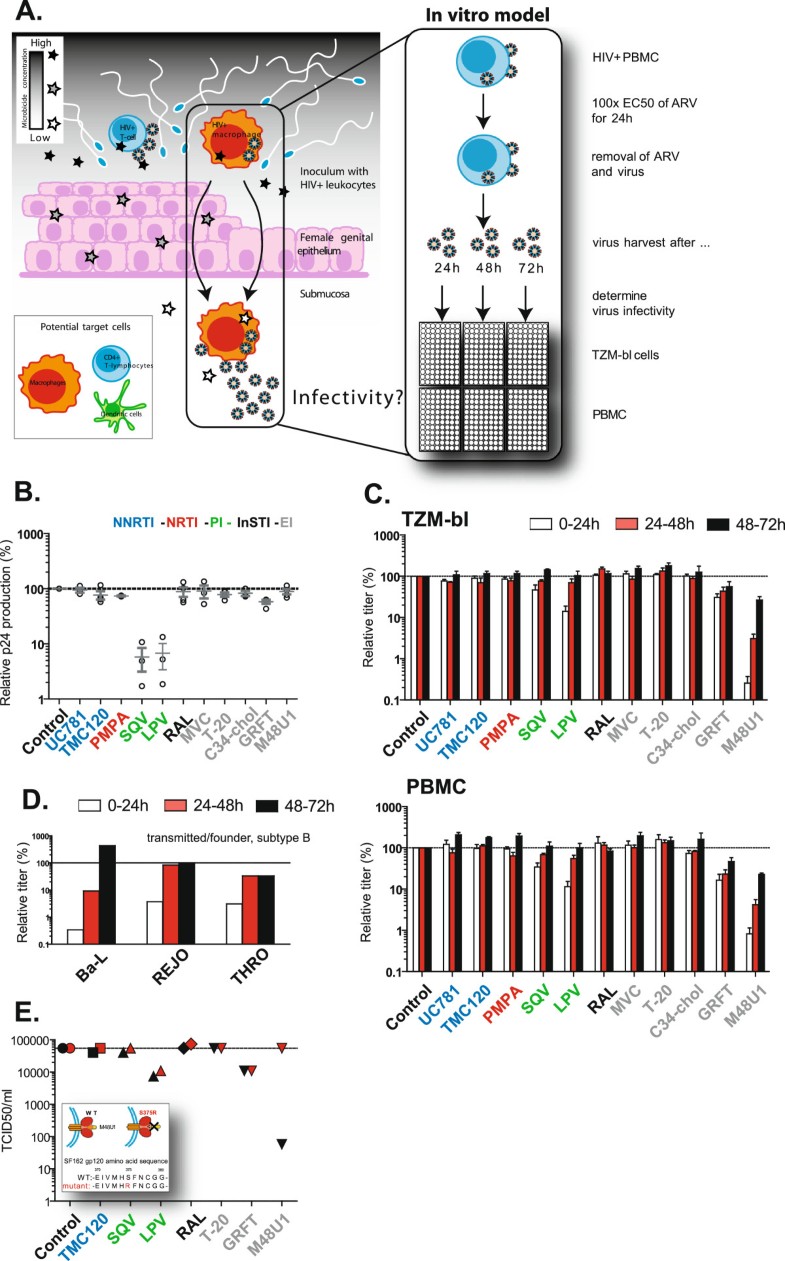 Vaginal microbicides currently under development to prevent heterosexual HIV transmission should, therefore, ideally be able to inactivate virus in these migrating leucocytes, as well as CFV. Although most candidate microbicides, including entry inhibitors, can inhibit CAV in vitro[10–12], their activity in vivo depends on the inhibitor concentrations that can be achieved in the cervical and vaginal (sub) mucosa where most of the target cells reside. A study in rabbits and macaques measured the levels of the candidate microbicide dapivirine (TMC120) in the cervicovaginal tissue and found that drug-related material was primarily detected in the superficial cellular layers of the mucosal epithelia and not in the submucosa or draining lymph nodes [13]. Hence, following the proposed CAV or Trojan Horse concept (Figure 1A), infected seminal leucocytes could subvert drug pressure in the vaginal lumen by migrating to the submucosa or regional lymph nodes. Subsequently, infection may be established by virions budding from these migrating leucocytes. However, it remains possible that initial vaginal drug exposure exerts a sustained inhibitory effect on virus production or virion infectivity, even after their migration to deeper tissues.
Previous in vitro evidence provides support for such a 'memory effect', in that pretreatment of chronically infected cells with the non-nucleoside reverse transcriptase inhibitor (NNRTI) UC781 results in the release of attenuated virus [14]. Therefore, here we investigated whether other microbicide candidates exert a similar effect on CAV. To this end, HIV-infected peripheral blood mononuclear cells (PBMCs) were used as a surrogate for migrating seminal leucocytes and treated with antiretrovirals (ARVs) from different classes. Subsequently, extracellular compound and CFV were removed to mimic escape from microbicide exposure. Next, the amount of virus produced from these cells and its relative infectivity were assessed.
Among the test compounds was the CD4-binding site inhibitor M48U1, which inhibits the gp120-CD4 interaction in the nanomolar range by targeting the highly conserved and vulnerable Phe43-cavity in the HIV envelope [15, 16], and which showed nearly complete protection in Cynomolgus macaques when applied as a vaginal gel [17].
Declarations
Acknowledgements
We thank Drs. Palmer and Miller for their generous gifts of reagents and the Antwerp Red Cross Blood Transfusion Center for supplying the buffy coats. The subtype B transmitted/founder viruses were obtained through the NIH AIDS Reference and Reagent Program. This study was supported by the Fund for Scientific Research – Flanders (FWO) and the European Community's Seventh Framework program (FP7/2007-2013) under grant agreement no. 242135 (CHAARM). JMB, TT and ETC. are supported by NIH grant RO1 AI93278. PS is a pre-doctoral fellow of the FWO. KG is the recipient of a SOFI-A (Secundaire Onderzoeksfinanciering ITG) Fellowship.
Authors' Affiliations
(1)
Department of Biomedical Sciences, Unit of Virology, Institute of Tropical Medicine, Antwerp, Belgium
(2)
Torrey Pines Institute for Molecular Studies, San Diego, USA
(3)
Commissariat à l'énergie atomique et aux énergies alternatives, iBiTecS, SIMOPRO, Gif sur Yvette, France
(4)
Faculty of Pharmaceutical, Biomedical and Veterinary Sciences, University of Antwerp, Antwerp, Belgium
Copyright
© Selhorst et al.; licensee BioMed Central Ltd. 2013
This article is published under license to BioMed Central Ltd. This is an Open Access article distributed under the terms of the Creative Commons Attribution License (http://creativecommons.org/licenses/by/2.0), which permits unrestricted use, distribution, and reproduction in any medium, provided the original work is properly cited.