CLIP-related methodologies and their application to retrovirology
Received: 14 March 2018
Accepted: 17 April 2018
Published: 2 May 2018
Abstract
Virtually every step of HIV-1 replication and numerous cellular antiviral defense mechanisms are regulated by the binding of a viral or cellular RNA-binding protein (RBP) to distinct sequence or structural elements on HIV-1 RNAs. Until recently, these protein–RNA interactions were studied largely by in vitro binding assays complemented with genetics approaches. However, these methods are highly limited in the identification of the relevant targets of RBPs in physiologically relevant settings. Development of crosslinking-immunoprecipitation sequencing (CLIP) methodology has revolutionized the analysis of protein–nucleic acid complexes. CLIP combines immunoprecipitation of covalently crosslinked protein–RNA complexes with high-throughput sequencing, providing a global account of RNA sequences bound by a RBP of interest in cells (or virions) at near-nucleotide resolution. Numerous variants of the CLIP protocol have recently been developed, some with major improvements over the original. Herein, we briefly review these methodologies and give examples of how CLIP has been successfully applied to retrovirology research.
Background
Following the integration of proviral DNA into the host cell chromosome, genesis of new HIV-1 particles is initiated by the host RNA Polymerase II-mediated synthesis of a single poly-cistronic viral RNA species [1]. This transcript undergoes varying levels of alternative splicing generating over 40 different RNA species, an event orchestrated by the host cellular splicing machinery and cis-acting elements on viral RNAs [1, 2]. Like cellular mRNAs, all viral RNAs contain 5′ 7-methylguanosine (m7G) caps and 3′ polyA tails [1, 3]. While fully spliced viral RNAs can exit the nucleus via canonical nuclear export pathways, the partially spliced and unspliced viral RNAs depend on the viral Rev and cellular Crm1 proteins for nuclear export [4]. All viral mRNAs are subsequently translated in the cytosol, but the unspliced full-length viral RNAs also serve as the viral genome and are packaged into virions by the viral major structural protein Gag. Following their release from the plasma membrane, particles undergo a maturation step triggered by the viral protease enzyme. During this process, Gag and Gag-Pol proteins are cleaved into their constituent domains, the CA domain of Gag forms a conical lattice and the viral RNA genome condenses with the cleaved NC domain of Gag and viral enzymes inside this conical core [5, 6]. Thus, virtually every step in HIV-1 replication depends on a complex and changing set of interactions between viral RNAs and the multitude of trans-acting viral and cellular RNA-binding proteins. Historically, the interactions between these proteins and their RNA targets have largely been mapped by genetic studies, complemented by limited in vitro approaches. Comprehensive analysis of these interactions in physiologically relevant settings was effectively impossible prior to the recent development of cutting-edge next-generation sequencing-based methodologies. These methods, collectively referred to as CLIP (crosslinking-immunoprecipitation coupled with next-generation sequencing), allow the global identification of RNA targets of RNA-binding proteins (RBPs) in physiological settings in unprecedented detail. In this review, we provide a detailed outline of the existing CLIP methodologies, discuss their advantages and shortcomings (based partly on our own experience) and give examples of how CLIP has been successfully applied to retrovirology research.
Principles of CLIP and variant methodologies
In simple terms, CLIP is a powerful methodology with which one can identify the RNA targets of RNA-binding proteins in physiological settings, ranging from live cells to virus particles and even animal tissues. The inception of the original CLIP protocol [
7
,
8
] and its subsequent coupling to next-generation sequencing [
9
] has revolutionized the study of protein–RNA interactions. Since then, several other versions of CLIP have been developed. The salient steps of the existing CLIP methodologies are (Fig.
1
): (1) protein–RNA complexes are covalently crosslinked in live cells/tissues/virions; (2) Cells/tissues/virions are lysed and treated with limited amounts of RNases leaving small fragments of RNA molecules (~ 20 to 50 nucleotides) protected by the protein of interest; (3) Protein–RNA complexes are immunoprecipitated, and non-specific RNAs and proteins are removed by stringent washes. Because the protein–RNA complexes are covalently crosslinked, these stringent conditions, in principle, do not affect purification of target protein–RNA adducts. (4) The purified protein–RNA complexes are radioactively labeled and separated by SDS-PAGE. (5) Bound RNA is isolated either directly from SDS-PAGE gels or from nitrocellulose membranes following transfer by Proteinase K treatment. (6) Eluted RNA is ligated to adapters, reverse transcribed, the resulting cDNA is PCR amplified and subjected to sequencing. (7) Sequencing reads are processed and mapped to reference genomes. Depending on the method used, the resulting library contains nucleotide substitutions or deletions at the site of crosslinking, which allows mapping of the site of protein–RNA interactions at near-nucleotide resolution. Subsequent analyses include determination of the significantly enriched binding sites, identification of the binding motifs within them as well as other custom analyses. In the remainder of this section we will review the currently existing CLIP methods and give an overview of the widely used CLIP data analysis tools and pipelines.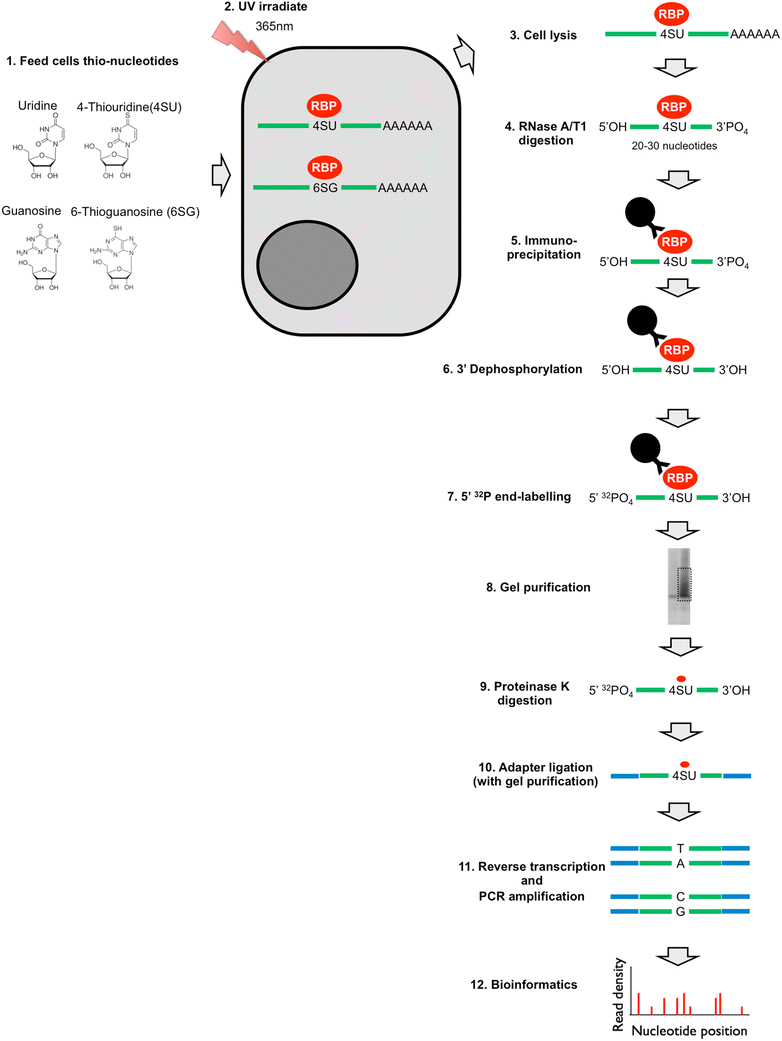 Application of CLIP techniques in retrovirology
Conclusions
Application of the CLIP methods to questions in retrovirology will undoubtedly continue to increase, given the large number of RBPs that are known and continuing to emerge as key regulators of retroviral replication. Several poorly explored areas in retrovirology will benefit from these approaches. One of the immediate applications of this methodology will be in determining how the alternative splicing of HIV-1 transcripts is regulated by cellular hnRNP and SR splicing-regulatory proteins. Although the families of hnRNP and SR proteins constitute more than 50 proteins, only a few have been shown to play roles in HIV-1 RNA splicing. In addition, none of the studies performed to date determined where on viral RNAs these proteins bind. Instead, in vitro splicing reporters and genetic assays were used, which are prone to artefacts. Another exciting area of research where CLIP and related methodologies may make a major impact is the sensing of viral nucleic acids in infected cells. HIV-1 infection induces high levels of interferon and other cytokines during the acute phase of infection, suggesting that viral nucleic acids are sensed in infected cells. While a few isolated studies indicated that viral reverse transcription products or RNA elements can be sensed in certain settings, it remains to be determined what features of viral nucleic acids are sensed and whether viral RNA or DNA elicits an inflammatory response. While A3 proteins provide a good example of how viral RNAs can be targeted by antiviral host proteins, it is plausible that many other cellular proteins that can recognize and target viral RNAs. CLIP will be a key tool in unveiling novel cellular proteins that participate at the HIV-1-host interface. Finally, although CLIP has so far only been applied to HIV-1 biology, it will certainly find broad applications in retrovirology and virology more generally as the methods and next-generation sequencing becomes more accessible.
Declarations
Authors' contributions
Both authors read and approved the final manuscript.
Acknowledgements
Not applicable.
Competing interests
The authors declare they have no competing interests.
Availability of data and materials
Not applicable.
Consent for publication
Not applicable.
Ethics approval and consent to participate
Not applicable.
Funding
Funding was provided by National Institute of General Medical Sciences (Grant Nos. U54 GM-103297, GM-122458) and National Institute of Allergy and Infectious Diseases (Grant No. AI-50111).
Publisher's Note
Springer Nature remains neutral with regard to jurisdictional claims in published maps and institutional affiliations.
Open AccessThis article is distributed under the terms of the Creative Commons Attribution 4.0 International License (http://creativecommons.org/licenses/by/4.0/), which permits unrestricted use, distribution, and reproduction in any medium, provided you give appropriate credit to the original author(s) and the source, provide a link to the Creative Commons license, and indicate if changes were made. The Creative Commons Public Domain Dedication waiver (http://creativecommons.org/publicdomain/zero/1.0/) applies to the data made available in this article, unless otherwise stated.
Authors' Affiliations
(1)
Howard Hughes Medical Institute and Laboratory of Retrovirology, The Rockefeller University, New York, USA
(2)
Department of Molecular Microbiology, Washington University School of Medicine, Saint Louis, USA