Innate immunity against HIV: a priority target for HIV prevention research
Persephone Borrow

1

Email author

,

Robin J Shattock

2,

Annapurna Vyakarnam

3 and

EUROPRISE Working Group
Received: 24 May 2010
Accepted: 11 October 2010
Published: 11 October 2010
Abstract
This review summarizes recent advances and current gaps in understanding of innate immunity to human immunodeficiency virus (HIV) infection, and identifies key scientific priorities to enable application of this knowledge to the development of novel prevention strategies (vaccines and microbicides). It builds on productive discussion and new data arising out of a workshop on innate immunity against HIV held at the European Commission in Brussels, together with recent observations from the literature.
Increasing evidence suggests that innate responses are key determinants of the outcome of HIV infection, influencing critical events in the earliest stages of infection including the efficiency of mucosal HIV transmission, establishment of initial foci of infection and local virus replication/spread as well as virus dissemination, the ensuing acute burst of viral replication, and the persisting viral load established. They also impact on the subsequent level of ongoing viral replication and rate of disease progression. Modulation of innate immunity thus has the potential to constitute a powerful effector strategy to complement traditional approaches to HIV prophylaxis and therapy. Importantly, there is increasing evidence to suggest that many arms of the innate response play both protective and pathogenic roles in HIV infection. Consequently, understanding the contributions made by components of the host innate response to HIV acquisition/spread versus control is a critical pre-requisite for the employment of innate immunity in vaccine or microbicide design, so that appropriate responses can be targeted for up- or down-modulation. There is also an important need to understand the mechanisms via which innate responses are triggered and mediate their activity, and to define the structure-function relationships of individual innate factors, so that they can be selectively exploited or inhibited. Finally, strategies for achieving modulation of innate functions need to be developed and subjected to rigorous testing to ensure that they achieve the desired level of protection without stimulation of immunopathological effects. Priority areas are identified where there are opportunities to accelerate the translation of recent gains in understanding of innate immunity into the design of improved or novel vaccine and microbicide strategies against HIV infection.
Keywords
Human Immunodeficiency Virus
Natural Killer Cell
Human Immunodeficiency Virus Infection
Simian Immunodeficiency Virus
Innate Response
Understanding how innate immunity modifies HIV infection offers unique opportunities for the development of novel prophylactic and therapeutic strategies
Rational approaches to HIV vaccine design have so far focused principally on the induction of virus-specific antibody or T cell responses. Results from large-scale clinical trials of both antibody- and T cell-targeted immunogens have given largely disappointing results [1, 2] and although some short-lived protection was observed in the most recent phase III HIV vaccine trial [3], the mechanism(s) of protection are not well understood. There is thus an urgent need for novel approaches to HIV prophylaxis and therapy that will complement and synergise with traditional strategies centred on stimulation of adaptive responses.
The classical application of innate immunity in vaccine design has been in an adjuvant role: innate immune responses are stimulated at the time of vaccination to promote the induction of adaptive response(s) capable of mediating protection on subsequent pathogen encounter [4]. The need for a better understanding of links between innate and adaptive immunity and of the type(s) of innate response that should be stimulated to prime protective responses, particularly at mucosal sites, are discussed in a separate report [5]. However a second, more novel means of applying innate immunity in prevention strategies (vaccine and microbicides) would be in an effector capacity: i.e. to stimulate innate or adaptive responses that would modulate the innate responses activated at the time of subsequent pathogen exposure to provide (or contribute to) protection. This review focuses on opportunities for applying the latter type of strategy in the development of novel approaches to prevention of HIV infection.
Understanding the contributions made by different innate host resistance mechanisms and innate responses to HIV acquisition and disease progression is a critical pre-requisite for the rational design of novel prophylactic and therapeutic strategies focusing on innate immunity: this will inform the selection of responses to target for up- or down-modulation by vaccination or microbicides. There is also an important need to understand the mechanisms via which innate responses are triggered, so that these can be selectively exploited or inhibited in vaccine or microbicide design. Finally, strategies for achieving the desired modulation of innate functions will need to be developed and subjected to rigorous testing to ensure that they achieve the desired level of protection without stimulation of immunopathological effects. Given that many components of the innate response mediate pleiotropic functions and can both inhibit HIV infection and exert immunomodulatory effects that may enhance viral replication, it is critical to assess whether these opposing outcomes can be dissected and mapped to functionally distinct effector pathways or sites within a given soluble factor, thereby providing a basis for their selective exploitation in prophylactic or therapeutic strategies.
Innate responses in HIV infection and their roles in protection or pathogenesis
The following sections discuss current understanding of the roles of different components of innate immunity in protection or pathogenesis in HIV infection and of how the activation of innate responses is stimulated and regulated, together with the knowledge gaps and priorities for research. Components of the innate response are considered in the sequence in which they may be invoked in combating infection: as mucosal HIV exposure occurs; local foci of infection are established; and as more widespread viral dissemination takes place (Figure
1
).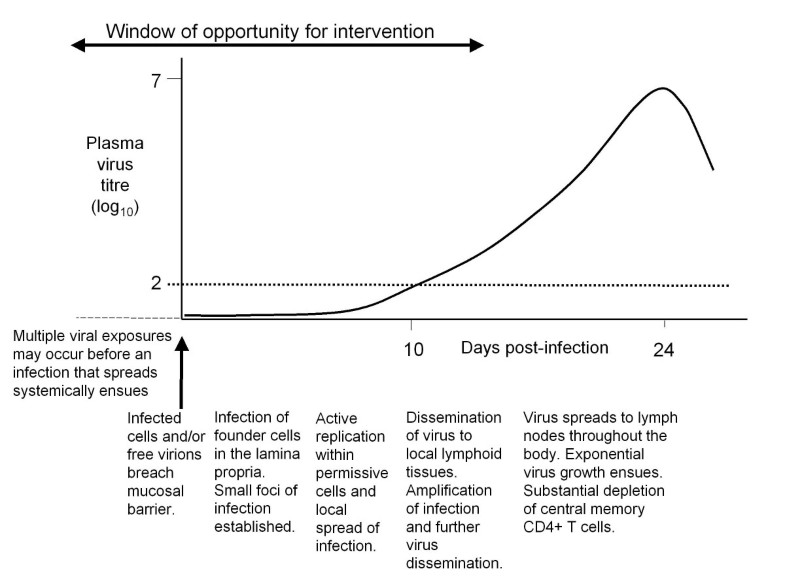 Challenges faced in the development and evaluation of prophylactic or therapeutic strategies for achieving protection via modulation of innate responses
As discussed above, there is increasing understanding of the important role played by innate responses in both promoting and inhibiting HIV transmission, the establishment, dissemination and amplification of infection and the level at which viral replication is subsequently contained (Table
1
). Although considerable work is still needed to define precisely which components of the innate response it would be desirable to up- or down-modulate to confer resistance to or enable better control of HIV replication, it is important that consideration also starts to be given to the even greater challenge of designing strategies via which modulation of selected innate responses could be achieved by vaccination or microbicides.
Table 1
Examples of protective and pathogenic effects mediated by innate responses at different stages of acute and early HIV-1 infection
Stage of infection

Beneficial effects

Detrimental effects

HIV transmission

SLPI, Elafin and defensins help to block HIV infection

SEVI and WFDC-1 enhance HIV infection

Establishment of initial foci of infection

Langerhans cells capture and destroy HIV virions

Type 1 IFNs block HIV replication via upregulation of APOBECs and restriction factors

cDCs and macrophages act as sites for HIV replication and attract plus transmit infection to CD4+ T cells

Local production of pro-inflammatory cytokines drives immune activation, enhancing viral replication

Local virus replication and spread to draining lymph nodes

Type 1 IFNs continue to limit HIV replication

Locally-recruited innate effector cells combat virus replication

Proinflammatory cytokines, type 1 IFNs and WFDC-1 promote local immune activation, enhancing virus replication

DC-SIGN+ DCs carry HIV to lymph nodes and infect CD4+ T cells

Further viral amplification and systemic dissemination

DCs activate innate effector cells including NK and NKT cells and begin to induce HIV-specific T cell responses

NK, NKT and other innate effector cells combat HIV replication

cDCs and macrophages promote HIV transmission to CD4+ T cells

DCs preferentially infect HIV-specific CD4+ T cells

Immune activation mediated by pDCs and cDCs enhances HIV replication

Exponential virus growth and depletion of central memory CD4+ T cells

HIV replication is combated by type 1 IFNs, NK and NKT cells

DCs promote induction of adaptive responses

Immune activation mediated by DCs, NK cells and NKT cells enhances HIV replication

Ongoing virus replication

Soluble innate factors and NK cells contribute to control of virus replication

DCs help to sustain adaptive responses

cDCs and macrophages continue to promote HIV transmission to CD4+ T cells

Immune activation mediated by DCs, NK cells and NKT cells enhances HIV replication
Conclusions
Innate immunity plays important roles in mediating defence against HIV acquisition, control of infection following virus transmission and containment of virus replication during both the acute and chronic phases of infection. Conversely, innate responses can also have detrimental effects at all stages of infection, promoting virus transmission and the establishment of infection, enhancing subsequent virus replication and spread and contributing to CD4+ T cell destruction and disease progression. Importantly, recent studies have shown these opposing protective and pathogenic effects are mediated by every major component of the innate immune system (e.g. type 1 IFNs and other soluble factors, DCs and NK cells), prompting a need for more precise definition of the underlying molecular mechanisms so that they can be specifically up- or down-modulated by intervention strategies. Increasing evidence suggests that there may be potential to stimulate protective innate effector mechanisms to a level where HIV transmission and/or the establishment of disseminated infection is prevented. Likewise strategies for blocking generalised immune activation may also have prophylactic potential, and hold great promise as a novel therapeutic approach. The major challenge ahead lies in determining how these potentially important goals may be safely realized to yield novel infection and disease prevention strategies that will complement more traditional approaches. Some of the priorities for research in this area are summarised in Table
2
.
Table 2
Strategies for targeting innate immunity to combat HIV infection and research priorities to advance their development
| Strategy | Priorities for future research | Most rapidly-realised goals? |
| --- | --- | --- |
| A. Development of microbicides and passive protection strategies that mediate defence at mucosal infection sites via deployment or local modulation of innate immunity | Structure-function studies to enable the design of small molecules that selectively induce the HIV-inhibitory properties of defensins, WAPs, etc | |
| | Identify the key mechanisms involved in type 1 IFN-mediated inhibition of HIV replication so that the pathways involved can be selectively invoked to block viral infection | |
| | Evaluate the effect of local administration of immunosuppressive agents at mucosal exposure sites on HIV acquisition | ← |
| B. Design of vaccines to prime adaptive responses that mediate protection via modulation of innate effector functions | Clarify the importance of ADCVI activity as a means of antibody-mediated control of HIV infection; and Define the key characteristics of antibodies that induce strong ADCVI activity (e.g. isotype, glycosylation status, specificity, affinity) | ← |
| | Verify the existence of HIV-specific Treg cells and determine their in vivo roles, particularly their impact on generalised immune activation | |
| C. Creation of strategies for achieving protection by directly inducing long-term alterations in innate subsets and/or their functions | Characterise NK cell memory in humans (e.g. NK populations involved, longevity, modes of induction); and Identify the ligands on HIV-infected cells that trigger NK cells mediating protective functions, to enable design of immunogens to stimulate these NK subsets | |
| | Analyse the roles of NKT cell subsets in protection versus pathogenesis during HIV infection, to determine the utility of targeting these cells in vaccine design | |
| | Explore the effects of persisting vaccine vectors on local and/or systemic innate responses | ← |
Authors' information
PB is a Reader in the Nuffield Dept of Clinical Medicine at the University of Oxford, UK whose research focuses on innate and T cell responses in persistent virus infections including HIV.
RJS is Professor of Cellular and Molecular Infection at St George's, University of London, UK. His work focuses on development of new prevention technology for HIV including vaccines and microbicides.
AV is a Senior Lecturer in the Department of Infectious Diseases at King's College London, UK whose research includes studies of virus/host interactions that regulate innate and adaptive T-cell immunity to HIV.
List of abbreviations
ADCVI:

antibody-dependent cell-mediated virus inhibition
AHI:

acute HIV-1 infection
AID:

activation-induced cytidine deaminase
AIDS:

acquired immunodeficiency syndrome
APOBEC:

apolipoprotein B editing complex, catalytic subunit (APOBEC)
CCR:

chemokine receptor
cDC:

conventional DC (including myeloid DCs and other non-pDC types)
DC:

dendritic cell
DC-SIGN:

dendritic cell-specific, intercellular adhesion molecule-grabbing non-integrin
GALT:

gut-associated lymphoid tissue
HIV:

human immunodeficiency virus
HLA:

human leukocyte antigen
IDO:

indoleamine 2,3-dioxygenase
IFN:

interferon
IL:

interleukin
IRF:

interferon-regulatory factor
Ig:

immunoglobulin
LARG:

leukemia associated Rho guanine nucleotide-exchange factor
LPS:

lipopolysaccharide
MHC:

major histocompatibility complex
MIP:

macrophage inflammatory protein
NF:

nuclear factor
NK:

natural killer
PBMC:

peripheral blood mononuclear cell
pDC:

plasmacytoid DC
PRR:

pattern-recognition receptor
RIG-I:

retinoic acid-inducible gene I
SEVI:

semen-derived enhancer of virus infection
SIV:

simian immunodeficiency virus
SHIV:

simian/human immunodeficiency virus
SLPI:

secretory leukocyte protease inhibitor
TLR:

toll-like receptor
TNF:

tumour necrosis factor
TRIM:

tripartite motif
Treg:

regulatory T
WAP:

whey acidic protein
WFDC1:

whey acidic protein four-disulfide core domain 1
Declarations
Acknowledgements
The authors would like to thank all the members of the EUROPRISE innate immunity working group: Willy Bogers, Patrice Debre, Maria Teresa De Magistris, Gustavo Doncel, Teunis Geijtenbeek, Martin Goodier, Charles Kelly, Frank Kirchhoff, Erik Lindblad, Tom Lehner, Donata Medaglini, Steve Patterson, William Paxton, Guido Poli, Manuel Romaris, Guido Silvestri, Roberto Speck, Greg Towers and Hermann Wagner. We also thank Natasaha Polyanskaya and Guido Poli for help with organization of the workshop. Participation in the workshop was funded by the European Commission. The funder provided financial support to convene the meeting, but had no influence over the preparation of the manuscript or its submission. The authors received no additional funding for the article.
P.B. and R.J.S. received support from the Division of AIDS, NIAID, NIH (Centre for HIV and AIDS Vaccine Immunology (CHAVI) grant AI67854), and are grateful to CHAVI colleagues, in particular Barton Haynes and Andrew McMichael, for many stimulating discussions. P.B. is a Jenner Institute Investigator. R.J.S. coordinates the EUROPRISE Network of Excellence on HIV vaccines and Microbicides (EC FP6 grant 037611). A.V. received support from the Medical Research Council, Guys's & St Thomas' Charity & the International Consortium for Novel Anti-Virals.
Authors' Affiliations
(1)
Nuffield Department of Clinical Medicine, University of Oxford, The Jenner Institute, Compton, UK
(2)
Department of Cellular and Molecular Medicine, St George's, University of London, London, UK
(3)
Department of Infectious Diseases, King's College London, London, UK
Copyright
© Borrow et al; licensee BioMed Central Ltd. 2010
This article is published under license to BioMed Central Ltd. This is an Open Access article distributed under the terms of the Creative Commons Attribution License (http://creativecommons.org/licenses/by/2.0), which permits unrestricted use, distribution, and reproduction in any medium, provided the original work is properly cited.