Macrophage signaling in HIV-1 infection
Received: 25 September 2009
Accepted: 9 April 2010
Published: 9 April 2010
Abstract
The human immunodeficiency virus-1 (HIV-1) is a member of the lentivirus genus. The virus does not rely exclusively on the host cell machinery, but also on viral proteins that act as molecular switches during the viral life cycle which play significant functions in viral pathogenesis, notably by modulating cell signaling. The role of HIV-1 proteins (Nef, Tat, Vpr, and gp120) in modulating macrophage signaling has been recently unveiled. Accessory, regulatory, and structural HIV-1 proteins interact with signaling pathways in infected macrophages. In addition, exogenous Nef, Tat, Vpr, and gp120 proteins have been detected in the serum of HIV-1 infected patients. Possibly, these proteins are released by infected/apoptotic cells. Exogenous accessory regulatory HIV-1 proteins are able to enter macrophages and modulate cellular machineries including those that affect viral transcription. Furthermore HIV-1 proteins, e.g., gp120, may exert their effects by interacting with cell surface membrane receptors, especially chemokine co-receptors. By activating the signaling pathways such as NF-kappaB, MAP kinase (MAPK) and JAK/STAT, HIV-1 proteins promote viral replication by stimulating transcription from the long terminal repeat (LTR) in infected macrophages; they are also involved in macrophage-mediated bystander T cell apoptosis. The role of HIV-1 proteins in the modulation of macrophage signaling will be discussed in regard to the formation of viral reservoirs and macrophage-mediated T cell apoptosis during HIV-1 infection.
Keywords
Long Terminal Repeat
Primary Macrophage
Primary Human Macrophage
Macrophage Signaling
Mitochondrion Permeability Transition Pore
Introduction
HIV-1 infection is characterized by sustained activation of the immune system. As macrophages, along with other cell types, are permissive to HIV-1 infection, they may be infected by the virus, resulting in signaling modulation [1]. Even uninfected macrophages may be activated by the soluble gp120 HIV-1 protein, or gp120 virion, via several signaling pathways. Additionally, soluble HIV-1 proteins such as Nef, Tat, and Vpr have been detected in serum of HIV-1 infected patients, possibly released by infected/apoptotic cells. Soluble exogenous HIV-1 proteins are able to enter macrophages and modulate both cellular machinery and viral transcription. Deciphering the signaling pathways involved in the activation of macrophages in HIV infection is critical to a better understanding of AIDS pathogenesis as this could lead to innovative therapeutic approaches.
HIV-1 Proteins and Macrophage Signaling
Macrophage Signaling and HIV-1 Pathogenesis
In this section, we report that several HIV-1 proteins may modulate the macrophage signaling pathway resulting in T lymphocytes depletion and viral cellular reservoir formation, especially in macrophages [176].
Macrophage signaling and T cell apoptosis
Increased spontaneous and activation-induced apoptosis of peripheral CD4+ T cells from HIV-infected patients is observed ex vivo in lymph nodes of HIV-infected patients and of SIV-infected macaques [177–180]. Deciphering the molecular mechanisms involved in CD4+ T cell apoptosis in HIV-infected patients is critical to understanding HIV pathogenesis.
In macrophages, Nef has been shown to activate multiple cellular pathways, possibly leading to increased infection of adjacent T cells through bystander mechanisms involving T cell activation (Figure
2
). It has been shown that Nef-expressing macrophages enhance resting CD4+ T cell permissiveness through a complex cellular and soluble interaction involving macrophages, B cells, and CD4+ T cells [
29
]. Nef expression within macrophages via adenoviral vectors has been shown to induce the secretion of soluble CD23 and ICAM, resulting in up-regulation of costimulatory B cell receptors, including CD22, CD54, CD58, and CD80. This leads to T cell activation upon interaction with B cells via these costimulatory receptors, thus enabling the generation of non-productive or productive reservoirs, depending on the interactions [
29
].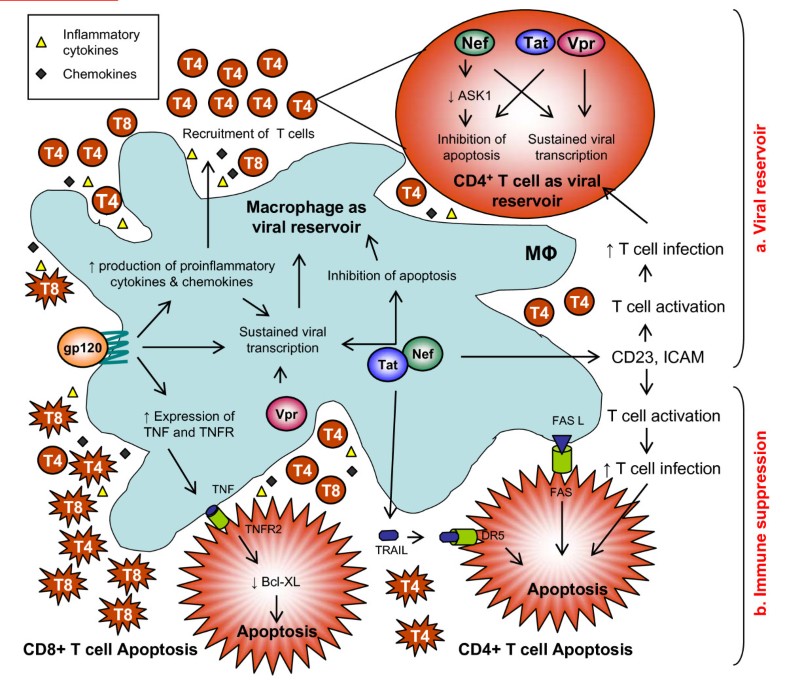 Furthermore, Nef has been reported to prevent Fas- and TNF-receptor-mediated deaths observed in HIV-infected T cells via interaction with the apoptosis signal regulating kinase-1 (ASK-1). Nef inhibits ASK-1, caspase 3 and caspase 8 activation, resulting in apoptosis blockade in HIV-infected cells [181–184]. Apoptosis was measured in productively infected CD4+ T lymphocytes using a reporter virus and a recombinant HIV infectious clone expressing the green fluorescent protein (GFP) in the presence and absence of autologous macrophages. The survival of productively infected CD4+ T lymphocytes has been shown to require Nef expression and activation by TNFα expressed on macrophage surface, thereby participating in the formation and maintenance of viral reservoirs in HIV-infected patients [184].
In addition to the macrophage-mediated formation of T cell reservoirs, in vitro culture models demonstrate that uninfected CD4+ T cells undergo apoptosis upon contact with HIV-infected cells; for example mononuclear phagocytes [180]. Macrophages play a major role in this process, suggesting that apoptosis-inducing ligands expressed by macrophages mediate apoptosis of susceptible CD4+ T cells [159, 185–187]. Activated macrophages produce TNFα following HIV infection in vitro [135]. TNFα is released as a soluble factor or expressed on the surface of macrophages under a membrane-bound form that primarily targets TNFR2 rather than TNFR1 [188, 189]. TNFR2 stimulation may trigger T cell apoptosis, especially in CD8+ T cells [188]. TNFα and TNF receptors are increased in HIV-infected patients and inversely correlated with CD4+ T cell counts [190]. TNFα is expressed on the surface of activated macrophages, and cell surface TNFR2 is not increased on CD4+ infected T cells. Therefore, for the most part, the apoptosis of CD4+ T lymphocytes is mediated via Fas/Fas ligand interaction [185, 186, 191]. TNFα causes death at a later stage than Fas and may be transduced through TNFR2, which does not contain homology to the Fas death domain and uses different signaling pathways than TNFR1 [115, 185]. Recently, Tat has been reported to induce secretion of soluble TNF-related apoptosis-induced ligand (TRAIL) in human macrophages, leading to the death of bystander CD4+ T lymphocytes [73]. Thus, the production of TRAIL by Tat-stimulated monocytes/macrophages is likely to be an additional mechanism by which HIV-1 infection destroys uninfected bystander cells.
CD8+ T cell apoptosis during HIV infection has been shown to result from the interaction between membrane-bound TNFα expressed on the surface of activated macrophages and TNFR2 expressed on the surface of activated CD8+ T cells [158]. Both membrane-bound TNFα and TNFR2 are up-regulated on macrophages and CD8+ T cells, respectively, following CXCR4 stimulation by HIV gp120. However, CCR5 may also play a role, albeit minor [158]. TNFR2 stimulation of T cells results in decreased intracellular levels of apoptosis protective protein Bcl-XL, a member of the Bcl-2 family [192]. Impaired induction of Bcl-XL has been observed in PBMC isolated from HIV-infected patients [193]. Therefore, TNFR2 stimulation of CD8+ T cells by membrane-bound TNFα expressed on the surface of macrophages might decrease the intracellular levels of anti-apoptotic proteins resulting in CD8+ T cell death.
Additionally, chemokines and activated macrophages have been reported to play a role in HIV-1 gp120-induced neuronal apoptosis [194, 195].
Macrophage signaling and formation of viral reservoirs
Whereas CD4+ T cells die within a few days after becoming infected with HIV, infected macrophages seem to persist for months, continuing to release viruses. Several reasons may explain why macrophages are a major cellular reservoir of virions during infection (Figure 2). Macrophages are more resistant than T cells to HIV-induced apoptosis and therefore allow for sustained viral production without fatal cell death. Persistent HIV infection of macrophages results in increased NF-κB levels, involved in the resistance to TNFα-induced apoptosis. Macrophages release CC-chemokines which have the ability to attract CD4+ and CD8+ T lymphocytes in their vicinity [196]. They may also block the entry of R5 HIV-1 virions into CD4+ target cells [122]. CC-chemokine production is often associated with that of pro-inflammatory cytokines, such as TNFα and IL-1β, which stimulate the transcription of HIV LTR via activation of NF-kB [197, 198]. Additionally, TNFα may block entry of R5 HIV-1 strains into macrophages via a decreased expression of CCR5 on cell surfaces [137, 141, 142, 147]. Thus, CC-chemokines and pro-inflammatory cytokines facilitate the recruitment and productive infection of CD4+ T lymphocytes via increased viral transcription, while regulating the entry of virions into macrophages, thereby preventing macrophage superinfection. Additionally, apoptosis inhibition in HIV-1 infected T cells enhances virus production and facilitates persistent infection [199]. HIV-1 proteins, by modulation of the TNFR signaling pathway, lead to the formation of viral reservoirs, especially in primary macrophages [50]. Altogether, the data indicate that both viral and cellular factors are involved in the controlled and sustained production of virions in infected CD4+ T lymphocytes and macrophages, thereby expanding the viral reservoir which fuels disease progression.
Conclusion
The macrophage is essential in the loss of T lymphocytes and formation of viral reservoirs; it plays a critical role in HIV-1 disease progression. Several HIV-1 proteins modulate signaling in infected and bystander macrophages, thereby facilitating disease progression. A better understanding of the manner by which HIV-1 modulates signaling in macrophages may be instrumental in the development of new therapeutic approaches that may ultimately restrict or decrease the size of cellular virion reservoirs in HIV-1-infected patients.
Declarations
Acknowledgements
This review is the result of a reflection conducted by the Association for Macrophages and Infection Research (AMIR). The work of G. Herbein, W. Abbas, and K.A. Khan was supported by institutional funding from Franche-Comté University. W. Abbas and K.A. Khan are supported by grants of the Higher Education Committee of Pakistan. The group led by G. Gras was supported by grants from the Agence nationale de recherche sur le sida et les hépatites virales, the Fondation pour la recherche médicale and Ensemble contre le sida (Sidaction).
Authors' Affiliations
(1)
Department of Virology, UPRES 4266 Pathogens and Inflammation, IFR 133 INSERM, University of Franche-Comté, CHU Besançon, Besançon, France
(2)
CEA, Institute of Emerging Diseases and Innovative Therapies, Division of Immuno-Virology, Université Paris-Sud UMR E01, Fontenay-aux Roses, France
Copyright
© Herbein et al; licensee BioMed Central Ltd. 2010
This article is published under license to BioMed Central Ltd. This is an Open Access article distributed under the terms of the Creative Commons Attribution License (http://creativecommons.org/licenses/by/2.0), which permits unrestricted use, distribution, and reproduction in any medium, provided the original work is properly cited.