Host hindrance to HIV-1 replication in monocytes and macrophages
Received: 25 September 2009
Accepted: 07 April 2010
Published: 07 April 2010
Abstract
Monocytes and macrophages are targets of HIV-1 infection and play critical roles in multiple aspects of viral pathogenesis. HIV-1 can replicate in blood monocytes, although only a minor proportion of circulating monocytes harbor viral DNA. Resident macrophages in tissues can be infected and function as viral reservoirs. However, their susceptibility to infection, and their capacity to actively replicate the virus, varies greatly depending on the tissue localization and cytokine environment. The susceptibility of monocytes to HIV-1 infection in vitro depends on their differentiation status. Monocytes are refractory to infection and become permissive upon differentiation into macrophages. In addition, the capacity of monocyte-derived macrophages to sustain viral replication varies between individuals. Host determinants regulate HIV-1 replication in monocytes and macrophages, limiting several steps of the viral life-cycle, from viral entry to virus release. Some host factors responsible for HIV-1 restriction are shared with T lymphocytes, but several anti-viral mechanisms are specific to either monocytes or macrophages. Whilst a number of these mechanisms have been identified in monocytes or in monocyte-derived macrophages in vitro, some of them have also been implicated in the regulation of HIV-1 infection in vivo, in particular in the brain and the lung where macrophages are the main cell type infected by HIV-1. This review focuses on cellular factors that have been reported to interfere with HIV-1 infection in monocytes and macrophages, and examines the evidences supporting their role in vivo, highlighting unique aspects of HIV-1 restriction in these two cell types.
Keywords
Viral ReplicationPositive Transcription Elongation Factor
Introduction
Bone marrow-derived monocytes (Mos) are released into the blood where they circulate for a few days (the half-life of circulating Mos in normal healthy individuals is 71 h [1]) before subsequent extravasation into the lungs, gastrointestinal tract, kidney, primary and secondary lymphoid organs and the central nervous system (CNS). In tissues, Mos undergo differentiation into tissue-specific macrophages (Mφ) and dendritic cells (DC). HIV-infected mononuclear phagocytes (bone marrow (BM) and blood Mo, tissue Mφ, microglia, and DC) can thus serve as vehicles for dissemination and reservoirs of HIV-1 infection [2]. In the macaque model, the blood Mo count increases during the first few days following SIV infection [3], and high Mo turnover during SIV infection is a predictive marker for AIDS progression [4]. Subsets of activated Mo that express CD16 and/or CD163 are expanded both in HIV-infected individuals and in SIV-infected macaques [5]. During acute infection, activated Mos migrate into different tissues, including the CNS ([3]and accompanying review by G. Gras and M. Kaul). Relatively few Mos in the blood bear HIV-1 DNA (<0.1%) [6], reviewed in [7], whereas Mφ vary greatly in their permissivity to HIV-1 infection depending on their tissue localization [8]. Viral replication in tissue Mφ is probably governed not only by the cytokine network, but also by other environmental factors. In vitro, Mφ differentiated from blood Mos (Mo-derived macrophages, MDMs) display a great heterogeneity in their capacities to replicate HIV-1, depending on the donor (up to a 3 log difference in viral production between donors) [9–11]. In contrast, HIV-1 replication kinetics were similar in MDM from pairs of identical twins [9]. These observations strongly argue in favor of the influence of the genetic background on viral replication in Mo/Mφ [12], as has also been suggested for CD4+ T cells [13]. Indeed, the CCR5Δ32 genotype has been associated with a restricted infection of MDM and CD4+ T cells by HIV-1 strains that use the CCR5 co-receptor (R5 HIV-1) [11, 14, 15]. Thus both constitutive and environmental factors appear to regulate HIV-1 replication in Mo/Mφ. Due to the difficulty of assessing HIV-1 infection in resident tissue Mφ, most studies have addressed the regulation of HIV-1 infection in Mo/Mφ in the MDM model. Methodological differences in the purification and differentiation of Mos therefore add further variability to the heterogeneity of these cells with respect to infection by the virus. Several recent reviews have addressed the influence of cytokines and other endogenous and exogenous stimuli on HIV-1 infection of Mo/Mφ [16–18](see also the accompanying review by G. Herbein and A. Varin). This review will focus on the mechanisms of HIV-1 restriction in Mo and Mφ. In vitro data will be discussed for their potential relevance in the light of our knowledge concerning the in vivo infection of these cells.
Molecular shields against HIV-1 replication in monocytes
Although infectious virus can be recovered from peripheral blood Mos taken from HIV-1-infected patients (see below), freshly isolated Mos are highly resistant to HIV-1 infection
in vitro
[
19
–
21
]. There are divergent reports on the level of refractivity of freshly isolated quiescent Mos,
in vitro
, to HIV-1 infection, varying from absolute to relative. Methodological parameters including the viral strain and infectious dose, the time of Mo infection after their isolation from blood (immediately or following some hours of culture), the Mo condition at the time of infection (fresh or thawed), and the time lapse of monitoring viral replication after infection, may explain the reported differences in refractivity to HIV-1 replication [
22
–
26
]. In addition, the markers used to evaluate Mo differentiation differ depending on the study [
24
,
27
,
28
], and may not completely reflect phenotypic changes associated with maturation. Even when cultured in the absence of human serum or exogenous cytokines such as M-CSF or GM-CSF, Mos may undergo partial differentiation that could modify their capacity to support viral replication [
29
,
30
]. Indeed, permissiveness to HIV-1 infection
in vitro
increases with Mo differentiation to Mφ [
19
,
28
,
31
]. The association of Mo maturation with an enhancement of viral replication appears to be a conserved phenomenon among the lentiviruses, as it has also been described for non-primate lentiviruses such as the caprine arthritis-encephalitis virus and maedi-visna virus (MVV) [
32
,
33
]. However, while MVV replication in monocytes appears to be restricted at transcriptional level [
34
,
35
], distinct mechanisms of restriction contribute to render Mo resistant to HIV-1 infection, at least
in vitro
(Fig.
1A
). The relative weight of the restrictions affecting different steps of viral replication is still subject of debate, although pre-integrative blocks appear to play a determinant role.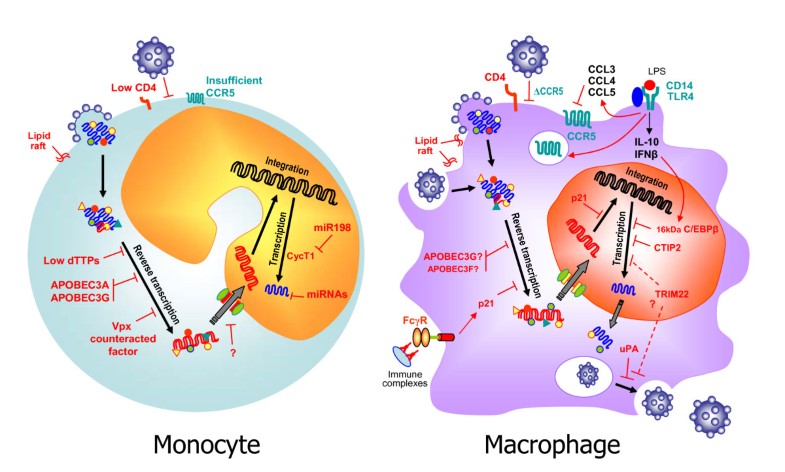 Restrictions at early steps of HIV-1 replication in monocytes
The early events of viral entry are represented by the engagement between CD4 receptors at the membrane of target cells and the viral envelope proteins gp120-gp41. The consequent conformational changes in the structure of gp120 allow the interaction with the CXCR4 or CCR5 co-receptors, the latter being the primary co-receptor used by macrophage-tropic HIV-1 strains. Increasing susceptibility of maturing Mos to R5 HIV-1 infection has been associated with an increasing expression of CCR5 at the cell surface that enhances viral entry into the cells [28, 36]. However, HIV-1 restriction in Mos does not appear to be due to limiting amounts of HIV-1 co-receptors, and has been attributed to post-entry blocks. Indeed, Mos do not support transduction with HIV-1-based vectors pseudotyped with the VSV-G or MLV-A envelopes, that mediate viral entry by pathways independent of the HIV-1 receptor and co-receptors [27, 29], indicating that the block to HIV-1 infection is independent of the route of viral entry. Furthermore, efficient entry of HIV-1 pseudoviruses has been directly demonstrated using a β-lactamase entry assay [27]. Post-entry blocks in infected Mos have been localized either prior to or at the reverse transcription (RT) step of viral replication [26, 27] or at the level of nuclear translocation of viral cDNA [29].
A recent study challenges these conclusions, claiming that the relative HIV-1 restriction in Mos, in comparison with Mφ and HeLa-P4 cells, is related to a defect in viral entry followed by a delay in the preintegrative steps [24]. In this work, the inhibition of viral entry into Mos was measured using a fusion assay and was found to be independent of HIV-1 Env, since it also affected VSV-G pseudotyped viruses. Subsequent post-entry steps, RT and integration were not totally blocked, although they proceeded with very slow kinetics (tIN50% = 7-8 days) [24]. Neither the nature of the entry block in Mos nor the potential impact of different endocytic/phagocytic capacities of Mos and Mφ with respect to entry of viral particles into cells was addressed in this study.
Using VSV-G pseudotyped HIV-1 and qPCR, Triques and Stevenson showed that reverse transcription is restricted in Mos, and they suggested that the absence of reverse transcription-favouring cellular cofactors is the limiting circumstance [27]. It has been suggested that the defect in reverse transcription observed in Mos, as well as the slow reverse transcription seen in MDMs, is due to a limited availability of nucleotide precursors in these non-dividing cells [37, 38]. In particular, Mos contain very low levels of deoxythymidine triphosphate (dTTP), associated with low levels of thymidine phosphorylase, the enzyme that converts thymine into thymidine [27]. Both dTTP and thymidine phosphorylase levels increase during maturation to Mφ. However, D-thymidine supplementation of Mo cultures increased the dTTP levels but did not relieve the reverse transcription block [27], suggesting that other factors are involved in the restriction. In addition, reverse transcriptase from lentiviruses have been shown to be able to efficiently catalyze DNA synthesis even at low dNTP concentrations, in contrast to the RT of gammaretroviruses, which are unable to replicate in non-dividing cells [39].
In contrast to the hypothesis that links Mo resistance to HIV-1 with a lack of cellular cofactors needed for viral replication, Peng et al. proposed that viral replication in Mos is restricted because of factors belonging to the APOBEC3 cytidine deaminase family [40]. The best-characterized member of this family concerning its anti-retroviral activity, including HIV-1 restriction, is APOBEC3G [41–44]. APOBEC3G is incorporated into HIV-1 virions and deaminates dC to dU in minus single-strand nascent cDNA within newly infected cells; resulting in lethal G-to-A hypermutations in the single stranded viral intermediates. This antiviral activity is counteracted by the Vif protein, that induces degradation of APOBEC3G and prevents its incorporation into virions (recently reviewed in [45]). A deaminase-independent anti-viral activity, not counteracted by Vif, has also been described that affects the accumulation of reverse transcripts in infected cells [46, 47]. Several mechanisms have been proposed for such antiviral activity, including the inhibition of viral cDNA synthesis by a block in the translocation of reverse transcriptase along the template RNA genome and the destabilization of viral core morphology and stability during virion assembly [47], reviewed in [48]. The APOBEC3G non-enzymatic activity has been proposed to account for the post-entry HIV-1 restrictions in quiescent resting CD4+ T cells [49] and in DC [50], although its role in quiescent CD4+ T-cells has been recently contested [51, 52]. The expression of APOBEC3G, and of another member of the same family APOBEC3A, has been shown to be down-regulated during Mo differentiation to Mφ [40]. siRNA-mediated silencing of each of the two genes allowed HIV-1 replication in Mos, whereas induction of APOBEC3A and 3G by IFNs was associated with the inhibition of HIV-1 replication in Mφ [40]. However, the way in which APOBEC3A and 3G interfere with HIV-1 replication in Mos remains to be determined.
Experiments of transduction of heterokaryons formed by the fusion of Mos and permissive HeLa cells with HIV-1 vectors showed that the heterokaryons were refractory to transduction, suggesting the presence of a dominant restriction factor in the parental Mos [53]. HIV-1 restriction in Mo/HeLa heterokaryons could be alleviated by providing the Vpx protein from SIV, either in trans or packaged into HIV-1 virions [53]. Vpx has been shown to be required for the replication of HIV-2 and SIV in Mφ, and it has been hypothesized that it diverts a cullin-ubiquitine ligase complex to inactivate a factor that restricts HIV-2 and SIV infection. Vpx expression also enhanced HIV-1 transduction of Mφ, pointing to a common mechanism of restriction [53]. The role of Vpx and the mechanisms underlying its activity in overcoming a retroviral restriction in myeloid cells [54] is discussed in an accompanying review (Ayinde D. et al.).
Restriction of transcription and later events in HIV-1 replication in monocytes
Besides restrictions at early post-entry steps of viral replication, transcriptional restriction has also been reported to contribute to Mo resistance to HIV-1 [55]. The 5' LTR of integrated provirus contains several cis-regulatory elements necessary for the binding of cellular transcription factors (NFκB sites, C/EBP sites, Sp1 sites and a TATA cassette) and is recognized by the RNA polymerase II as a promoter. The viral Tat protein is recruited to the 5' LTR sequence, interacts with a 59-nucleotide structure called the transactivation response (TAR) element and acts as a stimulator of transcriptional elongation soon after the generation of short terminated transcripts. Tat interacts with the host cyclin T1 protein (CycT1), which recruits the cyclin-dependent kinase 9 (CDK9) to the TAR element. The complex formed by CycT1 and CDK9 is called P-TEFb (for positive transcription elongation factor b). The cooperation of Tat and P-TEFb at the TAR sequence produces a hyperphosphorylation of the C-terminus of RNA polymerase II, stimulating the elongation of viral RNA. After transfection of the HIV-1 genome or of an LTR-reporter construction, neither viral production nor Tat transactivation were detected in undifferentiated Mo [25]. Heterokaryons between Mo and 293 T cells restored the Tat transactivation function of the LTR, suggesting that Mo lack factors required for transactivation. The level of the CycT1 P-TEFb component required for Tat transactivation was below the detection threshold in Mos, in agreement with previous reports [56, 57]. The regulation of CycT1 seems to occur at a post-transcriptional level and is likely to involve proteasome-mediated proteolysis [58]. Interestingly, lack of CycT1 expression in Mos has recently been linked to a translational repression by the miR-198 microRNA [59]. It has been proposed that miR-198 contributes to HIV-1 restriction in Mos by repressing CycT1 expression, while miR-198 is down-regulated during Mo differentiation to Mφ [59]. However, transient expression of CycT1 did not rescue Tat transactivation in Mos [25], suggesting that this is not sufficient to relieve HIV-1 transcriptional restriction. Increased permissivity to HIV-1 infection during Mo differentiation to Mφ was associated with both increased expression of CycT1 [25, 57] and phosphorylation of the CycT1 P-TEFb partner, CDK9 [25]. It has therefore been suggested that the transcriptional restriction of HIV-1 in Mos may involve regulation of P-TEFb function [25].
Some recent reports have suggested the implication of cellular microRNA (miRNA) in Mo resistance to HIV-1 infection. Wang et al. showed that four miRNA, previously shown to target the 3'UTR of HIV-1 transcripts [60, 61], are down-regulated during Mo differentiation to Mφ [62]. This rather preliminary report does not go further into the analysis of miRNA effect on HIV-1 replication. miRNA might target HIV-1 directly or indirectly by side effects on the cell biology [63]. An indirect effect of an miRNA on HIV-1 replication that targets the RNA polymerase II positive transcription elongation factor P-TEFb has indeed been described (see below) [59].
When HIV-1 meets monocytes in vivo...
In spite of the resistance to HIV-1 infection exhibited by Mos in vitro, circulating peripheral blood Mos from HIV-1 infected individuals harbor HIV-1 DNA, although at a low frequency (<0.1%) [64, 65]. Replication competent virus could be recovered from circulating Mos, even those of patients receiving HAART and with a viral load below detectable levels that would indicate their role as a viral reservoir [66–68]. Compelling evidence for active replication in Mos in vivo is supplied by the detection of unintegrated circularized forms of viral DNA (2-LTR circles) and multiply spliced HIV mRNA species in freshly isolated blood Mos [64, 68, 69], and by markers of compartmentalization and viral evolution in this compartment [70–73].
How can observations pertaining to the
in vitro
and
in vivo
contexts be reconciled? It has been suggested that Mos may be infected before leaving the bone marrow (BM) at the stage of precursors, and that they then migrate to other organs, including secondary lymphoid organs, lungs and brain, where they differentiate into Mφ [
74
] (Fig.
2A
). Viral replication will then be reactivated and probably lead to the dissemination of infection to neighboring cells [
75
] (Fig.
2A
). A similar scenario has been hypothesized for MVV infection: infected monocytes carrying the viral genome without expressing viral proteins can enter the organs by a "Trojan Horse" mechanism, avoiding immune surveillance [
76
,
77
]. Otherwise, Mo refractivity to HIV-1 may simply not be absolute, and Mo subsets may be permissive to infection. Mos may become permissive to infection after being activated in the BM or in the blood of HIV-1 infected patients, owing to the inflammatory environment and immune activation [
78
]. Considering the extraordinary plasticity of Mo/Mφ [
79
], it may also be hypothesized that infected Mos can transmigrate back to the blood [
80
] after meeting either the virus or infected cells in inflamed tissues (Fig
2A
). In support of this possibility, recent evidence has been provided for Mos recirculation from tissues to the BM in a murine model (reviewed in [
81
]). A subset of circulating Mos that displays pro-inflammatory characteristics is actually expanded in HIV-infected individuals. One minor subset of Mos that expresses the CD16 (FcγRIII) molecule, and represents 5%-15% of circulating Mos in healthy individuals, is expanded in HIV-1 patients and may reach up to 40% of the total circulating Mo population during the progression to AIDS [
82
]. This Mo subset expresses the CX3CR1 receptor, and its members migrate into tissues that express CXC3CL1, produce pro-inflammatory cytokines (including TNF and IL-1), and can activate resting T-cells by producing CCR3 and CCR4 ligands [
83
–
86
]. CD16+ Mos exhibit some characteristics of tissue Mφ and display a transcriptional profile closer to Mφ and DC profiles than to that of CD16- Mos [
87
–
89
]. The CD16+ subset of circulating Mos have been shown to be preferentially infected by HIV-1
in vivo
[
90
,
91
] and
in vitro
[
90
] (Fig
2
). Increased susceptibility to R5 HIV-1 was associated with a higher level of CCR5 expression in this cell subset, compared to the CD14highCD16- Mos, and to a shift in the APOBEC3G distribution towards high molecular mass forms [
90
]. Whether the CD16+ Mos represent a higher level of Mo differentiation and may thus reconcile the findings of Mo restriction to HIV-1 infection
in vitro
and the presence of a fraction of infected Mos
in vivo
remains to be clarified.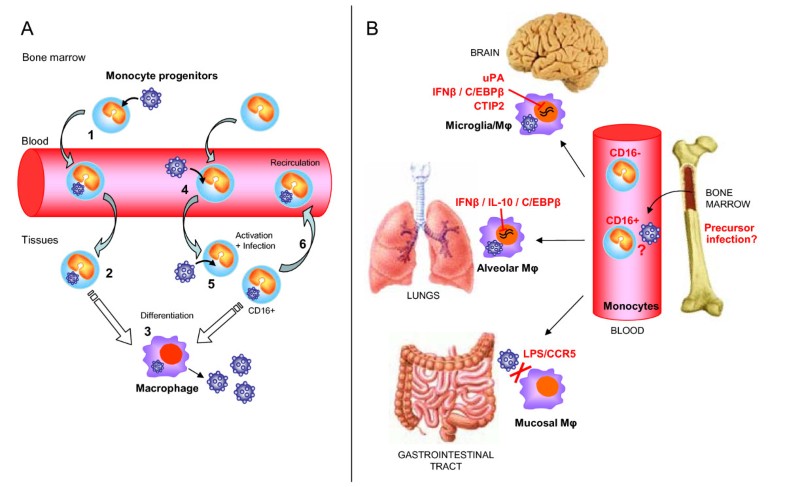 Limits to macrophage permissivity to HIV-1 infection
Mo differentiation to Mφ is accompanied by an increased permissivity to HIV-1 infection, both in vitro and in vivo (see above). Nevertheless, a great heterogeneity in the capacity to sustain viral replication is observed in MDM from different donors, and HIV-1 infection of resident Mφ varies depending on their tissue localization. In addition, only a fraction of MDM, which varies in size depending on the blood donor, is able to replicate the virus. Some studies suggest that only Mφ which maintain their capacity to proliferate can support a productive HIV-1 infection [31, 92]. However, this fact cannot account for differences in the capacity of MDM to replicate HIV-1, since the percentage of cells capable of DNA synthesis is far lower than the percentage of HIV-1-infected cells in MDM cultures [29, 93]. Therefore, it appears that HIV-1 replication in Mφ is also regulated by host factors, at the level of both single cells and the individual. Variability in MDM permissivity to HIV-1 infection among individuals has been attributed to host genetic factors that mainly influence pre-reverse transcription steps [12]. The reverse transcription process appears to be the main limiting step of HIV-1 replication, not only in Mo (see above) but also in MDM [10, 38, 53, 94]. However, several other steps of the HIV-1 life cycle that can be restricted in MDM have been described.
Conclusions
The list of putative mechanisms of control of HIV-1 infection in Mo/Mφ is rapidly growing (Table
1
). HIV-1 replication is restricted at different steps. More research is, of course, needed to gain further insights into the molecular mechanisms underlying each restriction event. However, importantly, evidence for the relevance of some of these mechanisms
in vivo
is now coming from studies concerning HIV-1 infected individuals and from the SIV/macaque model, as reviewed above for the IFNβ/C/EBPβ or uPA/uPAR pathways. The contribution of other mechanisms of HIV-1 restriction that have been identified
in vitro
to the control of Mo/Mφ infection
in vivo
is still uncertain and requires further studies. For example, whether and how the balance of the inhibitory and enhancing effects of p21 influences the replication of HIV-1 in tissue Mφ remains an open question. The answer to this question may be directly relevant to therapy: modulation of p21 expression is currently studied in anticancer therapy. The role of the restriction factors of the TRIM or the APOBEC3 family in HIV-1 infection of Mo/Mφ is unclear. In particular, APOBEC3A and 3G are strongly induced by IFNs in Mφ [
40
,
196
], which is in favor of their antiviral role. Whether and by which mechanisms these molecules contribute to the control of HIV-1 infection in the cells remains to be elucidated [
52
,
196
].
Table 1
Restrictions that limit HIV-1 replication in monocytes and macrophages.
Monocytes

Restriction mechanism

Replication step affected

Ref.

APOBEC3G

APOBEC3A

Reverse transcription

[40]

Vpx counteracted factor

Post-entry

Reverse transcription

[53]

miRNA-198

Transcription (down-modulation of CycT1)

[59]

miRNAs

Viral mRNA

[62]

Macrophages

Restriction mechanism

Replication step affected

Ref.

CCR5 down-regulation, Δ CCR5

Entry

p21

Reverse transcription

Integration

16 kDa C/EBPβ

Transcription

CTIP2

Transcription

[159]

TRIM22

Transcription?

Budding and release?

PPAR

Post-integration (?)

uPA

Post-translation, release?
New high throughput screening techniques are being used to discover host molecules relevant to HIV-1 replication. Microarray analyses have revealed alterations of gene expression in Mo/Mφ that are associated to HIV-1 infection (reviewed in [197]), but they have not allowed the identification of new molecules involved in the control of HIV-1 replication. Genome-wide screenings, including small interfering RNA (siRNA) screening have provided a huge amount of information [198–201]. However, while they have a high potential to identify host cofactors required for HIV-1 replication and to drive the search for host targets for HIV therapeutics, such approaches may be less suited to unveil factors that inhibit viral replication [201]. For example APOBEC3G was not detected by RNA interference screens [198]. In addition, some factors may act differentially depending on the cell type (for example, the restriction overcome by Vpx in Mos/Mφ and DC). Only studies focused on the relevant cell type will be able to detect these factors.
Last but not least, a question about the interplay between host restriction mechanisms and viral infection is: what is really the ultimate effect of the host factors that hinder HIV-1 replication in host cells and are thought to exert an antiviral activity beneficial to the host. It may be that an effective mechanism of restriction that blocks viral replication in a cell may be subverted by the virus at the organism level, in the complex interplay between the virus and the host. For example, while inhibitory C/EBPβ is an effective anti-viral lock that suppresses HIV-1 transcription, it also allows the virus to remain latent in the brain and lung until the host immune response is declining, and the infection is then unlocked when immune activation boosts viral replication. This could be a conserved strategy of persistence in lentiviral infections: a post-transcriptional block also restricts MVV replication in macrophages in the CNS and lung macrophages unless inflammatory lesions promote viral expression [202, 203]. Therapeutic strategies based on restriction mechanisms may therefore be aimed either at enhancing some restriction mechanisms to limit infection or to thwart other events that would otherwise reactivate viral replication and drain viral reservoirs.
Declarations
Acknowledgements
This review is issued from a reflection conducted by the Association for Macrophage and Infection Research (AMIR) on the role of the cells of the mononuclear phagocyte lineage in HIV infection. This work was supported by the "Agence Nationale de Recherche sur le Sida et les Hépatites Virales" (ANRS) and Sidaction. France. A.B. is supported by a Sidaction fellowship. We thank P. Ancuta, Université de Montréal, and INSERM Unit 743, Montréal, Canada for critical reading of the manuscript.
Authors' Affiliations
(1)
Institut Pasteur, Unité de Régulation des Infections Rétrovirales, Paris, France
Copyright
© Bergamaschi and Pancino; licensee BioMed Central Ltd. 2010
This article is published under license to BioMed Central Ltd. This is an Open Access article distributed under the terms of the Creative Commons Attribution License (http://creativecommons.org/licenses/by/2.0), which permits unrestricted use, distribution, and reproduction in any medium, provided the original work is properly cited.