sCD4-17b bifunctional protein: Extremely broad and potent neutralization of HIV-1 Env pseudotyped viruses from genetically diverse primary isolates
Received: 17 September 2009
Accepted: 16 February 2010
Published: 16 February 2010
Abstract
Background
We previously described a potent recombinant HIV-1 neutralizing protein, sCD4-17b, composed of soluble CD4 attached via a flexible polypeptide linker to an SCFv of the 17b human monoclonal antibody directed against the highly conserved CD4-induced bridging sheet of gp120 involved in coreceptor binding. The sCD4 moiety of the bifunctional protein binds to gp120 on free virions, thereby enabling the 17b SCFv moiety to bind and block the gp120/coreceptor interaction required for entry. The previous studies using the MAGI-CCR5 assay system indicated that sCD4-17b (in concentrated cell culture medium, or partially purified) potently neutralized several genetically diverse HIIV-1 primary isolates; however, at the concentrations tested it was ineffective against several other strains despite the conservation of binding sites for both CD4 and 17b. To address this puzzle, we designed variants of sCD4-17b with different linker lengths, and tested the neutralizing activities of the immunoaffinity purified proteins over a broader concentration range against a large number of genetically diverse HIV-1 primary isolates, using the TZM-bl Env pseudotype assay system. We also examined the sCD4-17b sensitivities of isogenic viruses generated from different producer cell types.
Results
We observed that immunoaffinity purified sCD4-17b effectively neutralized HIV-1 pseudotypes, including those from HIV-1 isolates previously found to be relatively insensitive in the MAGI-CCR5 assay. The potencies were equivalent for the original construct and a variant with a longer linker, as observed with both pseudotype particles and infectious virions; by contrast, a construct with a linker too short to enable simultaneous binding of the sCD4 and 17b SCFv moieties was much less effective. sCD4-17b displayed potent neutralizing activity against 100% of nearly 4 dozen HIV-1 primary isolates from diverse genetic subtypes (clades A, B, C, D, F, and circulating recombinant forms AE and AG). The neutralization breadth and potency were superior to what have been reported for the broadly neutralizing monoclonal antibodies IgG b12, 2G12, 2F5, and 4E10. The activity of sCD4-17b was found to be similar against isogenic virus particles from infectious molecular clones derived either directly from the transfected producer cell line or after a single passage through PBMCs; this contrasted with the monoclonal antibodies, which were less potent against the PMBC-passaged viruses.
Conclusions
The results highlight the extremely potent and broad neutralizing activity of sCD4-17b against genetically diverse HIV-1 primary isolates. The bifunctional protein has potential applications for antiviral approaches to combat HIV infection.
Keywords
Human Immunodeficiency Virus InfectionPrimary IsolateSimultaneous BindingGp120 SubunitAmphotropic Murine Leukemia Virus
Background
The human immunodeficiency virus (HIV) envelope glycoprotein (Env) mediates virion entry into target cells by orchestrating sequential binding of the gp120 subunit to receptors on the target cell surface, first to CD4, then to the coreceptor (chemokine receptor CCR5 or CXCR4); receptor binding then activates the Env gp41 subunit to promote direct fusion between the virion and plasma membranes [1–3]. The binding sites for both CD4 and coreceptor contain determinants that are highly conserved, not only within the quasispecies present in the infected individual, but also across the wide genetic diversity of HIV-1 variants found globally. Env has evolved a multilayered structural strategy to protect these critical conserved elements, thereby allowing chronic replication to continue in the face of a humoral antibody response that might otherwise be neutralizing [4–8]. Particular attention has been given to a "conformational masking" mechanism [9] whereby the highly conserved "bridging sheet" of gp120 [10, 11], a critical component of the coreceptor binding site [12, 13], is hidden or unformed on free virions, and becomes exposed/formed/stabilized only after gp120 undergoes major conformation changes induced by CD4 binding [9, 14, 15].
These structural complexities have profound implications for HIV neutralization by antibody. The immune system is capable of eliciting high titer antibody responses against the conserved CD4-induced bridging sheet, both during natural infection [16] and in response to immunization, particularly with appropriately engineered gp120 derivatives [17–19]. Several human monoclonal antibodies (MAbs) directed against the bridging sheet have been derived from B cells of infected individuals [20–24]. These MAbs, of which 17b is an extensively studied prototype, are broadly cross-reactive with gp120 molecules from widely diverse HIV-1 primary isolates. Indeed, the first X-ray crystallographic structures of gp120 were solved for a trimolecular complex containing a gp120 "core" bound to a soluble CD4 (sCD4) construct containing the first 2 extracellular domains and the 17b Fab [10, 11]. While antibodies against the bridging sheet bind avidly to gp120-CD4 complexes and block their interaction with coreceptor [22, 23, 25, 26], they are weakly neutralizing for HIV-1 primary isolates because the epitopes are poorly exposed or unformed/unstable on the virion prior to its engagement with CD4 [22, 27]. An additional layer of Env protection is afforded by the steric hindrance when the virion is bound to CD4 on the target cell surface; the narrow space between the virion and cell membranes impairs access of an intact IgG molecule to the CD4-induced bridging sheet [28]. Thus a particularly tempting but vexing challenge arises, namely how to design a strategy whereby an anti-bridging sheet antibody can access its highly conserved epitope on the free virion prior to its engagement with CD4 on the target cell, thus neutralizing infectivity for genetically diverse HIV-1 variants.
We previously reported the design of a bifunctional HIV-1 neutralizing protein that exploits the two-step receptor interaction mechanism to circumvent the conformational masking and steric hindrance mechanisms that impede antibody access to the conserved bridging sheet on gp120 [29]. sCD4-17b is a recombinant single chain protein consisting of the first 2 domains of human CD4 attached by a flexible polypeptide linker to a single chain variable region construct (SCFv) of the 17b MAb. The sCD4 moiety binds to gp120 on free virions and induces the 17b epitope; binding of the 17b SCFv moiety then blocks coreceptor interaction, thereby neutralizing infectivity. We reported that sCD4-17b potently neutralized several HIV-1 primary isolates of approximately a dozen tested; however, nearly half were resistant, despite the highly conserved nature of both the CD4 and 17b binding sites. We speculated on plausible reasons for the disappointingly limited neutralization breadth, and proposed several experimental approaches to test these explanations and possibly resolve the problem.
In the present report, we expressed and purified variant forms of sCD4-17b and employed a widely used high throughput assay to measure neutralization of lentiviral particles pseudotyped with Envs from a large number of genetically diverse HIV-1 primary isolates. Our results are highly favorable, with potent neutralization of virtually 100% of the nearly 4 dozen pseudotypes tested. The neutralization breadth was considerably greater than that reported for the well-characterized broadly neutralizing MAbs IgG b12, 2G12, 2F5 and 4E10. Moreover, we found that sensitivity to sCD4-17b was relatively independent of the cellular source from which the virions were produced, unlike the above-mentioned MAbs whose efficacy was significantly influenced, as previously reported by others [30]. These results reinvigorate prospects for practical applications of sCD4-17b in efforts to combat the HIV pandemic.
Results
Our previous studies [29] analyzed a single sCD4-17b construct produced in modest quantities and assayed mainly in the context of concentrated conditioned medium containing the secreted protein. The neutralization assay employed infectious HIV-1 virions from several primary isolates, using the MAGI-CCR5 system based on microscopic visualization and counting of infected cells after in situ staining for β-galactosidase-positive nuclei [35, 36]. To expand upon these initial studies, in the present report, we employed an efficient mammalian transient transfection system to produce mg quantities of several sCD4-17b variant constructs and related proteins, coupled with single-step immunoaffinity purification. For HIV-1 neutralization, we used the single round TZM-bl/Env pseudotype assay method, in which the firefly luciferase gene linked to the HIV-1 LTR is activated upon virion entry [34]. This high throughput system has many desirable features for neutralization assays, and has been adopted as a major component for evaluating plasma antibodies generated during natural infection and vaccine trials [37, 38], as well for characterizing the breadth of neutralization by various MAbs [39–41].
Discussion
The data presented herein confirm and extend our previous conclusion [29] that the neutralizing potency of sCD4-17b derives from the ability of both moieties on a single bifunctional molecule to associate simultaneously with their corresponding binding sites on a single gp120 subunit. Variants of the protein with sufficiently long L1 linkers, i.e. the original sCD4-35-17b and the newly described sCD4-40-17b displayed potency much greater than either sCD4 alone, or in equimolar amounts with unlinked 17b SCFV. Preliminary results indicated that a construct containing an L1 linker of 55 amino acids (11 G4S repeats) was comparably effective (data not shown). By contrast, sCD4-5-17b, which contains an L1 linker too short to allow simultaneous binding of the sCD4 and 17b moieties, had a much weaker potency. However when tested against strains that were highly sensitive to sCD4-17b, sCD4-5-17b proved significantly more effective than the mixture of unlinked sCD4 plus 17b SCFv. A plausible explanation is that while sCD4-5-17b was incapable of mediating simultaneous binding of both components to the same gp120 subunit, reversible binding of molecules via the sCD4 portion effectively increased the local concentration of 17b SCFv in the vicinity of Env, where it could bind to gp120 subunits that had been induced by sCD4 moieties on separate molecules of the chimeric protein. Thus bifunctional binding molecules can potentially display enhanced activities even when the two binding moieties are incapable of interacting simultaneously with a single target molecule.
The exceptional breadth displayed by sCD4-17b (neutralization of 100% of isolates tested from genetically diverse HIV-1 subtypes) confirms our original expectation, based on the requirement for CD4 binding amongst all natural HIV variants coupled with the high conservation of the bridging sheet due to its critical role in coreceptor binding of HIV-1 (and HIV-2 as well [16]). The breadth exceeded by a considerable margin those of the well-characterized broadly neutralizing MAbs IgG b12, 2G12, 2F5 and 4E10 tested against the same HIV-1 isolates [39, 40, 43] (also V. Polonis and S. Tovanabutra, personal communication). Of interest in this regard is the recent report of 2 new human gp120-targeted MAbs, PG9 and PG16, that neutralize a large fraction (79% and 73%, respectively) of Env pseudotypes from a genetically diverse panel of primary HIV-1 isolates (IC50 values ranging from 0.001 to 50 μg/ml); of the 162 pseudotypes examined, only 32 were resistant to both MAbs (IC50 >50 μg/ml) [44]. In the present study, 1 of these PG9/PG16-resistant isolates was tested against sCD4-17b and was found to be highly sensitive (QH0692.42, Clade B, IC50 = 0.66 μg/ml, Fig. 3). It will be most interesting to test the sCD4-17b sensitivities of other strains resistant to these newly described MAbs.
Our previous observation of limited breadth in the MAGI-CCR5 system was not due to the requirement of a longer L1 linker for some strains, as we previously speculated. Nor was it associated with the use of infectious virus in that system, since the TZM-bl assay demonstrated sCD4-17b sensitivity for infectious virus from several isolates (Fig.
2A
, Fig.
5
); where tested, the potency was comparable to that observed with the corresponding Env pseudotyped particles (Fig.
2A
). Retesting one of the previously described resistant isolates, namely 91US054, in the MAGI-CCR5 assay suggested that the limitation of neutralization breadth in our earlier study might have resulted from insufficient concentration of sCD4-17b (unpurified or partially purified), coupled with the higher virus input volume required in the MAGI-CCR5 assay compared to the TZM-bl assay (20 μl versus 5 μl, respectively). We believe the present findings of extremely broad neutralization activity of sCD4-17b in the commonly used TZM-bl assay override the limitations noted in our previous report, which were most likely due to the specific conditions associated with those experiments rather than to inherent properties of the sCD4-17b protein or the Env glycoproteins that it targets.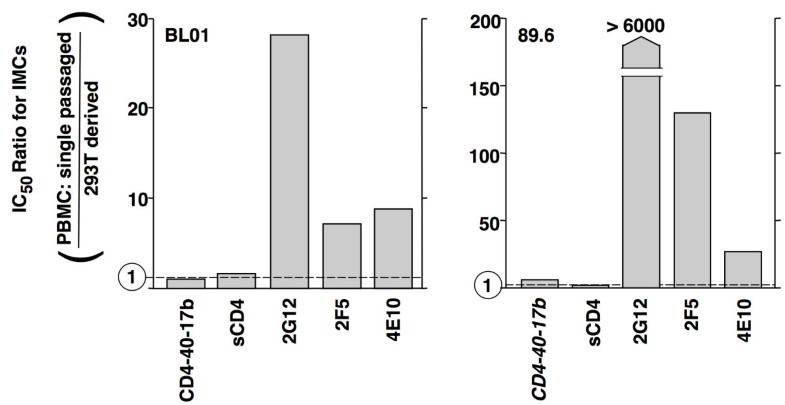 The HIV-1 IMC experiments demonstrated a marked contrast between sCD4-17b and neutralizing antibodies with respect to the influence of the cellular source from which the virus particles were derived. The potency of sCD4-40-17b was equivalent against virions isolated directly from the transfected producer cell line and progeny virions obtained after single passage through PBMCs (Fig. 5). By contrast, the PBMC-passaged virions were significantly less sensitive to the broadly neutralizing MAbs, as previously shown by the group that provided the IMCs for our experiments; importantly, they also demonstrated the absence of any sequence change in Env after PBMC passage [30]. In that earlier report, several possible explanations were offered for the reduced antibody susceptibility of PBMC-passaged viruses compared to their cell line-derived counterparts, including higher levels of Env on virions from PBMCs, differential incorporation of host cell factors such as adhesion proteins during virus assembly in PBMCs, and producer cell-dependent biochemical differences in the gp160, such as differential glycosylation. In our opinion, the first two mechanisms might be expected to result in neutralization differences that are similar for various classes of Env-blocking agents, and thus would not readily explain the lack of effect of sensitivity to sCD4-17b and sCD4 despite the strong effects on neutralizing antibody sensitivity. Differences in glycosylation seem an appealing possibility for several reasons. First, the decreased antibody sensitivity upon PBMC passage was most dramatic for the 2G12 MAb (Fig. 5, also [30]), whose epitope on gp120 consists of large mannose-rich carbohydrate clusters that can be recognized by an unusual domain-swapped structure of the antibody [45]. Second, gp120 is noted for its extensive "glycan shield' that continually evolves in the infected host to sterically block neutralizing antibodies directed against non-carbohydrate epitopes without affecting receptor binding [46], since the CD4 binding site and the bridging sheet are devoid of carbohydrate [10]. Indeed there is precedence for variations in glycosylation patterns of isogenic HIV-1 Envs dependent on the producer cell type [47]. The potent activity of sCD4-17b against PBMC-produced virions is critical, since these presumably reflect the properties of in vivo particles more closely than do the cell line-derived virions.
The broad, potent antiviral activity of sCD4-17b suggests several possible applications. Passive immunotherapy with MAbs has been examined both in nonhuman primate models and human clinical trials [48], and sCD4-17b could be considered as an additional component to a mixture of broadly neutralizing MAbs; however the practical limitations of passive immunotherapy for treating chronic HIV infection greatly reduces enthusiasm for this mode of use. A related alternative would involve gene therapy strategies using either viral vectors [49] or engineered hematopoietic stem cells [50] to continually produce sCD4-17b in the body, for treatment or protection against HIV infection. For such applications, it is likely that the molecule would need to be modified for enhanced plasma half-life by linking it to immunoglobulin constant regions, as has been done for sCD4 [51]; indeed such a modification might provide the additional advantage of increased potency due to multivalent binding. Perhaps a more likely antiviral application of sCD4-17b would be as a topical microbicide to prevent sexual transmission. Several classes of proteins and peptides targeting either the virus or receptors on the host cell are being actively studied for this purpose [52, 53], encouraged by technologies to manufacture candidate proteins on an economically viable scale [54]. A particularly intriguing approach involves genetic modification of commensal bacteria native to the healthy vaginal or rectal mucosa to produce the anti-HIV proteins in situ [55]. For example, vaginal strains of Lactobacillus producing CD4 in either secreted [56] or surface-bound [57] forms have been described; this "live microbicide" concept is being investigated with various potent anti-HIV proteins and peptides [58–60], and preliminary efforts have been undertaken for sCD4-17b (L. Lagenaur and E. Berger, unpublished). For any of the applications suggested above, sCD4-17b has significant advantages compared to some other candidate proteins in that it is highly specific for HIV, and is composed of entirely human-derived sequences (except for the linkers). Thus problems associated with immunogenicity and induction of inflammatory responses are predicted to be relatively minor. We propose that sCD4-17b warrants continued investigation in the ongoing efforts to develop new antiviral strategies to combat the HIV/AIDS pandemic.
Conclusions
sCD4-17b neutralizes HIV-1 with high potency and great breadth against genetically diverse primary isolates. It is equivalently active against virus particles generated from different producer cell types (cell line versus PBMC). These results support the continued investigation of various modalities by which sCD4-17b can be employed against HIV infection.
Declarations
Acknowledgements
We are grateful to several colleagues for their generous donation of reagents including: J. Mascola for several Env expression plasmids and IMC particles derived from 293T cells and PBMCs; V. Polonis and S. Tovanabutra for some pseudotyped viruses; G. Nabel for the plasmid vector VRC8400. We also thank V. Polonis and S. Tovanabutra for kindly sharing unpublished data. P. Kennedy provided outstanding technical assistance during the early phases of this work. This research was funded in part by the Intramural Program of the NIH, NIAID, including the NIH Intramural AIDS Targeted Antiviral Program.
Authors' Affiliations
(1)
Laboratory of Viral Diseases, National Institute of Allergy and Infectious Diseases, National Institutes of Health, Bethesda, USA
Copyright
© Lagenaur et al; licensee BioMed Central Ltd. 2010
This article is published under license to BioMed Central Ltd. This is an Open Access article distributed under the terms of the Creative Commons Attribution License (http://creativecommons.org/licenses/by/2.0), which permits unrestricted use, distribution, and reproduction in any medium, provided the original work is properly cited.