The co-receptor signaling model of HIV-1 pathogenesis in peripheral CD4 T cells
Received: 05 March 2009
Accepted: 01 May 2009
Published: 01 May 2009
Abstract
HIV-mediated CD4 depletion is the hallmark of AIDS and is the most reliable predictor of disease progression. While HIV replication is associated with CD4 depletion in general, plasma viremia by itself predicts the rate of CD4 loss only minimally in untreated patients. To resolve this paradox, I hypothesize the existence of a subpopulation of R5X4-signaling viruses. I also suggest that the gradual evolution and emergence of this subpopulation are largely responsible for the slow depletion of peripheral CD4 T cells.
Keywords
Human Immunodeficiency Virus
Human Immunodeficiency Virus Infection
Human Immunodeficiency Virus Disease
Human Immunodeficiency Virus Replication
Human Immunodeficiency Virus Envelope
Background
The human immunodeficiency virus (HIV) infects CD4 T cells and causes CD4 depletion which leads to the development of AIDS. In the spectrum of clinical signs associated with HIV infection, CD4 depletion is a hallmark and is one of the most powerful predictors of disease progression. On the other hand, the level of viral replication, as reflected by plasma viral RNA load, has also been suggested to directly predict progression to AIDS and death [
1
]. Nevertheless, the relationship between plasma viremia and CD4 depletion rate has been a subject of debate [
2
]. While it is certain that a strong correlation between viral load and CD4 depletion exists when plasma viremia is grouped into different categories (
e.g.
< 500 copies/ml, 501–3000 copies/ml, >30,000 copies/ml
etc.
) [
1
,
3
], at the individual level, the presenting viral load poorly predicts the rate of CD4 depletion in untreated patients [
2
,
4
]. To resolve this paradox, here I propose a new hypothesis from a co-receptor signaling perspective based on our recent studies [
5
]. As shown in Figure
1
, I hypothesize that HIV-1 gp120-CXCR4 signaling plays a major role in the gradual depletion of peripheral CD4 T cells during chronic HIV infection.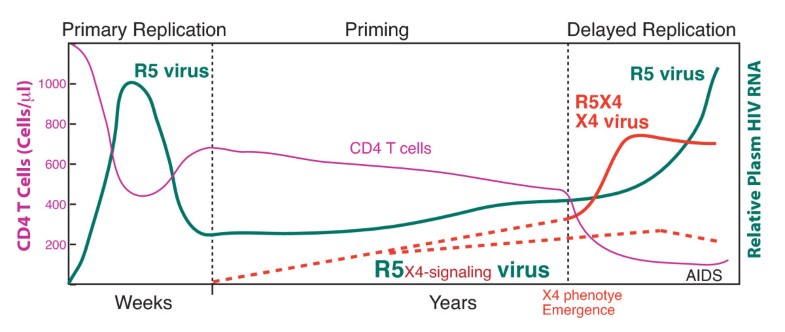 In this model, I separate the disease course into three phases: (1) primary HIV replication, (2) priming, and (3) delayed HIV replication. The primary phase largely involves the efficient replication of CCR5-utilizing, M-tropic viruses such as those replicating in the GI tract [6]. In the second phase, with immune suppression or the consumption of most of the available CCR5 target T cells, viral replication is reduced to a low level. This low-level ongoing viral replication serves as a reservoir that supplies viral mutants to prime the immune system for new target cells. Early on in the priming phase, limited mutations such as one or two amino acid changes in the V3 loop of the viral envelope may give rise to the first CXCR4-priming virus. These small numbers of early viruses may still use CCR5 for entry and replication but can engage CXCR4. This CXCR4 binding may not permit viral entry since successful fusion and entry often require more than two mutations or even mutations outside of the V3 loop [7]. Other virological obstacles may also play a role in preventing the quick emergence of viruses with the X4 phenotype [8]. Nevertheless, these early CXCR4-priming viruses (R5X4-signaling viruses) can trigger signal transduction in CXCR4 cells without actually infecting and replicating in these cells. On the other hand, aberrant CXCR4 signaling may mediate CD4 T cell dysfunction and contribute to chronic immune activation, gradually shifting these otherwise restrictive cells towards the direction of permissiveness. With continued engagement of the CXCR4 receptor, the priming event may eventually lead to the emergence of the X4 viral phenotype and its viral replication in some patients. The newly emerged CXCR4-utilizing, T-tropic viruses would then find a large pool of targets and initiate a new phase of viral replication, the third delayed replication phase, which could result in rapid CD4 depletion and fast progression to AIDS [9]. In some patients, the full X4 phenotype may never arise, but the X4 priming could remain an ongoing process that would provoke slow CD4 depletion and disease progression.
The central tenets of this new signaling model are the hypothetical existence of the R5X4-signaling viruses during chronic infection and the direct association of these viruses with CD4 depletion. The R5X4-signaling viruses are predicted to be a minority during the chronic phase with no strong replication or selection advantage over other R5 viruses [10], largely because of the continuous use of CCR5-positive cells for replication. Moreover, the signaling and depletion of CD4 T cells by the R5X4-signaling mutants are likely to be loosely correlated with the overall predominance of R5 viruses which are less pathogenic to peripheral CD4 T cells in general. Nevertheless, the emergence of the R5X4-signaling viruses does depend on the pool of R5 viruses; thus, while HIV-1 replication is overall associated with CD4 depletion [1], the use of total plasma viral RNA load, a measurement of mostly R5 viruses, is a poor predictor of the slow CD4 loss in patients [2]. The very existence of the hypothetical R5X4-signaling subpopulation that can directly cause CD4 loss would be a reasonable explanation for the observed paradoxical relationship between total viral load and CD4 depletion [1, 2].
Conclusion
The co-receptor signaling model implies that the HIV envelope plays a major role in the slow depletion of peripheral CD4 T cells. Although HIV directly infects only a very small percentage of peripheral CD4 T cells (0.2–16.4 HIV-latently infected cells per 106 resting CD4 T cells [64]), the ability of the viral envelope to alter T cell function through signal transduction should not be underestimated. This hypothesis highlights the need for a thorough examination of the signaling properties of HIV quasispecies in patients. I also speculate that these R5X4-signaling viruses may cause cofilin activation in resting CD4 T cells as suggested in our recent studies [5, 72]. Conceivably, in comparison with the use of plasma viral load as a readout, cofilin activation would be a more direct reflection of CD4 dysfunction and may serve as an early marker for predicting CD4 depletion.
Abbreviations
M-tropic:

Macrophage Tropic
T-tropic:

T cell Tropic
R5:

CCR5
X4:

CXCR4
GI:

Gastrointestinal
Declarations
Acknowledgements
This work was supported by Public Health Service grant AI069981 from NIAID to YW.
Authors' Affiliations
(1)
Department of Molecular and Microbiology, George Mason University, Manassas, USA
Copyright
© Wu; licensee BioMed Central Ltd. 2009
This article is published under license to BioMed Central Ltd. This is an Open Access article distributed under the terms of the Creative Commons Attribution License (http://creativecommons.org/licenses/by/2.0), which permits unrestricted use, distribution, and reproduction in any medium, provided the original work is properly cited.