The HTLV-1 Tax interactome
Received: 19 June 2008
Accepted: 14 August 2008
Published: 14 August 2008
Abstract
The Tax1 oncoprotein encoded by Human T-lymphotropic virus type I is a major determinant of viral persistence and pathogenesis. Tax1 affects a wide variety of cellular signalling pathways leading to transcriptional activation, proliferation and ultimately transformation. To carry out these functions, Tax1 interacts with and modulates activity of a number of cellular proteins. In this review, we summarize the present knowledge of the Tax1 interactome and propose a rationale for the broad range of cellular proteins identified so far.
Keywords
Bovine Leukemia VirusSpindle Assembly CheckpointCentrosome AmplificationBasal Transcription FactorMitotic Spindle Assembly Checkpoint
1 Introduction
Human T-lymphotropic viruses (HTLV-1 to -4) belong to the Deltaretrovirus genera of the Orthoretrovirinae subfamily. HTLV-1 was the first discovered human retrovirus in the early eighties [1]. HTLV-2 was described two years later [2] whereas HTLV-3 and -4 subtypes were isolated only recently [3, 4]. HTLV-1 is the etiological agent of an aggressive leukemia called adult T-cell leukemia/lymphoma (ATL) and a neurodegenerative disease, tropical spastic paraparesis/HTLV associated myelopathy (TSP/HAM). Isolated from a case of hairy-cell leukemia, HTLV-2 is by far less pathogenic although its involvement in the development of TSP has been reported [5, 6]. HTLV-3 and -4 have not yet been associated to any pathology, likely due to their recent identification and to the low number of isolates. Three HTLV subtypes have closely related simian viruses (named STLV-1, -2 and -3) while a STLV-5 strain is presently still devoid of a human counterpart [7]. Another related deltaretrovirus, bovine leukemia virus (BLV) is the etiological agent of enzootic bovine leukemia. BLV infection of sheep has been used as an animal model for HTLV [8].
The genome of the HTLV viruses contain typical structural and enzymatic genes (gag, prt, pol and env) flanked by two long terminal repeats (LTRs) but also harbors an additional region called pX located between the env gene and the 3'-LTR. This region contains at least four partially overlapping reading frames (ORFs) encoding accessory proteins (p12I, p13/p30II), the Rex post-transcriptional regulator (ORF III) and the Tax protein (ORF IV). The complementary strand of the HTLV-1 proviral genome is also transcribed, yielding spliced isoforms of the Hbz factor [9–11]. Hbz interacts with factors JunB, JunD, CREB and CBP/p300 to modulate gene transcription [12–14]. There is an inverse relantionship between high Hbz and low Tax expresssion in primary ATL [15].
Among proteins encoded by HTLV-1, Tax1 exerts an essential role in viral transcription as well as in cell transformation [11, 16–18]. These pleiotropic functions are directed by a very wide spectrum of interactions with cellular proteins. In this review, we summarize the current knowledge pertaining to the Tax1 interactome and focus more particularly on its impact on transcription, viral persistence and transformation.
2 Interaction of Tax1 with transcription factors and post-transcriptional regulators
In eukaryotes, initiation and elongation of gene transcription requires decondensation of the locus, nucleosome remodeling, histone modifications, binding of transcriptional activators and coactivators to enhancers and promoters and recruitment of the basal transcription machinery to the core promoter [19, 20]. Tax1 is a pleiotropic transcription factor that interferes with several of these mechanisms and modulates transcription of a wide range of cellular genes. In fact, Tax1 deregulates expression of more than one hundred genes [21] through interactions with transcriptional activators, basal transcription factors and proteins involved in chromatin remodeling. Moreover, Tax1 associates with proteins involved post-transcriptionnal control of mRNAs and further modulates gene expression.
2.1 Transcriptional activators and repressors
2.2 Basal transcription factors
Tax1 interacts with TFIIA (transcription factor II A) and with two subunits of TFIID: TBP (TATAA-binding protein) and TAFII28 (TBP-associated factor II 28) [90–92]. These basal transcription factors compose the preinitiation transcription complex responsible for the recruitment of RNA polymerase II. Owing to this interaction, Tax1 increases the binding of TBP to the TATAA site and further stimulates transcription initiation from the LTR [93].
2.3 Chromatin modifying enzymes
Structural variations of chromatin range from condensed heterochromatin to more open euchromatin, a process that depends on antagonistic effects between multiple protein complexes. Among the complexes affecting chromatin structure, there are those who are capable of altering the histones themselves, the histone deacetylases (HDAC), acetyltransferases (HAT), demethylases (HDM) and methyltransferases (HMT), and those that use the energy of ATP to change the structure of the nucleosome as the SWI/SNF complex [94–96]. Tax1 expression and HTLV-1 infection both reduce histone levels in T cells [97]. Moreover, Tax1 interacts directly and recruits several proteins involved in chromatin remodeling to modulate gene transcription. The involvement of Tax1-binding proteins in transcriptional activation has been primarily described in the context of the viral LTR. Nevertheless, similar mechanisms are also likely to participate in the activation of cellular promoters.
2.4 Positive transcription elongation factor b (P-TEFb) and sc35
The switch from initiation of transcription to elongation requires promoter clearance and phosphorylation of the RNA polymerase II carboxyl-terminal domain (CTD) [19]. Phosphorylaton of CTD on serine 5 (S5) and 2 (S2) requires the kinase activities of the basal transcription factor TFIIH and CDK9, respectively. In the cell, CDK9 together with regulatory subunits cyclin T1, -T2, or -K compose the positive transcription elongation factor b (P-TEFb) that ensures the elongation phase of transcription by RNA polymerase II [136, 137]. Tax1 recruits P-TEFb to the viral promoter by interacting with cyclin T1 and CDK9 silencing or depletion inhibits Tax1-mediated transactivation [138, 139]. In fact, recruitment of P-TEFb activity to the LTR promoter increases CTD phosphorylation at serine S2 (but not S5) and allows transcriptional activation [138].
Recent data suggest that the splicing factor sc35 has a critical role in P-TEFb recruitment and positively impacts on transcription [140]. Tax1 binds and colocalizes with sc35 and P-TEFb in nuclear transcriptional hot spots termed speckled structures [141].
2.5 Nuclear receptors
Nuclear receptors (NR) belong to a large family of ligand-activated transcription factors that regulate gene expression in response to steroids, retinoids, and other signaling molecules [142]. Tax1 functions as a general transcriptional repressor of nuclear receptors such as glucocorticoid receptors (GR) [143]. A Tax1-binding protein referred to as Tax1BP1 and identified in a yeast two hybrid screen acts as a transcriptional co-activator for NR. Tax1 represses GR signaling by dissociating Tax1BP1 from the receptor-protein containing complex. Consistently, Tax1BP1 overexpression restores GR signaling in Tax1-expressing cells [144].
2.6 Post-transcriptional and translational regulators
Tax1-directed gene expression is further regulated at the post-transcriptional and translational levels through protein-protein interactions. Among these, Tax1 associates with TTP, Int6 and TRBP.
2.6.1 Tristetraprolin (TTP)
TTP belongs to a family of adenine/uridine-rich element (ARE)-binding proteins that contain tandem CCCH zinc finger RNA-binding domains [145]. TTP is therefore an important player in posttranscriptional regulation of mRNA containing ARE elements. Indeed, TTP delivers ARE-containing mRNAs in discrete cytoplasmic regions, called RNA granules, involved in regulation of translation or decay of these transcripts [146]. The repertoire of ARE-containing genes includes Tumor Necrosis Factor α (TNFα) and Granulocyte Macrophage-Colony-Stimulating Factor (GM-CSF) [145] involved in cell signaling, metabolism, cell proliferation, immune response, death, differentiation and morphogenesis [147].
Tax1 interacts with TTP and redirects TTP from the cytoplasm to the nuclear compartment as well as in a region surrounding the nucleus [148]. Through its interactions with TTP, Tax1 stabilizes TNFα mRNA and indirectly increases TNFα protein expression. This observation is of importance for the cell transformation process induced by HTLV-1, because TNFα overexpression plays a central role in pathogenesis.
2.6.2 Int6 and TRBP
Tax also binds Int6 (Integration site 6) and TRBP (TAR binding protein) that regulate translation and RNA interference, respectively. In fact, Int6 is a subunit of translation initiation factor eIF3, which regulates mRNA binding to the ribosome [149] while TRBP (TAR binding protein) is a componant of RISC (RNA-induced silencing complex) that mediates RNA interference [150]. Currently, the role of these interactions remains unclear.
2.7 A global model of Tax1 transactivation
Most of the data summarized in the former paragraphs relate to transcriptional activation of the LTR by Tax1 although it is likely that similar mechanisms also pertain to cellular promoters. Figure
1
recapitulates the mechanisms of transactivation: Tax1 relieves transcriptional repression through direct interaction with HDAC (i.e. HDAC1) and/or HMT (panel A). Tax1 interacts with CREB/ATF factors (CA) and enhances their binding to the LTR (panel B). When complexes are stabilized on the promoter, Tax1 recruits histone modifying enzymes and chromatin remodelers. This step affects chromatin structure and allows binding of basal transcription factors on the TATA box that is further stabilized by Tax1 interaction with TF
II
A, TF
II
D and TBP (panel C). Once the initiation complex is formed, Tax1 recruits the P-TEFb factor, leading to CTD phosphorylation and processive elongation (panel D). Finally, interaction of Tax1 with SWI/SNF prevents stalling of transcription elongation.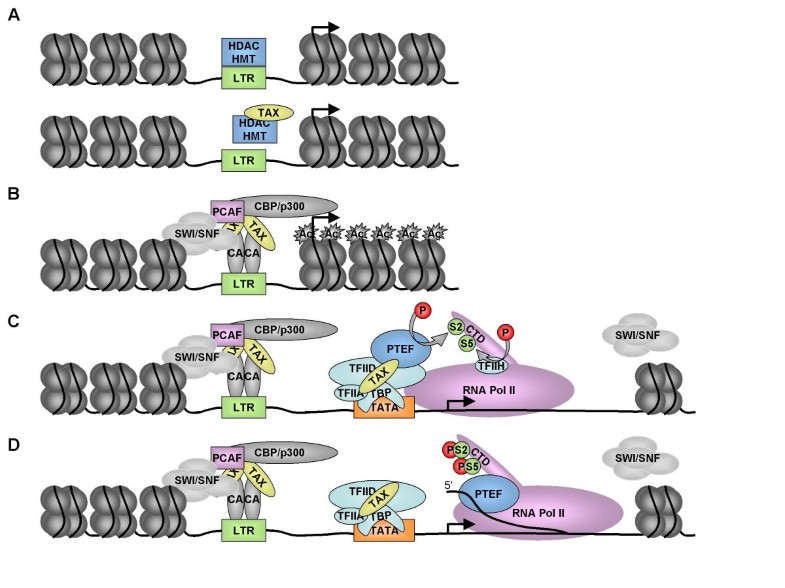 3 Tax1 interaction with proteins involved in cell signaling
4 Interaction of Tax1 with cell cycle associated proteins
4.1 Cyclin D-CDK4/6 complexes, Rb and CDK inhibitors
Cell cycle progression is a tightly regulated process controlled by cyclins associated with cyclin-dependent kinases (CDK). Cyclins D and E cooperate with CDK4/6 and CDK2 to mediate passage through G1 phase and G1/S transition, respectively [
218
]. Cyclin D-CDK4/6 and Cyclin E-CDK2 complexes target the Rb retinoblastoma protein (Figure
3
). In its hypophosphorylated form, Rb is bound to the transcription factor E2F1, and upon phosphorylation, Rb frees E2F1, which activates transcription of genes required for transition from G1 to S. G1/S progression can be inhibited by CDK inhibitors (CDKI) such as p15
INK4b
, p16
INK4a
, p18
INK4c
and p19
INK4d
by preventing cyclin D/CDK4/6 complex formation. Tax1 reprograms cell cycle progression, particularly at G1/S transition, through different mechanisms pertaining to transcriptional activation or repression, post-translational modifications and protein-protein interactions [
219
,
220
].

Tax1 is able to interact with cyclins-D1, -D2 and -D3 as well as with CDK4 and CDK6 but not with CDK1 or CDK2 [221–224]. Through these interactions, Tax1 stabilizes the cyclin D2/CDK4 complex and enhances its kinase activity, leading to hyperphosphorylation of retinoblastoma protein (Rb). Tax1 also associates with p15INK4b and p16INK4a and counteracts their inhibitory activity of CDK4 [225–228]. Finally, Tax1 binds to and targets Rb for proteosomal degradation [229]. Consistently, HTLV-1 infected cell lines and freshly isolated ATL cells display decreased levels of Rb protein.
Figure 3A illustrates Tax1 interactions with components of the cyclin D/CDK complexes and provides a mechanistic model for increased G1-S phase transition efficiency as well as the accelerated cell proliferation measured in vivo [230, 231].
4.2 DNA repair pathway associated proteins
DNA insults and replication stress activate the DNA damage response (DDR) pathway in S and G2/M phases of the cell cycle. Activation of the DDR pathway leads to cell cycle delay or even apoptosis of severely damaged cells, and activates the DNA repair pathway. ATM (Ataxiatelangiectasia mutated) and ATR (ATM-Rad3) proteins and their respective downstream targets Chk2 (checkpoint kinase 2) and Chk1 (checkpoint kinase 1) proteins play a central role in the DDR pathway [232]. In mammals, Chk1 and Chk2 regulate Cdc25, Wee1 and p53 that ultimately inactivate CDKs which inhibit cell-cycle progression. Double-strand breaks usually activate the ATM/Chk2-dependent pathway whereas ATR/Chk1 responds to a wide variety of lesions and replication blocks [233, 234].
Tax1-expressing and ATL cells display DNA damages suggesting that Tax1 abrogates cellular checkpoint and DNA repair [235–237]. Tax1 binds Rad51 [130] and DNA Topoisomerase 1 [135] that are both directly involved in DNA repair processes [232, 238]. Moreover, Tax1 associates and colocalizes with Chk1 and Chk2 proteins [239–242]. De novo Tax1 expression causes phosphorylation of Chk2 resulting in accumulation of cells in S-G2/M [239, 243]. However, upon gamma irradiation, Tax1 inhibits Chk1 and Chk2 kinase activities and attenuates G2/M arrest and apoptosis, respectively [240, 241]. Tax1 thus activates and represses checkpoint controls depending on the experimental conditions (figure 3B). In fact, Tax1 sequesters phosphorylated Chk2 within chromatin after gamma irradiation-induced DNA-damage [242]. Tax1 thereby impedes phosphorylated Chk2 chromatin egress, a mechanism required for further signal amplification and transmission [244]. Tax1 thus targets multiple components of DNA damage repair pathway and promotes DNA abnormalities.
4.3 Centrosome associated proteins and spindle assembly checkpoint
One of the hallmarks of Tax1-expressing cells particularly in ATL is chromosomal instability and severe aneuploidy [235], suggesting that mechanisms monitoring chromosomal segregation during mitosis are subverted by Tax1. Tax1 interacts with 4 proteins involved in centrosome amplification or in mitotic spindle assembly checkpoint (SAC) (Figure 3C).
4.3.1 RanBP1 and Tax1BP2
The presence of two centrosomes at mitosis is crucial for formation of bipolar mitotic spindles and correct chromosome segregation. Multipolar mitosis which happens when more than two centrosomes emerge in one cell is a possible cause of aneuploidy in solid tumors and leukemias [245]. Supernumerary centrosomes are observed in approximately 30% of ATL cells [246–248]. Tax1 colocalizes with the centrosome during mitosis and causes centrosome amplification through physical interaction with Ran/Ran Binding protein 1 (RanBP1) and Tax1BP2 [249, 250]. RanBP1 is involved in the Ran GTP cycle that controls microtubule nucleation and/or stabilization and centrosome cohesion during mitosis [251, 252]. Centrosome fragmentation requires direct Tax1/RanBP1 interaction and Tax1's ability to transactivate NF-κB. Tax1BP2 is thought to act as an intrinsic block to centrosome overreplication [253]. Consistently, overexpression of Tax1BP2 abolishes Tax1-induced centrosome amplification. On the other hand, a Tax1 mutant unable to bind to Tax1BP2 is impaired in centrosome overreplication [250].
4.3.2 Mad1 and cdc20
In eukaryotes, the mitotic spindle assembly checkpoint (SAC) monitors the fidelity of chromosome segregation [254]. SAC functioning requires complex formation between Mad1-2-3 and Bub1-2-3 proteins that arrest mitosis in response to microtubule damage [255]. At the molecular level, SAC activation involves formation of inhibitory complexes between Mad2 and/or Mad3/BubR1 and Cdc20, preventing Cdc20 from activating the anaphase promoting complex/cyclosome (APC/C). APC/C is active during mitosis where it mediates ubiquitination and degradation of an inhibitory chaperone of separase called securin. Once liberated from its inhibitor, separase triggers anaphase by hydrolysing cohesin leading to subsequent separation of sister chromatin. Furthermore, APC/C regulates the degradation of mitotic cyclin, activates CDK1 and, ultimately, promotes mitotic exit [256].
Through physical interactions with Mad1 and Cdc20, Tax1 subverts activation of SAC and APC/C. Tax1 inhibits Mad1 homodimerization, a process that is required for formation of a inhibitory complex between Mad2 and Cdc20 [257–259]. Consistently, ATL cells exhibit a defect in the mitotic spindle assembly checkpoint [257]. On the other hand, Tax1 associates with and activates Cdc20-associated APC/C leading to unscheduled degradation of securin and cyclin B1, a delay or failure in mitotic entry and progression, and faulty chromosome transmission [260, 261]. Tax1-induced premature activation of APC/C provokes permanent G1 arrest and senescence [262, 263]. Finally, coexpression of Tax1 and securin enhances chromosomal instability and favors cell transformation in vitro and in vivo [264].
5 Interaction of Tax1 with PDZ-containing proteins
The PSD-95/Drosophila Discs Large/Zona Occludens-I (PDZ) domain containing proteins form signaling complexes at the inner surface of the cell membrane and are involved in a very broad range of functions like cell signaling, adhesion, tight-junction integrity, molecular scaffolding for protein complexes and tumor suppression [265–267]. Numerous PDZ proteins have been shown to form a complex with Tax1 owing to its PDZ binding motif (PBM) located in the C-terminus (ETEV) [268]: Pro-IL16 (precursor of interleukin 16) [269], hDLG (Drosophila Discs Large) [270, 271], PSD-95, beta-syntrophin, lin-7 [268], Tip1 (Tax1 Interaction protein 1) [272], MAGI3 (Membrane Associated Guanylate kinase with inverted orientation 3) [273], hTid1 [274] and hScrib [275]. Interaction of Tax1 with these PDZ proteins frequently leads to their delocalization [273, 275, 276]. Functionally, PDZ proteins such as hTid1 and hScrib participate to Tax1-mediated activation of NF-κB and NFAT pathways, respectively [274, 275].
A Tax1-binding protein, hDLG, has been particularly studied owing to its ability to act as a tumor suppressor. hDLG acts downstream of the Wnt/frizzled pathway and binds to the adenomatous polyposis complex (APC) which mediates cell cycle progression [277, 278]. APC-hDLG complex formation negatively regulates G1 to S transition and plays an important role in transducing the APC cell cycle blocking signal [277]. Besides, hDLG is also involved in maintenance and modulation of T cell polarity [279]. Through PBM/PDZ domain interaction, Tax1 induces hyperphosphorylation of hDLG, affects its localization [276] and prevents its binding to APC [271]. Interestingly, hDLG inactivation increases the ability of Tax1 to transform a mouse T-cell line [280].
The Tax1 PBM is critically involved in transformation of rat fibroblasts and IL2 independent growth of mouse lymphocytes [276, 281] and to promote virus-mediated T-cell proliferation in vitro and persistence in vivo [282]. In contrast, HTLV-2 Tax2 protein which does not harbor a PBM has a lower transforming activity than Tax1 [283].
6 Tax1 interaction with nuclear pore and secretory pathway proteins
Tax1 shuttles between the cytoplasm and the nucleus by virtue of a nuclear localization sequence (NLS) and a nuclear export signal (NES) [284–286]. In the nucleus, Tax1 is primarily located in interchromatin granules or spliceosomal speckles [141]. In the cytoplasm, Tax1 localizes to organelles associated with the cellular secretory process including the endoplasmic reticulum and Golgi complex [192, 287]. Tax1 is also secreted in the supernatant of HTLV-1 infected cells isolated from HAM-TSP patients [287–289] and may behave as an extracellular cytokine. Tax1 shuttling is mediated through interaction with proteins involved in nuclear import, cytoplasmic export and secretory pathways [289–293].
6.1 Nucleoporins
Nucleoporins of the nuclear pore complex (NPC) form a channel spanning the double lipid bilayer of the nuclear envelope. Nuclear pore complexes allow passive diffusion of ions and small proteins but translocation of cargoes larger than 40 kDa generally requires specific transport proteins [294]. Import of cargo proteins containing a classical NLS is mediated by the importin α/β dimer and requires metabolic energy which is provided by Ran GTP [295]. In contrast, carrier-independent translocation of proteins into the nucleus is energy independent and requires direct interactions with nucleoporins [295].
Nuclear import and export of Tax1 are both carrier and energy independent but relies on the interaction between Tax1 and the p62 nucleoporin [290]. This interaction is mediated by the aminoterminal zinc-finger motif of Tax1. Consistently, mutations within this motif abolishes Tax1 interaction with p62 and nuclear import [290].
6.2 Proteins involved in Tax1 nuclear export and secretion
Proteins containing a NES domain like Tax1 are expected to interact with the chromosome region maintenance 1 protein (CRM1), a member of the importin β family [296]. Under stress conditions (i.e. UV irradiation), Tax1 interacts with CRM1 and is exported outside of the nucleus, a mechanism that is inhibited by leptomycin B [291, 292]. In the absence of stress however, leptomycin B does not alter subcellular distribution of Tax1 [286], suggesting that Tax1 is not exclusively exported through the CRM1 pathway.
Tax1 nucleo-cytoplasmic shuttling and secretion is directed by associations with proteins involved in nuclear export (calreticulin, RanBP2, p97), in ER to Golgi transport (the coat proteins (COP) βCOP and COPII) and in movement from Golgi to plasma membrane (secretory carrier membrane protein 23 (SNAP23), secretory carrier membrane protein 1 and 2 (SCAMP1, SCAMP2)) [289, 293, 297]. Calreticulin, which is overexpressed in HTLV-1 infected cells, functions similarly to CRM1 by transporting proteins via NES interactions [293, 298]. Tax1 secretion involves a secretory signal located in the C-terminal domain and requires interaction with SNAP23, SCAMP1 and COPII [289].
Tax1 thus targets different cellular factors involved in protein transport to shuttle between nucleus, cytoplasm and extracellular environment.
7 Binding domains in Tax1
To interact with such a broad range of cellular targets, Tax1 contains multiple protein-binding domains (Figure
4
). Among these, the N-terminal zinc finger motif associates with transcription factors (CREB/ATF [
299
], TBP [
90
], Ets1 [
62
], NF-YB [
82
], Egr1 [
85
]), cyclins [
221
], nucleoproteins (p62) [
290
], proteasome subunits [
163
] and phosphatase PP2A [
168
]. Mutations within this zinc finger affects Tax1-mediated CREB transactivation as well as subcellular localization due to the presence of a NLS [
284
]. A domain encompassing residues 55 to 95 regulate interaction of Tax1 with CBP/p300, Chk2 and Gβ2 [
102
,
241
,
300
]. The middle of Tax1 harbors a region required for dimerization, two leucine zipper-like motifs (aa 116–145 and 213–248) [
39
,
301
,
302
] and a NES sequence [
291
]. Substitutions within the first leucine zipper (such as T130A and L131S in mutant M22) affect Tax1 interactions with NF-κB [
157
,
301
], proteasome subunits [
163
] and PP2A [
168
]. Another mutation (S132A) abolishes Tax1 binding to coil-coiled domain containing proteins [
303
] (i.e. Mad1, Tax1BP1, Tax1BP2 and GPS2). A region located between the two leucine zippers is required for interaction with CARM-1, Chk2 and Gβ2 [
127
,
241
,
300
]. Amino acids 233–246, located within the second leucine zipper regulates Tax1 association with p15
INK4b
[
228
], p16
INK4a
[
226
], DNA topoisomerase [
135
] and IκBγ [
161
]. Consistently, the central region of Tax1 is indeed involved in NF-κB activation. Finally, the carboxyterminal region of Tax1 contains an activation domain (residues 289–332) [
304
] as well as motifs required for Tax1 localization within the Golgi (residues 312–315) and secretion (residues 330–332) [
297
]. The carboxyterminal domain is involved in Tax1 binding to Rb [
229
], PI3K [
199
], P/CAF [
102
], P-TEFb [
138
] and PDZ containing-proteins [
268
]. In particular, Tax1 mutant M47 (L319R, L320S) is impaired for interaction with P/CAF[
102
].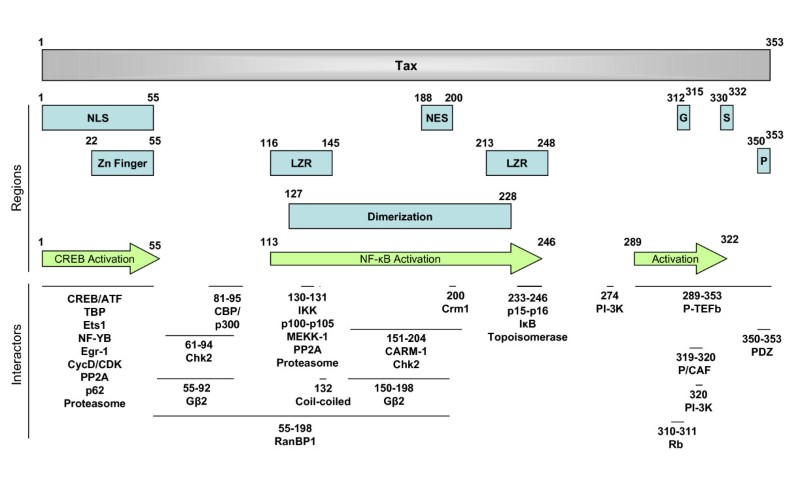 8 Conclusion
The most intriguing point relating to the Tax1 interactome is the very high number of cellular proteins to which this viral oncogene is able to interact. Today, about 100 Tax1-binding proteins are identified (Table
1
) and this number is permanently growing (see
http://www.htlv-tax.com/
for regular updates). Is it possible that a single protein modulates such a wide variety of functions? Are these interactions all relevant for the viral life cycle or pathogenesis? As schematized on Figure
5
, the vast majority of these interactions contributes to viral or cellular gene expression and promotes infected cell proliferation or survival, required for maintaining viral load
in vivo
[
231
,
305
]. On the other hand, checkpoint abrogation allows proliferation of cells with DNA lesions and progressive accumulation of chromosomal abnormalities as frequently observed in ATL [
220
]. Even if one might entertain doubts about the biological relevance of some Tax1 partners, the Tax1 interactome as a whole likely contributes to the viral life cycle as well as to development of pathogenesis.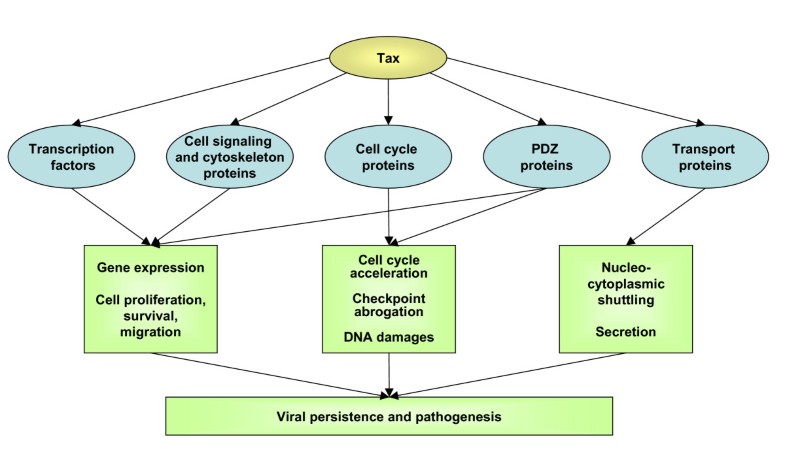 Table 1
Cellular proteins interacting with Tax1
Other viral oncogenes such as Kaposi's sarcoma-associated herpesvirus-encoded LANA and adenovirus E1A also interact with numbers of cellular proteins (e.g. more than 40 for E1A and 100 for LANA) [306, 307]. Interestingly, some of these proteins are targeted both by Tax1 and E1A (such as ATF, CBP, p300 or Smad), indicating that similar signaling pathways are involved in distinct viral systems to achieve cell transformation. In particular, Tax1 and E1A share common properties that include regulation of transcriptional activation, chromatin remodeling, interference with p53 activity, regulation of proteasome function and cooperation with Ras in cell transformation [308].
How are these different activities controlled temporarily and spatially? Additional studies are definitely required to address this point. Currently, Tax1 is known to shuttle between cytoplasm and nucleus, to form intranuclear speckles along with a series of cellular proteins (e.g. NF-κB factors [309], sc35 [141] and chk2 [239]) and to target specialized structures such as the centrosome [249, 250]. Moreover, Tax1 localisation and protein interactions are altered under stress conditions [291, 292].
Despite numbers of attempts, Tax1 3-D crystallographic structure is intriguingly still unsolved suggesting that Tax1 adopts a rather undefined conformation. In this context, the concept of intrinsically disordered proteins (IDP) has recently emerged [
310
]. IDPs contrast to "ordered" proteins that fold into a unique and structured state, which represents a kinetically accessible and energetically favorable conformation. IDP proteins contain one or multiple disordered regions that exist as dynamic ensembles in which atom positions and backbone Ramachandran angles vary significantly with no specific equilibrium values [
310
]. The presence of short (< 30 residues) and long (> 30 residues) ID regions confer conformationnal flexibility thereby facilitating post-translational modifications and enabling a protein to functionally interact with many cellular partners [
310
,
311
]. Consistently, IDPs are frequently highly connected 'hubs' in the protein-protein networks [
311
–
313
]. In fact, Tax1 contains many proline (n = 40), serine (n = 25) and glycine (n = 25) residues that are known to promote disorder [
310
]. According to the VSL1 prediction programme (PONDR
®
,
http://www.pondr.com
), Tax1 contains multiple ID regions (n = 6) (Figure
6
). In particular, Tax1 contains a long disordered region (spanning amino-acids 76 to 121), in contrast to the well structured capsid (p24), transmembrane (gp21) and surface (gp46) proteins (data not shown). Interestingly, other viral oncogenes such as HPV E6 and E7 are also predicted to contain significant intrinsic disorder [
314
].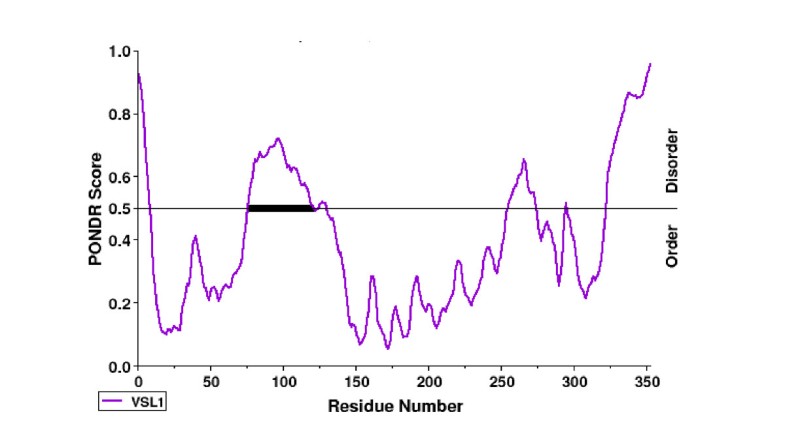 On the other hand, Tax1 is modified by phosphorylation, ubiquitination and sumoylation that potentially modulate its functions, localisation and interactions [76, 315]. Tax1 also contains 8 cysteines that may form disulfite bonds or coordinate zinc ions and 48 leucines that are considered as order-promoting residues [310]. Tax1 thus appears as a flexible structure formed by a series of small modular domains that are relatively independent of surrounding sequences and that permits wide conformational changes depending upon its subcellular environment.
We propose that, similarly to the hubs, the ID-based structure of Tax1 allows a wide variety of conformational changes enabling binding diversity and recognition of differently shaped protein partners. Flexible accommodation at various binding interfaces would then allow interaction of more structured domains such as the Tax1 zinc finger and leucine containing helices. This hypothetical model provides a rationale to the very broad range of Tax1 interacting proteins identified so far.
In conclusion, the Tax1 interactome network with the associated biochemical studies reported here provides a molecular basis for understanding viral persistence and pathogenesis, paving the way for the design of compounds to antagonize its ability to mediate cell transformation.
Declarations
Acknowledgements
This work was supported by the Sixth Research Framework Programme of the European Union (project INCA LSHC-CT-2005-018704), the Belgian Foundation against Cancer, the Bekales Foundation, and the "Fonds National de la Recherche Scientifique" (FRS-FNRS and Télévie). MB ("FRIA" fellow), SL ("FRIA" fellow), RK (Research Director), LW (Research Director), JCT (Post-doctoral fellow) and JFD (Technician) are members of the FNRS. We thank Françoise Bex for comments and suggestions.
Authors' Affiliations
(1)
Molecular and Cellular Biology at FUSAGx, University Academia Wallonie-Europe, Gembloux, Belgium
Copyright
© Boxus et al; licensee BioMed Central Ltd. 2008
This article is published under license to BioMed Central Ltd. This is an Open Access article distributed under the terms of the Creative Commons Attribution License (http://creativecommons.org/licenses/by/2.0), which permits unrestricted use, distribution, and reproduction in any medium, provided the original work is properly cited.