Centrosome and retroviruses: The dangerous liaisons
Received: 13 February 2007
Accepted: 14 April 2007
Published: 14 April 2007
Abstract
Centrosomes are the major microtubule organizing structures in vertebrate cells. They localize in close proximity to the nucleus for the duration of interphase and play major roles in numerous cell functions. Consequently, any deficiency in centrosome function or number may lead to genetic instability. Several viruses including retroviruses such as, Foamy Virus, HIV-1, JSRV, M-PMV and HTLV-1 have been shown to hamper centrosome functions for their own profit, but the outcomes are very different. Foamy viruses, HIV-1, JSRV, M-PMV and HTLV-1 use the cellular machinery to traffic towards the centrosome during early and/or late stages of the infection. In addition HIV-1 Vpr protein alters the cell-cycle regulation by hijacking centrosome functions. Enthrallingly, HTLV-1 Tax expression also targets the functions of the centrosome, and this event is correlated with centrosome amplification, aneuploidy and transformation.
Keywords
Foamy Virus
Centrosome Amplification
Centrosome Duplication
Supernumerary Centrosome
Centrosomal Target
Background
I. Centrosome functions
Centrosome and cell organization
Centrosomes were first described at the end of the 19th century by Theodor Boveri who had also the intuition of their central role in cell life [1].
Centrosomes are animal-specific non-membranous organelles that localize in close proximity to the cell nucleus for the duration of interphase. Their structure is highly conserved among higher eukaryotes. It usually consists of a pair of centrioles joined by fibers connecting their proximal ends which are embedded into a protein-dense matrix called the pericentriolar material (PCM) [2, 3]. The PCM is an ordered lattice that anchors a large number of microtubule (MT)-associated proteins, many of which bear putative coiled-coil domains, a tertiary structure known to facilitate protein-protein interactions [4]. Centrioles are cylindrical corps formed by a radial array of nine MT-triplets, which are structurally similar to basal bodies of eukaryotic cilia and flagella [5, 6]. Centrioles play a role in the organization of the microtubular cytoskeleton, but they do not make direct contact with the MTs which nucleate from the γ-tubulin ring complexes (γ-TuRC) located within the PCM.
In animal cells, centrosomes represent the major microtubule-organizing structures (MTOC). The MTOC is responsible to direct the assembly and the orientation of MTs and to control MT-dependent processes such as trafficking of cytoplasmic vesicles and orientation of cellular organelles. At the onset of mitosis, centrosomes become the core structures of spindle poles and direct the formation of mitotic spindles. Upon cytokinesis, each daughter cell receives only one centriole, which duplicates once per cell cycle.
Centrosome duplication and mitotic progression
The number of centrosomes within a cell is strictly controlled [
5
] (Figure
1
). In G1 phase, cells have a single centrosome consisting of two centrioles joined by cohesion fibers. At the G1/S transition, new centrioles grow orthogonally from each of the two pre-existing ones. They will elongate until G2, maintaining the strictly perpendicular configuration [
5
–
7
]. In early mitosis, the cohesion between the two pairs of centrioles is broken and each of them participates in the formation of the mitotic spindle pole.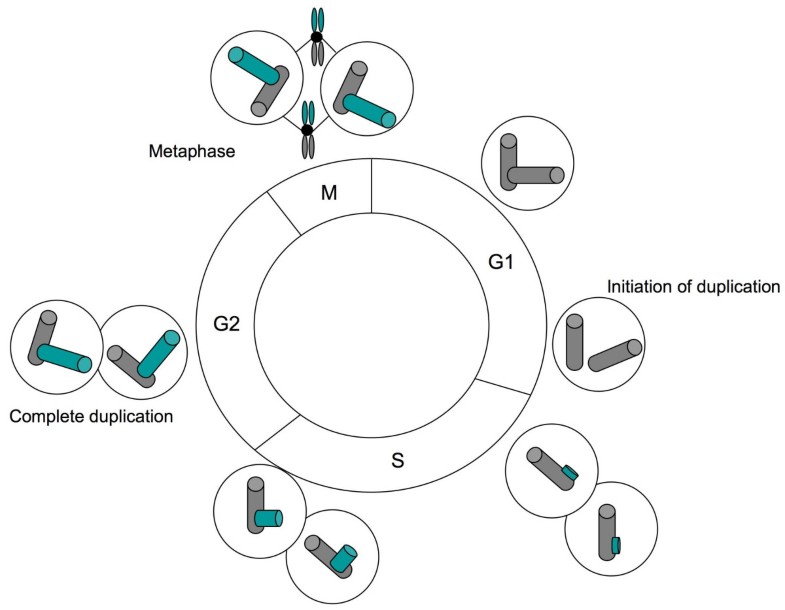 Centrosome duplication is tightly regulated and limited at once per cell cycle through a mechanism that prevents re-duplication. The complexes between Cyclin-dependent kinase 2 (Cdk2) and either Cyclin E or Cyclin A (Cdk2/CycE/CycA) and their substrate, nucleophosmin, have been proposed to act as licensing factors for centrosome duplication [8, 9]. However, this hypothesis has been recently challenged by Tsou and Stearns [5] who proposed that re-duplication is inhibited by a centrosome-intrinsic block [10]. They suggested that the engaged/orthogonal conformation of the centrioles functions as a block for re-duplication. The cellular factor which promotes centriole-disengagement at the end of mitosis would therefore constitute the licensing factor [5].
Additionally several mitotic kinases of the Aurora, Polo and Nek families, which localize at least temporally to mitotic structures, have been shown to participate in the control of the centrosome cycle and mitotic spindle formation [11].
The tight control of centrosome number and duplication is essential for the stability of the genome. Consequently, any impairment in the regulation of centrosome number might lead to the assembly of multipolar spindles [12], which in turn might increase the frequency of aberrant mitosis and chromosome-segregation errors [3].
Recent studies demonstrated that MTOCs play a key role in cellular processes other than nucleation and organization of the MT network. Indeed, the centrosome provides a subcellular site where high local concentration of regulatory molecules in the proximity of their substrates is likely to increase the probability of specific interactions. Many regulatory molecules localize, at least temporally, at the centrosome. Thus, it has been suggested that the centrosome might act as a scaffold platform where integration of numerous cellular signaling pathways occurs, including control of cell cycle progression and completion of cytokenesis [13, 14].
As an example, following their injection into G2-arrested oocytes, centrosomes induce cell progression into mitosis [15]. Likewise, in a Xenopus egg model, centrosomes can induce the activation of the mitosis promoting factor (MPF or Cyclin dependent kinase 1 (Cdk1) and Cyclin B complex), which is a major event in the initiation of mitosis [16]. In mammalian cells, activation of MPF takes place at the centrosome during prophase and before any MPF-dependent H3-phosphorylation is detected in the nucleus [17]. MPF activity is controlled by cyclin phosphorylation through the antagonistic actions of Cdc25 and Wee1, which are also regulated by phosphorylation [18, 19]. Finally, several positive and negative mitotic regulators which have distinct localization along the cell cycle, are also found at the centrosome during early mitosis (reviewed in [14]).
Centrosome amplification
Centrosome amplification (more than three centrioles in a cell during the G1 phase) can result from different mechanisms: (a) duplication of centrosome more than once during a cell cycle, (b) failure of cell cytokenesis, (c) uncontrolled splitting of a centriole pair and (d) formation of acentriolar MTOCs [3]. Centrosome amplification is often associated with genomic instability and therefore aneuploidy. Aneuploidy (i.e. the acquisition or loss of one or more chromosome from a diploid genome) is a very common feature of tumor cells [20–23]. After Boveri's hypothesis (the "aneuploidy hypothesis"), it has been admitted that cancer cells become aneuploid as a consequence of anomalous mitotic divisions. These defects were thought to result from centrosome amplification and transformation, and aneuploidy appeared likely to promote tumorigenesis, at least at low frequency. However, after the discovery of tumor suppressors and oncogenes, this assumption became debated [24–26].
A number of facts still support this hypothesis: first, aneuploidy frequently occurs before transformation. This is the case in a number of pre-cancerous lesions (cervix, colon, oesophagus etc.) [27–29]. Next, aneuploidy results in the de-regulation (up- or -down) of the expression of a number of genes. Third, transformation linked to aneuploidy requires several generations, which is coherent with the known incidence of cancers with age (for a review see [30]). Finally in silico modeling confirmed that the "aneuploidy theory" could explain how lymphocytes become transformed [31].
In the end, it was still technically challenging to test whether aneuploidy causes cancer or not until recently, since causing aneuploidy usually results in other cellular defects. Interestingly, in a very elegant study aimed at understanding whether aneuploidy drives tumorigenesis, contributes to tumor progression or is benign, Weaver and coll. demonstrated that aneuploidy acts both oncogenically and as a tumor suppressor [32]: Low levels of chromosomal instability promote tumor initiation while higher levels are protective [32].
II. Retroviruses infection and centrosomal functions alteration
III. Conclusion
Viruses have evolved different strategies to traffic within an infected cell. Active transport along the cytoskeleton networks, in particular the MTs, has been demonstrated for a series of nuclear replicating viruses such as retroviruses. For these latter, the centrosome seems to play a central role both during early and late stages of the replication cycle. It will be important to understand the functional meaning of the centrosomal localization of incoming FV and HIV-1 following infection. Is it just a mandatory/compulsory route to reach the nucleus following trafficking along the MT network, or is it (also) a transforming platform which selectively modifies the incoming viral material thus allowing a successful integration into the host genome ?
In addition, the centrosome is not a mere spectator of the cell cycle but exerts a significant control over it. By providing a scaffold for many cell cycle regulators and their activity, it influences cell-cycle progression, especially during the G1 to S-phase transition [99, 100]. To this end, this organelle receives and integrates signals from outside the cell and facilitates their conversion into cellular functions.
By targeting the centrosome, some viruses hijack its functions, leading eventually either to cell death or to cell transformation [101–106].
The role of this central organelle in retrovirus replication and pathogenicity is still mysterious and will certainly require more consideration.
Abbreviations
HTLV-1:

Human T cell leukemia virus type 1
HIV-1:

Human Immunodeficiency virus type 1
ChK:

C-terminal Src kinase-homologous kinase
MTOC:

Microtubule organizing center
Cdk:

Cyclin-dependent kinase
ATLL:

Adult T cell leukemia/lymphoma
SRF:

Serum responsive factor
CREB:

cAMP response element-binding protein
MPF:

Mitosis promoting factor
Vpr:

Viral protein R
MAD1:

Mitotic arrest-defective 1
Cdc:

Cell division cycle
MEF:

mouse embryonic fibroblasts
PCM:

pericentriolar material
MT:

microtubule
FV:

Foamy Virus
hnRNP:

A2: heterogeneous nuclear ribonucleoprotein A2
CTRS:

cytoplasmic targeting-retention signal
M-PMV:

Mason-Pfizer Monkey Virus
JSRV:

Jaagsiekte Sheep Retrovirus
Declarations
Acknowledgements
PA and AZ contributed equally to the work. PA, AZ, RM and AS wrote this manuscript. AS and RM share senior authorship on this work. RM and PA thank the "Programme Transversal de Recherche 214" from the Pasteur Institute for its financial support. RM is supported by INSERM. AZ is supported by a grant from ANRS. PVA is supported by le Ministère de la Recherche & des Technologies. The authors thank Dr Mohamed Nejmeddine and Pr. Charles Bangham for providing the micrographs presented in Figure 4.
Authors' Affiliations
(1)
Unité d'Epidémiologie et Physiopathologie des Virus Oncogènes, CNRS URA 3015, Département de Virologie, Institut Pasteur, Paris, France
(2)
CNRS UMR7151, Hôpital Saint-Louis, Paris Cedex 10, France
Copyright
© Afonso et al; licensee BioMed Central Ltd. 2007
This article is published under license to BioMed Central Ltd. This is an Open Access article distributed under the terms of the Creative Commons Attribution License (http://creativecommons.org/licenses/by/2.0), which permits unrestricted use, distribution, and reproduction in any medium, provided the original work is properly cited.