The discovery of endogenous retroviruses
Received: 03 August 2006
Accepted: 03 October 2006
Published: 03 October 2006
Abstract
When endogenous retroviruses (ERV) were discovered in the late 1960s, the Mendelian inheritance of retroviral genomes by their hosts was an entirely new concept. Indeed Howard M Temin's DNA provirus hypothesis enunciated in 1964 was not generally accepted, and reverse transcriptase was yet to be discovered. Nonetheless, the evidence that we accrued in the pre-molecular era has stood the test of time, and our hypothesis on ERV, which one reviewer described as 'impossible', proved to be correct. Here I recount some of the key observations in birds and mammals that led to the discovery of ERV, and comment on their evolution, cross-species dispersion, and what remains to be elucidated.
Keywords
Murine Leukemia VirusRous Sarcoma VirusAvian Leukosis VirusMurine Mammary Tumor VirusRD114 Virus
Background
If Charles Darwin reappeared today, he might be surprised to learn that humans are descended from viruses as well as from apes. Some 8% of human DNA represents fossil retroviral genomes, and that is not counting the LINE elements and other retrotransposons that are scattered so liberally across our genome [1, 2]. Darwin might be reassured that we share most though not all of these insertions with chimpanzees [3, 4]. But how did endogenous viruses first come to light?
The discovery of ERV took place in the late 1960s and early 1970s. Three types of ERV were found around the same time: avian leukosis virus in the domestic fowl (Gallus gallus), and murine leukemia virus and murine mammary tumor virus in the laboratory mouse (Mus musculus). Initially, ERV were discovered by combining virological and immunological methods with Mendelian genetics; their existence was then confirmed by nucleic acid hybridization.
Retroviruses can be classified as those that have simple genomes – the alpha, beta, gamma and epsilon retroviruses, and those with complex genomes – the lentiviruses, deltaviruses and spumaviruses (Figure
1
). Only the simple retroviruses have become endogenous in their hosts, with the questionable exception of spumaviruses. Why this should be so is not understood.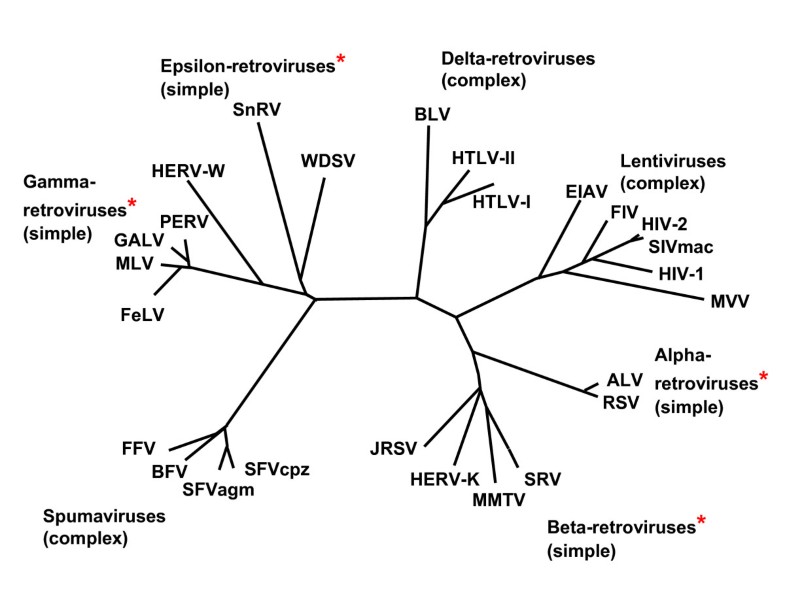 Conclusion
ERV were discovered through the careful analysis of virological and immunological markers that appeared to be inherited by the host as Mendelian traits. Interestingly, the crucial evidence of endogenous ALV, MLV and MMTV came to light in the same period in the late 1960s. The discovery of reverse transcriptase in 1970 made these strange findings plausible. Later molecular genetic studies showed that the genomes of all vertebrate species studied have been colonized by multiple sets of retrovirus. Phylogenetic studies of viral genomes indicate that the introduction of ERV proceeds in waves with relatively rapid amplification of copy numbers and dispersal in the host genome. Their functions, if any, in the host remain an enigma, except for env genes driving differentiation of the syncytiotrophoblast in the placenta.
Declarations
Acknowledgements
I am grateful to Ariberto Fassati and Yasuhiro Takeuchi for constructive comments on the manuscript and to Mike Skinner, Venugopal Nair and Hoe-Nam Leong for references. My research has been supported for many years by Cancer Research UK and the Medical Research Council.
Authors' Affiliations
(1)
Division of Infection & Immunity, University College London, London, UK
Copyright
© Weiss; licensee BioMed Central Ltd. 2006
This article is published under license to BioMed Central Ltd. This is an Open Access article distributed under the terms of the Creative Commons Attribution License (http://creativecommons.org/licenses/by/2.0), which permits unrestricted use, distribution, and reproduction in any medium, provided the original work is properly cited.