The Vpr protein from HIV-1: distinct roles along the viral life cycle
Received: 17 January 2005
Accepted: 22 February 2005
Published: 22 February 2005
Abstract
The genomes of human and simian immunodeficiency viruses (HIV and SIV) encode the gag, pol and env genes and contain at least six supplementary open reading frames termed tat, rev, nef, vif, vpr, vpx and vpu. While the tat and rev genes encode regulatory proteins absolutely required for virus replication, nef, vif, vpr, vpx and vpu encode for small proteins referred to "auxiliary" (or "accessory"), since their expression is usually dispensable for virus growth in many in vitro systems. However, these auxiliary proteins are essential for viral replication and pathogenesis in vivo. The two vpr- and vpx-related genes are found only in members of the HIV-2/SIVsm/SIVmac group, whereas primate lentiviruses from other lineages (HIV-1, SIVcpz, SIVagm, SIVmnd and SIVsyk) contain a single vpr gene. In this review, we will mainly focus on vpr from HIV-1 and discuss the most recent developments in our understanding of Vpr functions and its role during the virus replication cycle.
Keywords
Nuclear Envelope
Nuclear Import
Feline Immunodeficiency Virus
Nuclear Pore Complex
Nuclear Export Signal
Introduction
The viral protein R (Vpr) of HIV-1 is a small basic protein (14 kDa) of 96 amino acids, and is well conserved in HIV-1, HIV-2 and SIV [
1
]. The role of Vpr in the pathogenesis of AIDS is undeniable, but its real functions during the natural course of infection are still subject to debate. The Vpr role in the pathophysiology of AIDS has been investigated in rhesus monkeys experimentally infected with SIVmac, and it was initially shown that monkeys infected with a
vpr
null SIV mutant decreased virus replication and delayed disease progression [
2
,
3
]. Moreover, monkeys infected with a SIV that did not express the
vpr
and
vpx
genes displayed a very low virus burden and did not develop immunodeficiency disease [
4
,
5
]. Regarding these
in vivo
phenotypic effects, numerous laboratories have dissected the role of Vpr in various
in vitro
,
in vivo
and
ex vivo
systems to explore the contribution of this protein in the different steps of the virus life cycle. Despite its small size, Vpr has been shown to play multiple functions during virus replication, including an effect on the accuracy of the reverse-transcription process, the nuclear import of the viral DNA as a component of the pre-integration complex (PIC), cell cycle progression, regulation of apoptosis, and the transactivation of the HIV-LTR as well as host cell genes (Fig.
1
). Furthermore, Vpr is found in virions, in cells, and exists as free molecules found in the sera and the cerebrospinal fluid of AIDS patients, indicating that it may exert its biological functions through different manners.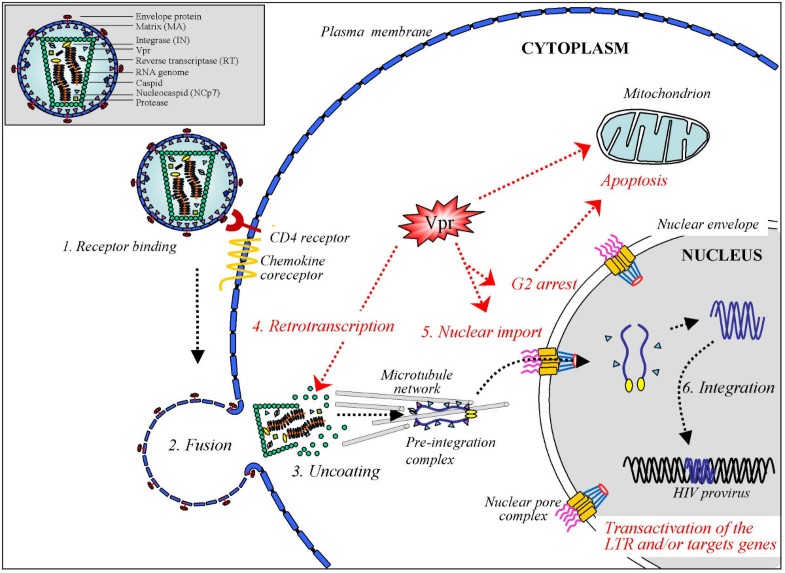 Conclusion
By interfering with many distinct cellular pathways all along the virus life cycle, it is now evident that Vpr's contribution to the overall pathogenesis of HIV-1 infection in vivo is likely crucial. While major efforts have been made during the last years to define the molecular mechanisms and cellular targets of Vpr, additional work is needed for the complete understanding of its wide range of activities. An important issue now is to define the precise contribution of each activity to the viral replication and pathogenesis during the natural course of HIV infection. The involvement of Vpr in key processes of the early steps the viral life cycle (i.e., reverse transcription and nuclear import of the viral DNA) represents a good target for developing novel therapeutic strategies for AIDS therapy. In addition, this viral factor represents a valuable tool to elucidate many fundamental cellular processes.
List of abbreviations
HIV:

human immunodeficiency virus
SIV:

simian immunodeficiency virus
CypA:

cyclophilin A
nup:

nucleoporin
PIC:

pre-integration complex
RTC:

reverse transcription complex.
Declarations
Acknowledgements
We thank Louis Mansky for critical review of the manuscript, Guillaume Jacquot, Serge Bouaziz and Nelly Morellet for the kind gift of the figures. E.L.R. is supported by "Ensemble contre le SIDA/SIDACTION" and the French Agency for AIDS Research ("ANRS").
Authors' Affiliations
(1)
Institut Cochin, Department of Infectious Diseases, INSERM U567, CNRS UMR8104, Université Paris 5, Paris, France
Copyright
© Le Rouzic and Benichou; licensee BioMed Central Ltd. 2005
This article is published under license to BioMed Central Ltd. This is an Open Access article distributed under the terms of the Creative Commons Attribution License (http://creativecommons.org/licenses/by/2.0), which permits unrestricted use, distribution, and reproduction in any medium, provided the original work is properly cited.