Wrapping up the bad news – HIV assembly and release
Received: 23 August 2012
Accepted: 21 December 2012
Published: 10 January 2013
Abstract
The late Nobel Laureate Sir Peter Medawar once memorably described viruses as 'bad news wrapped in protein'. Virus assembly in HIV is a remarkably well coordinated process in which the virus achieves extracellular budding using primarily intracellular budding machinery and also the unusual phenomenon of export from the cell of an RNA. Recruitment of the ESCRT system by HIV is one of the best documented examples of the comprehensive way in which a virus hijacks a normal cellular process. This review is a summary of our current understanding of the budding process of HIV, from genomic RNA capture through budding and on to viral maturation, but centering on the proteins of the ESCRT pathway and highlighting some recent advances in our understanding of the cellular components involved and the complex interplay between the Gag protein and the genomic RNA.
Keywords
HIV
Budding
Assembly
ESCRT
ALIX
NEDD
Review
It is now over 20 years since the first striking pictures of a failure in the terminal budding process of HIV were published [1]. It took over three years for the findings to be confirmed and validated [2], and this marked the beginning of our understanding of the role of the ESCRT (endosomal sorting complex required for transport) system in the budding of HIV and subsequently in other enveloped viruses. Insights gained from HIV have revealed a wealth of details about normal cellular processes involving the ESCRT proteins, including vesicle budding into endosomal compartments called multi-vesicular bodies (MVB) [3] and the later discovery of the involvement of this process in the terminal events of cell division and cell separation [4]. How ESCRT functions in viral budding in HIV is now understood in remarkable detail; however, there are some notable unanswered questions.
Viral assembly is focused around the major structural protein of the virus capsid - Gag - which is a 55 kDa polyprotein comprising four major subdomains – Matrix (MA), Capsid (CA), Nucleocapsid (NC) and p6. Flanking NC are two small 'spacer' peptides SP1 (p2) and SP2 (p1). The assembly of capsid like particles in HIV and other retroviruses can be achieved by the viral Gag protein independently of the presence of any cellular factors [5], and indeed conical structures resembling mature cores can also be formed [6, 7], although production of spherical particles is optimized by nucleic acid. Authentic 'extended' Gag assemblies with dimensions comparable to a wild type viral capsid can be formed in the presence of lipid membranes and nucleic acid [8]. The NC region of Gag is well established as contributing to Gag assembly probably by 'bridging' between individual Gag monomers via genomic RNA (gRNA) [9]. Assembly of viable virus is possible using a minority of NC mutated Gag proteins containing intact late domains (see below) complemented by at least a fivefold excess of Gags with intact NC domains containing a late domain mutation [10], again inferring an important role for RNA binding to the NC domain inducing bridging. Despite the intimate interactions between Gag and RNA preceding and following the virus assembly, RNA in general and specifically the gRNA which is captured and packaged specifically by the viral Gag protein appeared until recently [11] to have no identified role in the ESCRT mediated process of viral assembly. The second conundrum is that whereas in MVB generation, sequential linking of ESCRT-0, I, II and III is essential, in HIV budding it is still unclear how ESCRT-I activates ESCRT-III given the apparent lack of requirement of ESCRT-II for successful budding in HIV [12]. This question has, again very recently, been opened up by some striking in vitro assembly studies where ESCRT-II does appear to be an integral part of the Gag budding process [13].
This review is a summary of our current understanding of the budding process of HIV, centering on the proteins of the ESCRT pathway. However, although that is probably the most intensively investigated and documented period in the virus export pathway, it is important to put it in the context of the processes that precede and follow it, but also overlap with it, namely trafficking and assembly, and release and maturation.
Events preceding viral assembly and budding
The earliest cytoplasmic stages of viral nucleocapsid assembly occur at the free cytoplasmic pool of translating ribosomes where unspliced viral RNA is translated to produce Gag (Figure
1
A), and a subpopulation of Gag/Pol proteins are generated through a frameshift event. Gag is translated from the RNA species that also functions as the RNA genome. Once translated, the viral gRNA is trafficked away from the translating pool [
14
]. Although translation may not be a prerequisite for RNA capture [
15
], subsequent data have reinforced a predominantly cotranslational capture mechanism in HIV-1 [
16
,
17
] as shown previously for HIV-2 [
18
]. The uncleaved Gag polyprotein is involved in RNA genome capture, and the interaction of this with the viral RNA packaging signal [
19
,
20
] has been shown in HIV-1 to be biophysically a very different process from that of interaction with the NC sub-fragment of Gag [
21
]. The latter, however, after cleavage from the precursor protein, is a powerful facilitator of nucleic acid interactions such as those involved in genome dimerization [
22
,
23
] and reverse transcription [
24
–
27
].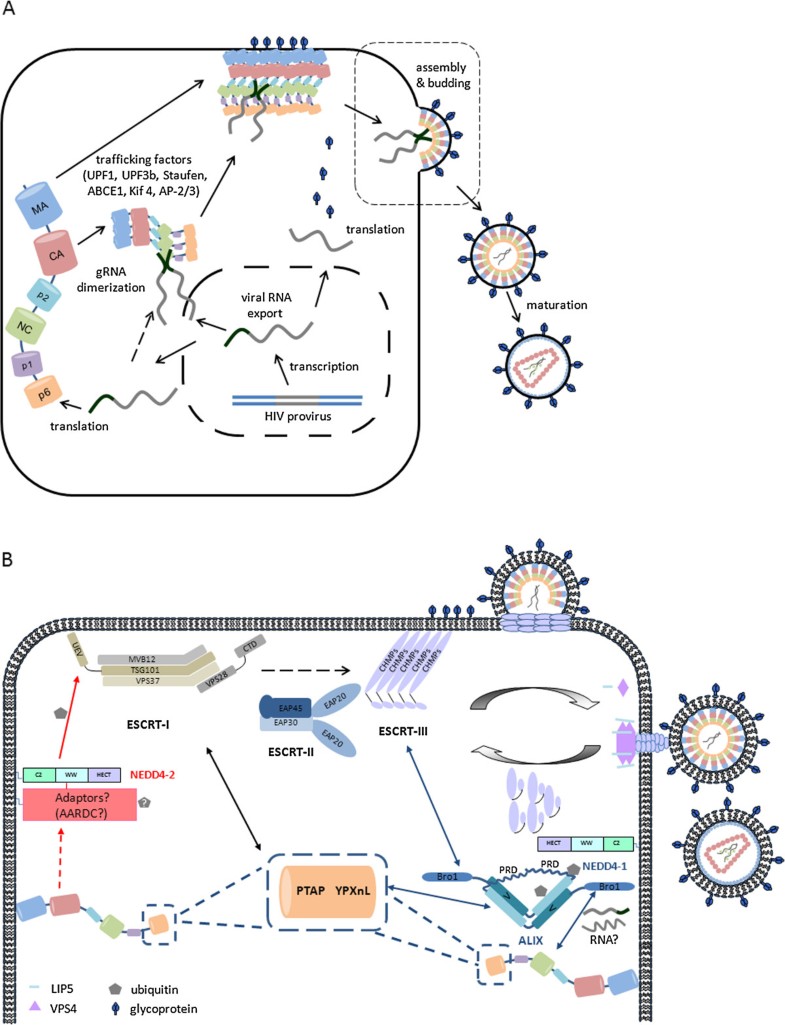 Following capture, evidence suggests that a small number of Gag proteins accompany the gRNA to the budding site at the plasma membrane [28–30]. Currently there is still a relative paucity of knowledge regarding the cellular components of the trafficking Gag/gRNA nucleoprotein complex. UPF1 is suggested to be involved in RNA stabilization [31] in association with UPF3b and Staufen. The cellular ATPase ABCE1 is also implicated in viral assembly in an RNA independent manner [32] and together with DDX6 and other processing body proteins (PBP) facilitate Gag multimerization [33]. The trafficking protein KIF-4 binds Gag [34], but whether this is a requirement for Gag/gRNA complex recruitment at the plasma membrane is unclear. Binding to the clathrin associated adaptor proteins AP-2 and AP-3 has been documented [35, 36]; however, the sequential involvement of all these proteins in the Gag/gRNA nucleoprotein complex during its trafficking through the cell is still obscure. In Drosophila the RNA chaperone Staufen and ESCRT proteins interact with RNA [37, 38] and influence its directional subcellular trafficking. There is also growing evidence that association of Gag with RNA is important for the directional trafficking of the complex [39]. Staufen has also been implicated in HIV-1 assembly [40, 41], but evidence of a close mechanistic link between these factors in HIV-1 assembly is lacking.
Gag binds the viral RNA through interactions involving the NC domain of the polyprotein which itself contributes specificity of RNA selection [42]. RNA also binds non-specifically to a highly basic region of the MA domain reducing non-specific binding to lipid membranes [43] and increasing the specificity of MA for lipid membranes containing phosphatidylinositol (4.5) diphosphate (PIP2) [8] such as the plasma membrane. A saturated lipid myristic acid covalently linked to the N-terminal region of Gag is sequestered in a hydrophobic pocket at the N terminus of MA and can be ejected by pH changes [44], the so called 'myristyl switch' mechanism [45]. This conformational change can also be evoked by PIP2 [46]. A model has been proposed whereby Gag bound to RNA through both MA and NC arrives at the plasma membrane where the presence of PIP2 and the effect of Gag multimerization displaces the RNA from the MA region and unleashes the myristic acid to provide a double anchor to the plasma membrane consisting of both myristate and PIP2 [46].
There is an estimated 5000 Gag proteins in the immature virion which are reduced to around 1500 in the mature particle [47], and yet relatively few escort the gRNA to the budding site. Possibly other nucleic acid molecules fulfill the gRNA role in masking the highly basic MA domain and favoring plasma membrane binding over other cellular membranes in the remainder of the Gag monomers that congregate there.
The viral budding process
Conclusions
Despite remarkable progress in understanding this intimate interaction between the virus and the cell in which results in viral egress, the late stage of the viral life cycle is still a patchwork of areas of better and less well understood steps. At present it resembles a jigsaw puzzle with missing pieces. The central process of ESCRT mediated budding is fairly well established, but there are still controversies; and the significance of the recently identified variants of some of the ESCRT components is still unclear. The roles of gRNA, in assembling what is primarily a nucleoprotein complex, are only just beginning to be understood. There are gaps in our understanding of the connection of gRNA capture to budding although interdependencies between RNA and protein processing are beginning to emerge. Understanding the assembly process is critically important not least because the diverse interactions with cellular components are promising drug targets since the scope for viral mutational escape is limited due to the unchanging nature of the essential cellular factors involved. More work is needed to fill in the missing links in this remarkable process and to identify susceptible areas for therapeutic intervention.
Abbreviations
HIV:

Human immunodeficiency virus
EIAV:

Equine infectious anemia virus
MLV:

Murine leukemia virus
RSV:

Rous sarcoma virus
M-PMV:

Mason-Pfizer monkey virus
HTLV-1:

Human T-cell leukemia/lymphoma virus type 1
ESCRT:

Endosomal sorting complex required for transport
MVB:

Multivesicular bodies
TSG101:

Tumour susceptibility gene 101
CHMP:

Charged multivesicular body proteins
GUV:

Giant unilamellar vesicles
NEDD:

Neural precursor cell expressed developmentally down-regulated protein
HECT:

Homologous with E6-associated protein C-terminus
VPS:

Vacuolar protein sorting
ALIX:

Apoptosis-linked gene 2-interacting protein X
HGS:

Hepatocyte growth factor-regulated tyrosine kinase substrate
STAM:

Signal transducing adaptor molecule
MIT:

Microtubule-interacting and transport molecules
MIM:

MIT domain interacting motifs
ARRDC 1:

Arrestin domain-containing protein 1
ARMM:

ARRDC1-mediated microvesicles
HRS:

hepatocyte growth factor (HGF)-regulated tyrkinase substrate
NZF:

Npl4-type zinc-finger
IST-1:

Increased sodium tolerance-1
CIN85:

Cbl-interacting protein of 85 kDa
EAP:

ELL-associated proteins.
Authors' Affiliations
(1)
Department of Medicine, University of Cambridge, Addenbrooke's Hospital, Cambridge, United Kingdom
Copyright
© Meng and Lever; licensee BioMed Central Ltd. 2013
This article is published under license to BioMed Central Ltd. This is an Open Access article distributed under the terms of the Creative Commons Attribution License (http://creativecommons.org/licenses/by/2.0), which permits unrestricted use, distribution, and reproduction in any medium, provided the original work is properly cited.